A 5G SA Industry Development Roundtable was convened at this year's MWC Shanghai event, which took place at the end of June. Felix Qiu, President of Huawei Packet Core Network Product Line, delivered an opening speech at the roundtable, expanding on the development trend of 5G SA networks from the aspect of the maturity levels of the global 5G SA industry ecosystem and products. He believes that 5G SA has sufficiently geared up for fast and large-scale commercial deployment.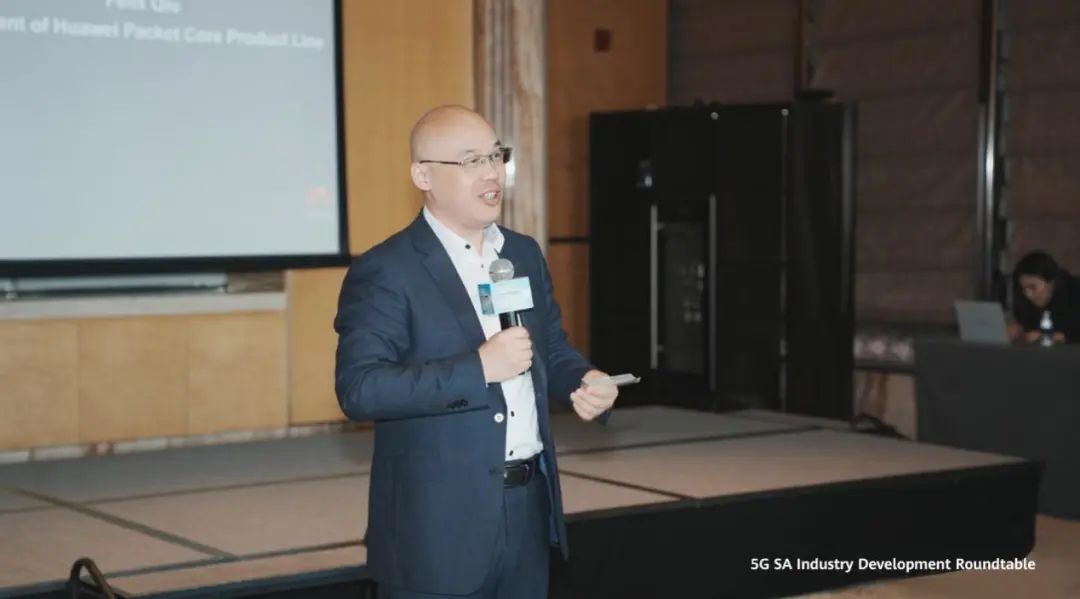 Felix Qiu speaks at the 5G SA Industry Development Roundtable
5G: The fastest growing and most widely used mobile communication technology
Over the past few years, 5G construction and development has remained a hot topic in the industry. Although affected by the pandemic, 5G is still the fastest-growing mobile communications technology globally. Since the world's first 5G commercial network was launched four years ago in 2019, the number of 5G users has grown to one billion – a feat that took 4G six years to achieve.
5G has also become the world's most widely used mobile communications technology. It has penetrated more than half of all vertical industries. Currently, over ten thousand 5G virtual private networks have been built, with more such networks to be quickly constructed in the future.
5G SA: The ecosystem has gradually matured
In June last year, 5G SA network standards were established with Release 17 of the 3GPP being functionally frozen. At the same time, the shipment of 5G terminals exceeded that of 4G terminals, with more than 80% of them supporting 5G SA. Also, world-leading vendors have released 5G SA versions that can be put into large-scale commercial use, and correspondingly provided solutions for developing user bases and both B2C and B2B services. It is safe to say that the 5G SA industry ecosystem has gradually matured. In the past half year, the number of 5G SA networks around the world has increased by 48%, from 29 to 43. It is evident an explosive growth of 5G SA networks is just around the corner.
Benchmark 5G SA commercial practices brought forth from all over the world
As the target network architecture for the 5G evolution, 5G SA has seen a large number of successful practices all over the world. For example, in China, the country's three major operators have completed large-scale construction of 5G SA networks and developed a 5G user base exceeding 1 billion, which pushed both their DOU and profits to new levels and increased yearly revenue by over 10%. Internationally, there have also been exceptional practices represented by those in Southeast Asia, Middle East, and Latin America. These practices provide valuable references for operators to quickly build 5G SA networks, develop their user base and applications, and monetize services.
Industry players need to work together to address the challenges ahead
At the same time, there are still some breakpoints in the development of the industry that must be considered. For instance, some terminals can adapt to 5G SA only after their software versions are upgraded, while some require users to replace their SIM cards. To break through these barriers, all industry players will need to work together. Huawei will continue collaborating with industry partners to navigate the challenges of 5G SA development. Together, let's advance towards a more prosperous, 5G-enabled future.