Global societies face many uncertainties regarding development, but what is certain is that digitalization and low carbon are becoming major trends across societies and are bringing new opportunities to all sectors. The two trends are intertwined and positively influence each other, together forming the main development direction of global societies.
Rapidly evolving ICT technologies are reshaping the digital economy and ushering in a new era of intelligent connectivity of everything. They are also supporting the transformation of the energy industry and facilitating energy saving and emission reduction for other industries. These changes have decoupled economic growth from emission growth. The World Economic Forum estimates that by 2030, the reduction in carbon emissions brought about by industries using ICT technologies will be 10 times the ICT industry's own emissions. This effect is referred to as "carbon handprint".
However, digital transformation brings new challenges. As societies become more digital, the energy consumption of the ICT industry rises. In addition, global telecom operators are caught in a dilemma of increasing energy consumption caused by traffic growth and hitting carbon-emissions-reduction targets. Their surging power costs also affect their profitability and operations. Therefore, now is the right timing to build green ICT infrastructure.
At this year's Global Mobile Broadband Forum (MBBF), Zain KSA and Huawei signed a memorandum of understanding (MoU) on green energy cooperation. The two parties set the strategic goal of "Green 5G, 5G for Green". Based on the wireless network energy efficiency indicator (NEE2.0), the parties agreed to deploy systematic energy-efficient hardware and software solutions to support the green development of Zain KSA networks. This move marks further progress towards realizing the vision of energy saving, carbon reduction, and a sustainable future.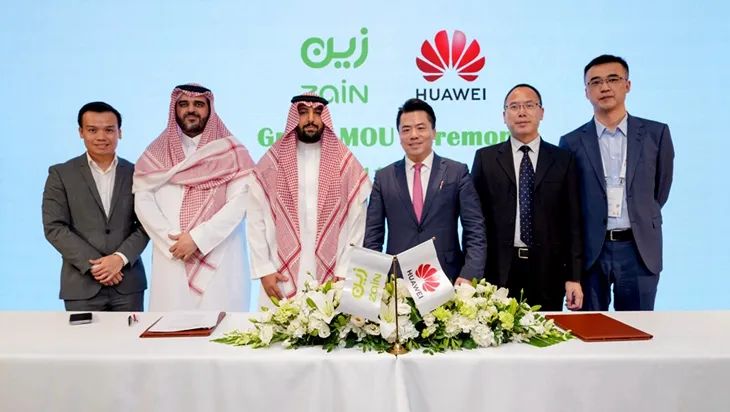 Zain KSA's Green Development Vision and Huawei's Unique Advantages
Against the backdrop of global warming and the energy crisis, carbon neutrality has become a global consensus and mission, and the importance of sustainable development is universally acknowledged by people worldwide.
The Kingdom of Saudi Arabia is looking to diversify its economy and reduce its dependence on oil, and has set a goal of achieving net zero emissions by 2060. As a leading operator in the country and the wider Middle East, Zain KSA has proposed a green development strategy, which aims to create a sustainable, digital, and inclusive society by building green networks with like-minded partners and implementing green operations to address social challenges and meet social needs. These actions will contribute to Saudi Vision 2030 while also promoting environmental protection.
Zain KSA's green network guideline consists of three major aspects: green business, technology, and innovation. Green business necessitates transforming user operations strategies from extensive energy consumption to energy saving; green technology refers to replacing out-of-date technologies with cutting-edge and energy-efficient ones in order to build simplified and intelligent networks; and green innovation means introducing AI to optimize O&M management and improve energy efficiency.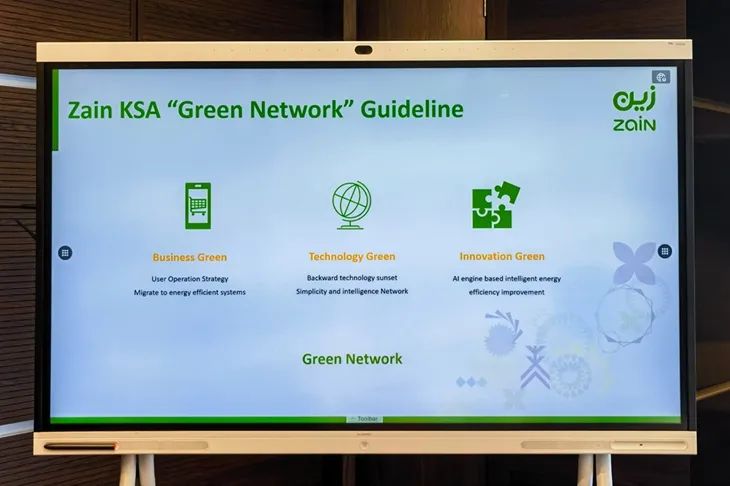 Alan Loh, Innovation &Solutions Executive General Manager of Zain KSA, emphasized the importance of cooperation: "The reason that humans dominate the planet is their ability to cooperate both physically and mentally." He noted that Zain KSA, while implementing the green development strategy, must find a partner who shares its values and has the necessary capabilities. A partner like Huawei meets this requirement perfectly.
Huawei has been engaged in the ICT field for more than 30 years, and has a full range of product portfolios, industry-leading technologies, and extensive experience in digital transformation. The company is committed to green development. It has been continuously innovating equipment, solutions, and business processes to reduce energy consumption and improve energy efficiency, and has made considerable achievements in renewable energy. These advantages put Huawei in a unique position to engage in global digital and low-carbon transformation and give it unique competitive edges in this regard.
Solari Yu, President of Huawei's SingleRAN Product Line, appreciated Zain KSA for its green development strategy and the actions it had taken to combat climate change, including incorporating energy saving and emission reduction as a top priority into its overall strategic planning and setting the goal of achieving net zero emissions by 2060. This is a testament to Zain KSA's strong sense of responsibility and commitment as a global top-tier operator. In addition to green network operations, Zain KSA is working to minimize energy consumption throughout the lifecycle of networks. This aligns with Huawei's philosophy of end-to-end green management of products.
Zain KSA and Huawei have made joint achievements in energy saving. Last year, a Huawei solution helped Zain KSA save nearly 28% more energy compared with the previous year. In addition, Zain KSA has accelerated the migration of 3G and 4G users to 5G networks with the support of Huawei, thus reducing energy consumption and OPEX.
A New Benchmark for Green Development
Energy saving and emission reduction are part of a systemic project that requires work across many areas. They represent a severe challenge that faces all decision makers and executors. Collaboration between Zain KSA and Huawei has undoubtedly set a new benchmark for the industry to follow.
According to the MoU, Zain KSA and Huawei will further cooperate on innovating and applying energy-efficient hardware, introducing intelligent energy saving technologies, and promoting energy saving and carbon reduction throughout the lifecycle of communications equipment to jointly promote the development of green industries and networks.
Energy-efficient hardware:Zain KSA will work with Huawei to deploy energy-efficient hardware such as MetaAAUs and ultra-wideband RRUs on a large scale. Huawei's technologies like extremely large antenna array (ELAA), ultra-wideband power amplifiers, and RF algorithms will greatly boost network energy efficiency. Furthermore, Huawei's latest "0 bit, 0 watt" technology will further reduce hardware energy consumption and achieve an ultra-low standby energy consumption of less than 10 W.
Intelligent network energy saving technologies:Zain KSA and Huawei will collaborate to introduce the iPowerStar intelligent energy saving solution to complex networks that have differentiated equipment energy efficiency, frequency band coverage, traffic volume, and energy saving features. This will allow intelligent energy saving policies to be made, thus maximizing the energy efficiency of the entire network.
Full-lifecycle energy saving and carbon reduction of communications equipment:Zain KSA and Huawei will also cooperate to explore end-to-end energy saving and carbon reduction methods. Carbon emissions are generated throughout the equipment lifecycle, including manufacturing, transportation, operation, and recycling. Technological innovation in terms of material selection, weight reduction, operation energy consumption reduction, and equipment recyclability will greatly accelerate the development of green networks.
These efforts will help Zain KSA contribute to the environmental well-being, fulfill social responsibilities, improve cost-effectiveness, and stimulate development, laying a solid foundation for its business development and market competitiveness improvement. Mohammed Abdulaziz AlNujaidi, CTO Delegate of Zain KSA, mentioned that Zain KSA is on a journey to pursue sustainable development, throughout which it will remain committed to comprehensive decarbonization and its primary aim of providing superior experience and creating value for its customers. Huawei's high-performance and energy-efficient solutions can help Zain KSA stay true to these commitments.
Sven Zhu, Chief Director of Wireless Network Marketing Execution Dept of Huawei, said that energy saving is the key to a low-carbon future. Huawei's wireless products improve network performance by 10 times and support green network development while maintaining optimal energy saving. This embodies the key feature of GigaGreen — Huawei's concept that seeks to improve connectivity, user experience, and energy efficiency. Zhu gave an example: Huawei helped Zain KSA deploy a green wireless network in the Red Sea city through the application of advanced technologies and solutions. With wide coverage, fast speed, and excellent experience, the network saves a huge amount of power every year, with the reduced carbon emissions being equivalent to planting 400,000 trees. In the future, Zain KSA and Huawei will continue to deploy and apply various cutting-edge technologies in the city to make it a front runner in green innovation.
The profound cooperation between Zain KSA and Huawei in energy saving sets a good example for how to promote harmonious coexistence between humanity and nature and build a green foundation for a booming digital economy. The success of these two pioneers will encourage all countries in the Middle East, which are now at a critical stage of energy economy transformation and development, to use ICT technologies such as 5G and 5G-Advanced to accelerate the transformation and embrace a green and creative future.