According to a recently published report from Dell'Oro Group, an authoritative market research institute in the ICT industry, Huawei's EPC shipment volume and sales revenue both rank first of all vendors. The report shows that Huawei's EPC sales revenue in the first quarter of 2019 rose 39% from last year, for a total market share of 29%.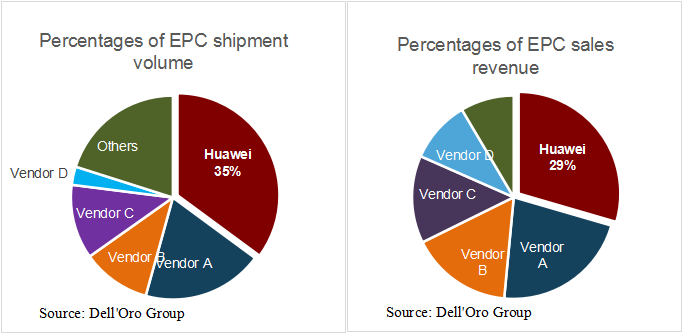 Percentages of EPC sales revenue and shipment volume of each vendor in the first quarter of 2019
The Dell'Oro report demonstrates that the total EPC sales in the past two quarters increased by 11% year-on-year, which is consistent with the forecast data. The revenue of CloudEPC has increased greatly over the last year, accounting for 35% of its total revenue. Most new product inquiries are for the CloudEPC.
5G NSA networks have commercialized and leverage the EPC for traffic processing. With the maturity of 5G specifications and commercial trials, it is estimated that 5G SA networks will be put into commercial use in the first quarter of 2020. At that time, the competition for 5G core network will grow more intense. 5G SA networks are based on brand new service based architecture (SBA) and support network slicing and MEC to provide more services.