With the advent of the 5G era where everything is connected, telecom networks have evolved from meeting basic communication requirements to meeting mobile Internet and industrial Internet requirements. In the future, services will be diversified. To meet future service development requirements, carriers need to transform their network architecture from traditional architecture to cloud-based architecture. NFV-based network cloudification and network reconstruction have become a consensus in the communications industry in the past few years. As 5G will be put into large-scale commercial use, 5G SA will enter its first year of commercial use in 2020. To support massive 5G deployment, the future-oriented 5G core network needs to further evolve to the cloud-based architecture, a more agile, reliable, and simplified network cloud platform is required to support the rapid traffic growth of the 5G core network, 5G network slicing, enterprise-oriented SLA customization, and fast provisioning and flexible innovation of new 5G services. NFV has taken the first step in telecom network transformation. With the advent of 5G, telecom network cloudification has evolved from virtualization to containerization. Carriers need to use technologies such as containers to make telecom network infrastructure more flexible and agile, lightweight, reduce resource overhead, and smoothly evolve from 4G to 5G.
The 5G SA network requires a hyper converged Telco Cloud
In the 4G era, OpenStack plays an important role in carriers' transformation. As people pay more attention to containers, especially the advantages of containers without Hypervisor, the application of containers in the 5G network cloud platform will become more and more extensive. As 4G networks evolve to 5G networks, OpenStack and Kubernetes infrastructure will coexist, and carriers will face the requirement of convergence. The convergence of OpenStack and Kubernetes on the platform enables carriers to smoothly evolve from the existing OpenStack platform through simple software upgrades, eliminating the need for additional Kubernetes installation and integration. The unified resource management helps carriers implement simple resource management and optimal resource utilization. This avoids frequent resource provisioning and manual migration when computing, network, and storage resources are adjusted between resource pools.
5G network reliability, diversified computing capabilities, and O&M automation are also the concerns of carriers. Telco Cloud should enhances of OpenStack and Kubernetes open-source community versions to achieve carrier-class reliability and meet carriers' differentiated requirements. In addition, as 5G is widely deployed, diversified computing capabilities such as x86 and ARM will be widely used on networks. Telco Cloud needs to support diversified computing power, enabling applications or services on the platform to adapt to diversified computing power in the 5G era and protecting carriers' investments in traditional COTS during smooth evolution. During the evolution from 4G networks to 5G networks, OpenStack and Kubernetes will coexist on the networks. As the network hardware becomes increasingly diversified, network O&M and management become increasingly complex. Therefore, carriers must simplify O&M and implement O&M automation.
In general, it is widely recognized in the industry that Telco Cloud on the 5G SA network must be reconstructed to support dual-stack convergence, carrier-class enhancement, diversified computing capabilities, and automatic O&M.
Huawei TCC is an ideal solution for Telco Cloud
Huawei's hyper converged Telco Converged Cloud (TCC) solution perfectly combines telecom service characteristics with advanced IT concepts during the evolution of 5G core networks based on Cloud Native. Helps 5G services go online in an agile and reliable manner, achieves optimal bit cost, and enables thousands of industries. Huawei TCC has the following technical highlights: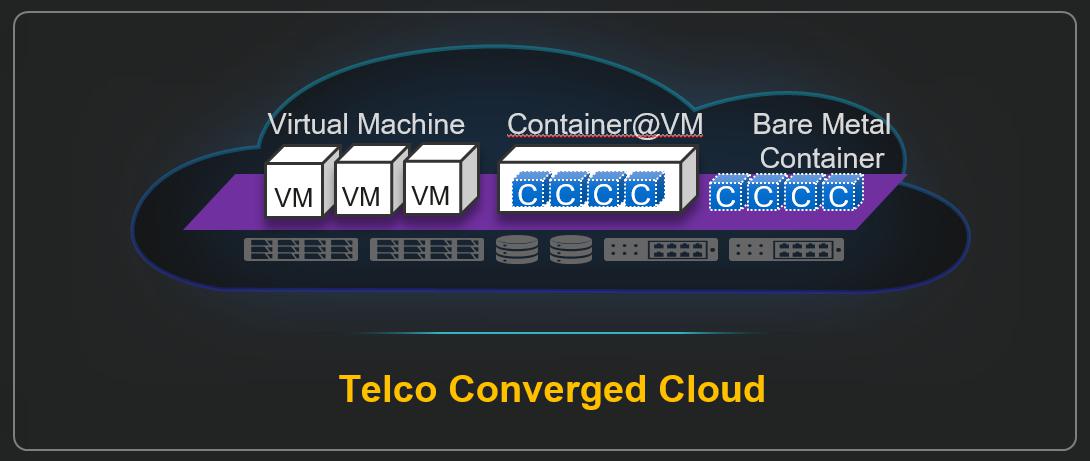 Figure: Telco Converged Cloud
Huawei is the first to introduce the Kubernetes and OpenStack dual-stack converged architecture, which supports full-stack pooling of VMs, VM containers, and bare metal containers. Provides URM (Unified Resource Management) and VM/container resource provisioning. Cross center and edge networks are supported to meet different requirements. In addition, VMs can be smoothly upgraded to containers through software upgrades, achieving in-depth convergence of 4G and 5G networks and smooth evolution to 5G SA networks.
Huawei TCC provides enhanced commercial features for the Kubernetes and OpenStack open-source communities, including unified resource management and multi-tenant security. In addition, Huawei TCC enhances container security, host intrusion detection, and VM/container anti-escape to further meet carriers' requirements on security and reliability.And TCC open standard architecture supports diversified ARM/X86 computing power.
TTC implements the industry's first Intent-Driven O&M and implements E2E process automation. The TCC provides one-click information collection to quickly locate faults. One-click replacement of faulty parts, shortening the replacement time by 50%. Fault isolation and self-healing, second-level recovery. Batch upgrade of the telecom infrastructure layer without affecting services. Build a layered and cloud-based online fault analysis center to provide an automatic fault detection mechanism and implement cross-layer automatic fault analysis and handling from the telecom infrastructure layer to service NEs.
Huawei TCC solution helps carriers save resources, evolve smoothly, and achieve business agility
Huawei TCC solution not only provides leading technologies, but also brings the following benefits to carriers:
Resource saving and quick 5G network construction: The TCC provides unified resource management and VM and container resource provisioning to support more flexible and efficient networks. The efficiency is improved by 30% and the TCO is reduced by 30%.
Smooth evolution from 5G to 5G SA: TCC supports both containerization and virtualization. The converged architecture reduces the complexity of network interoperability and implements smooth evolution of service and subscriber data migration during the evolution from 4G to 5G. With the acceleration of 5G business success, carriers will gradually deploy more containerized services. TCC supports smooth migration from VMs to containers.
Lightweight and agile TCC, meeting the requirements of massive traffic growth in 5G edge scenarios: TCC uses only 4 vCPUs and few hardware resources in edge scenarios, saving management node resources. The industry average is about 20 vCPUs. This helps operators shorten the TTM and meet the requirements of massive deployment at the edge of 5G networks.
TCC is widely used in the industry. By May 2020, Huawei 4G core network based on TCC has won more than 700 commercial contracts. The customer feedback is good and the stability is fully reflected. The number of commercial contracts for TCC-based 5G core networks is leading in the industry. During the contract signing process, operators have conducted strict pre-commercial verification on 5G equipment. The TCC-based Huawei 5G core network won the trust of the customer. Take the Zhejiang Mobile project as an example. Huawei TCC solution helps Zhejiang Mobile put the cloud-based platform for millions of users into commercial use, successfully put VoLTE/EPC services into commercial use, and achieve 5G To B service innovation. After the commercial use of the Zhejiang Mobile project, the system is running stably and no accident occurs. The China Mobile Zhejiang project provides best practices for large-scale evolution of China Mobile's 5G network and sets a benchmark for the global construction of a 5G hyper converged Telco Cloud.