[Barcelona, Spain, February 27, 2023] Huawei's 5G Business Success Summit has concluded at MWC23. At the summit, Richard Liu, President of Huawei Cloud Core Network Product Line, delivered a keynote speech entitled Continuous Innovation Enables 5G Business Success. His main goal was to address the common challenges facing operators in the development of 5G networks. In response, Huawei launches multiple innovative 5G core network solutions.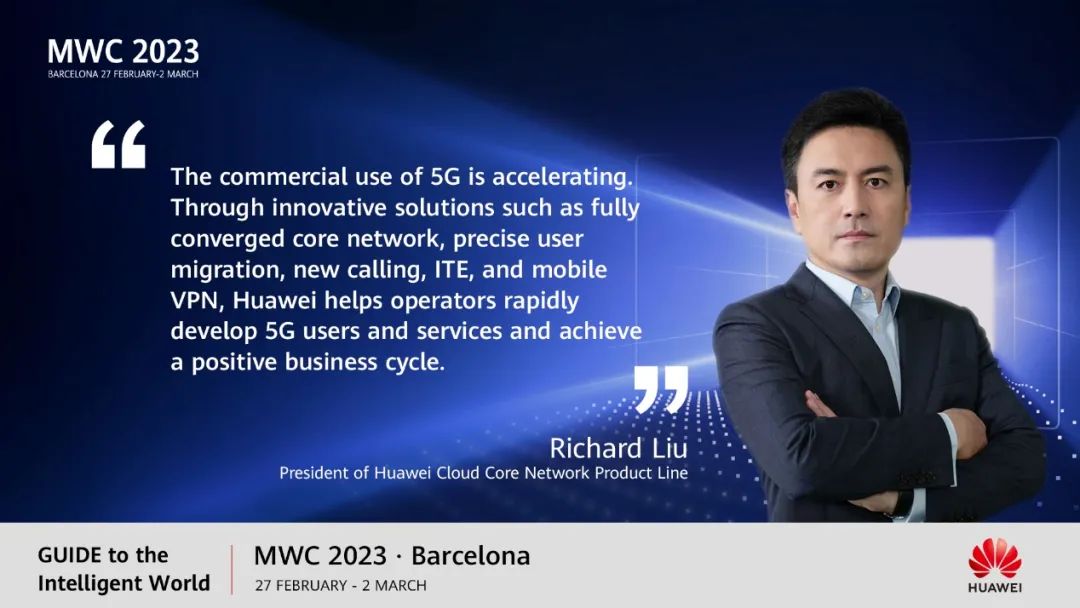 In recent years, 5G has been gathering pace. As of 2023, there are over 240 commercial 5G networks, a number that has almost tripled in three years. Operators face four main challenges during 5G development. First, the coexistence of multiple networks of different generations, Radio Access Technologies (RATs), and platforms not only slows down 5G construction and service release but also complicates network O&M. Second, the incompatibility of mobile devices, networks, and service packages hinders user base growth. Third, the lack of attraction to current service packages causes users to be reluctant to adopt 5G. Last but not least, the massive diversity of enterprise scenarios leads to fragmented businesses and requirements, so it is hard to replicate 5GtoB services.
The core network is key to network connections and service enablement. Huawei works with operators to innovate 5G core networks with multiple solutions, helping operators build their user and service base quickly for a positive business cycle.
Fully Convergent Core Network for Faster Development
Huawei addresses the issues caused by the coexistence of multiple networks of different generations, RATs, and platforms with the 2G/3G/4G/5G convergent core network. A streamlined architecture accelerates both O&M and service provisioning, so operators build optimal 5G networks faster.
Precise Migration for 5G User Growth
Huawei matches devices to networks and service packages with its precise user migration solution. Operators now analyze online user profiles to make their marketing policies more targeted. For example, when a 5G device accesses the network on a 4G service package, the UDM automatically provisions 5G services for it. When a 4G device accesses the network, the UDM pushes a marketing SMS to upgrade to a 5G contract phone. When a 5G device accesses a 4G network on a 5G service package, the UDM notifies the operator to expand 5G network coverage.
Better Experience for Faster 5G Monetization
Huawei's New Calling solution has a "1 platform + 3 capabilities + N services" architecture. This allows operators to build a platform with UHD, intelligent, and interactive capabilities, and enables them to roll out numerous innovative services. In addition, Huawei's Intelligent Traffic Express solution help address the demand for a guaranteed differentiated experience. With this solution, operators can refine network management and operations to deliver a better experience for high-value users, and then visualize the effects for analysis. It also allows operators to launch packages for different levels of service assurance, which will in turn increase the ARPU, expand revenue, and grow consumption.
Innovative Industry Solutions for Digital Transformation
Huawei's Kite-like PNI-NPN solution enables remote and centralized O&M, supports plug-and-play, and provides hot backup for high availability. Meanwhile, Huawei has multiple offerings for different scenarios: the Mobile VPN solution gives enterprise users quick and secure intranet and Internet access to facilitate mobile office; the "One Number Converged Network" offers both data and voice services while interconnecting with the public network, for the daily real-time data management and service scheduling needed by enterprises. For industrial manufacturing scenarios, Huawei's private network with Layer-2 communication capabilities simplifies the network architecture at factories, guarantees always-on services, and delivers industrial-grade high reliability.
Huawei continues both collaboration with telecom operators and industry partners and innovation for network connectivity and more services, helping customers create more value and achieve greater success.