On May 9, 2023, China Cloud Network Conference 2023 organized by SDN/NFV/AI Industry Alliance was held in Beijing. Hao Yanxing, 5GtoB Marketing Director of Huawei Cloud Core Network, was invited to deliver a keynote speech entitled "MEC to X Underpins 5G B2B Business Success".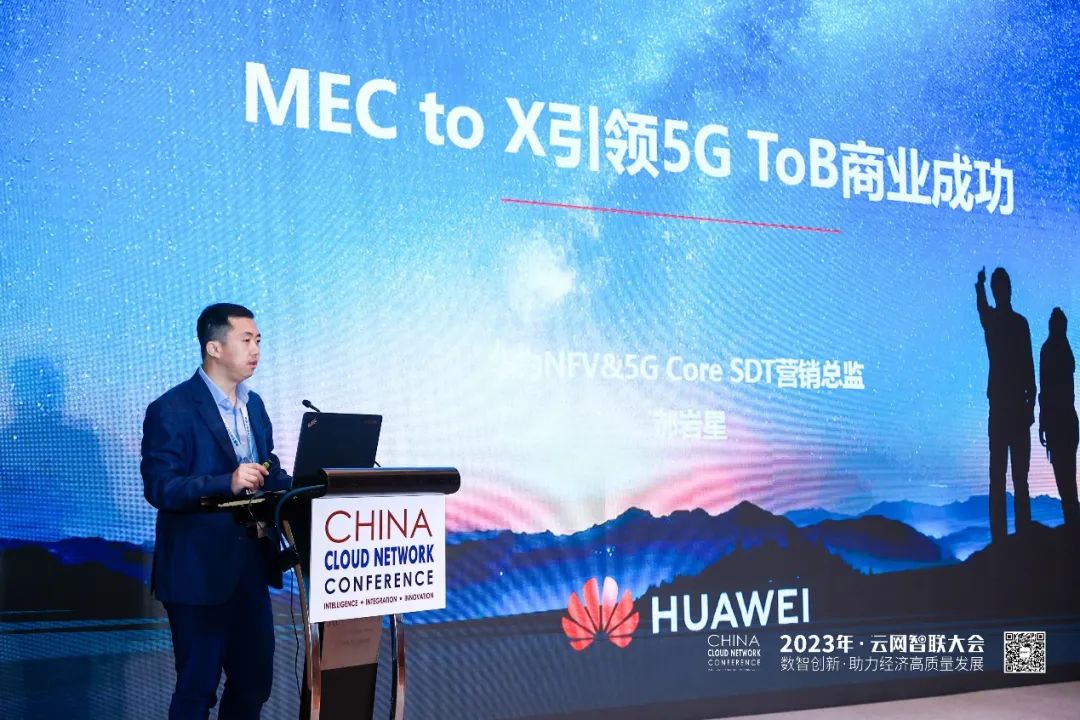 Hao Yanxing delivering a keynote speech
Since the 5G license was issued in 2019, the digital transformation of the industry has accelerated, with MEC acting as the major driving force. The value that MEC brings has been fully recognized by the market, with operators' 5G B2B revenue increasing significantly year-on-year. To date, more than 10,000 5G industry private networks have been deployed in China. Huawei has helped operators deploy MEC on a large scale for more than 40 industries in over 200 cities, building more than 1000 smart factories and 200 smart mines.
With the in-depth development of 5G applications in various scenarios, MEC capabilities are evolving from single-domain to dual-domain, from campus networks to field networks, from connecting to computing, and from data to data and voice convergence. Indeed, industry applications are maturing at a tremendous pace. Huawei MEC to X Solution enables all service scenarios and helps operators build a "1+3+X" 5GtoB innovative solution system. On top of that, it also implements large-scale replication of industry scenario-based innovative applications and accelerates digital transformation in all industry scenarios.
1: One cloud and distributed network architecture
A single cloud is constructed for the core network of 5G B2B services by central DC to build a unified and intensive operations platform on the entire network, meeting the requirements of fast innovation and intensive operation of 5G B2B services. In addition, MEC is deployed closer to users and distributed on demand, forming a fully interconnected and distributed one-network architecture.
3: Local area, wide area, and cross-area private networks
5G private networks cover local area, wide area, and cross-area scenarios. Local area private networks cover campus networks, enterprise production intranets, and industrial control network for the production line. Wide area private networks are based on operator wide coverage of 5G and slicing technologies, satisfying the requirements of electric power private networks and wide area interconnection between multiple campuses. In education and government scenarios, users need to access both public and private networks, and so 5G private networks also support cross-area access.
X: Enabling all industry scenarios
In-depth development of 5G applications covers more and more industry scenarios. In the education, office, and government scenarios, Huawei has developed the Mobile VPN solution to provide industry customers with highly reliable access to the Internet and intranets anytime, anywhere. In manufacturing scenarios, Huawei works with operators and industry customers to build 5G fully-connected factories that enable flexible 5G production lines and help enterprises reduce network construction costs. In electric power scenarios, the 5G network slicing is used to build an E2E 5G virtual network, enabling electric power digitalization. In coal mine scenarios, Huawei has released the "One Number Converged Network", which supports 4G/5G converged access with one number for both under and above ground anytime, anywhere. Beyond that, MEC integrates CT and IT capabilities, expands computing on the basis of connectivity, and provides customers with connectivity+computing+applications for E2E services, meeting ICT convergence service requirements of industries.
Looking ahead, Huawei will extend collaboration with telecom operators and industry partners to continuously enhance network connectivity and roll out more innovate services, and in turn achieve greater business success while gleaning more industry value.