The 31st PT Expo China, a national ICT industry event, was recently held in Beijing. The date of the event coincided with China's issuance of commercial 5G licenses four years ago. The PT Expo China gave the industry an excellent chance to observe the development of China's 5G industry. At the ICT China High-level Forum held during the event, important guests from the Ministry of Industry and Information Technology (MIIT), telecom operators, and mainstream equipment vendors presented their insights and explained how China went from getting an early start in 5G to achieving comprehensive leadership in the industry. This offered valuable lessons to operators worldwide.
PT Expo China was just a start. MWC Shanghai 2023, another grand event of the mobile communications industry will be held at the end of the same month. According to information disclosed so far, executives of telecom operators and mainstream equipment manufacturers will deliver keynote speeches at the event to share their insights into development, opportunities, and challenges in the mobile industry. MWC Shanghai is another eagerly anticipated event for the industry, as it will serve as a platform to observe and share on how China has approached 5G technology evolution and fostered the industry ecosystem.
On June 6, 2019, the Ministry of Industry and Information Technology officially issued commercial 5G licenses to China's four major operators – China Telecom, China Mobile, China Unicom, and China Broadnet. Over the past four years, China has made remarkable strides in 5G development, with constantly improving infrastructure, increasingly impressive technological innovations, a steadily expanding industry ecosystem, growing development momentum, and thriving converged 5G applications. 5G now serves as a connectivity foundation for streamlining China's overall digital infrastructure and data resource cycle, and supporting the intelligent digital transformation of industries.
More importantly, during commercial 5G implementation, Chinese operators have accelerated their transition from an investment-driven approach to an innovation-driven approach. This transition is allowing them to achieve business success as they develop networks, and they are becoming increasingly certain of success. Chinese operators have accumulated abundant successful practices and contributed to the development of the global 5G industry.
China's leadership in 5G adoption speed
Four years after the issuance of commercial 5G licenses, China's 5G development now finds itself on a fast track, thanks to constantly improving government policies and the concerted efforts of industry stakeholders, universities, researchers, and applications.
China leads the world in 5G network construction. By the end of March 2023, China had built more than 2.64 million 5G base stations, with 5G networks already covering all prefecture-level cities and the urban areas of counties. Furthermore, over 1.5 million 5G base stations have been jointly built by and are being shared among different operators, which is key to ensuring that 5G networks remain intensive, efficient, and green.
Thanks to 5G, China ranked 9th in the worldwide download speed ranking in April, recording a 110.1 Mbit/s downlink speed and a 25.58 Mbit/s uplink speed, over twice the global average.
The country's leading 5G network infrastructure has driven the rapid migration of users and traffic to 5G. By the end of March, the number of 5G mobile phone users in China had reached 620 million, with a user penetration rate of about 37%. Meanwhile, the number of 5G tariff plan users was nearly 1.2 billion, with a user penetration rate close to 70%. In addition, the percentage of 5G enhanced mobile broadband (eMBB) traffic is experiencing continuous growth, accounting for over 50% of all traffic in leading cities like Hangzhou.
In terms of converged applications, 5G applications for individual users are seeing rapid growth. 5G+ UHD video and 5G+ AR/VR applications are increasingly used in entertainment, gaming, event livestreaming, and life services, while 5G applications for industries are quickly growing in number. More than 50,000 innovative use cases have been developed, covering 52 of the 97 categories of economic activities, while over 16,000 virtual private 5G networks have been built for industry users. These achievements lay a solid foundation for the large-scale development of 5G industry applications.
From technical to business success
Unlike what it experienced during the 3G and 4G eras, China has been leading the world in 5G development from the very start in terms of network construction and technology adoption. Chinese operators have also led the way in 5G network monetization, achieving business success and creating an air of certainty.
According to the 2022 financial reports by China's three major operators, they all achieved positive growth in terms of both B2C service revenue and average revenue per user (ARPU), thanks to rapid 5G migration and growth in individual digital life consumptions.
By the end of 2022, China Telecom had 268 million 5G tariff plan users, up 18.1% year-on-year, and its mobile ARPU was CNY45.2, up 0.4%. China Mobile had 614 million 5G tariff plan users, up 58.7% YoY, and its mobile ARPU was CNY49, increasing steadily by 0.4% YoY. In addition, China Mobile's 5G ARPU was CNY81.5. China Unicom had 210 million 5G tariff plan users, with an improved user mix. Its mobile ARPU was CNY44.3, achieving positive growth for the third consecutive year and seeing rapid growth in user value.
With a situation similar to that in the Chinese market, mainstream operators in markets outside China where 5G is rapidly growing, such as Zain Group, LG U+ in South Korea, and STC in Saudi Arabia, all saw steady revenue growth over the past five years. 5G accounted for a high proportion in the mobile service revenue growth of operators worldwide.
Success in the B2C market has acted as a solid foundation for the development of the 5G industry. In the long run, the true benefit that 5G brings to operators lies in its role as network infrastructure that will drive overall business growth. In each of the first three years of commercial 5G adoption, telecom service revenue increased by 0.8%, 3.6%, and 8%, respectively, year-on-year. In the first four months of this year, revenue continued to see rapid growth, increasing by 7.2% more than the same period last year.
For example, China Mobile has taken the lead in launching innovative, stable, reliable, and flexible premium private 5G networks for vertical industries, which have been fully integrated into industries' work and production processes. So far, the private 5G network project has achieved five-fold growth, with revenue exceeding CNY5 billion, making it a new engine for the growth of enterprise performance.
Factors behind the success of commercial 5G
Network quality is the lifeblood of all operators.
Building 5G networks with wider coverage, stronger capabilities, faster speeds, better quality, and better experience has always been the goal of operators in China during their commercial 5G development, and also acts as the fundamental driver of 5G business success in China today and in the future.
Chinese operators have several successful practices that can act as valuable lessons for their peers worldwide.
First, clear spectrum resources and utilization strategies. Spectrum resources are the "primary resources" for the development of the mobile communications industry. A mixture of adequate spectrum resources, reasonable allocation methods, and continuous and efficient supply have laid a solid foundation for the sustainable and healthy development of 5G in China. China chose the Sub 6 GHz IF spectrum as the entry point of 5G, and has realized contiguous large bandwidth of over 100 MHz. This not only guarantees the network performance required for 5G commercialization in the current stage, but reduces the deployment cost of 5G networks.
Looking ahead, Liu Liehong, Chairman of China Unicom, expressed his hope that regulatory authorities would be able to fully unleash the value of private network frequency resources based on existing achievements, provide greater support for operators' private network frequencies, and work alongside enterprises to accelerate the adoption of the 5G+ Industrial Internet within enterprises' core production processes. Last year, China Unicom cooperated with Huawei and other partners to implement China's first 5G-Advanced low-latency flexible production line at Great Wall EA, making the 5G+ Industrial Internet part of core production processes.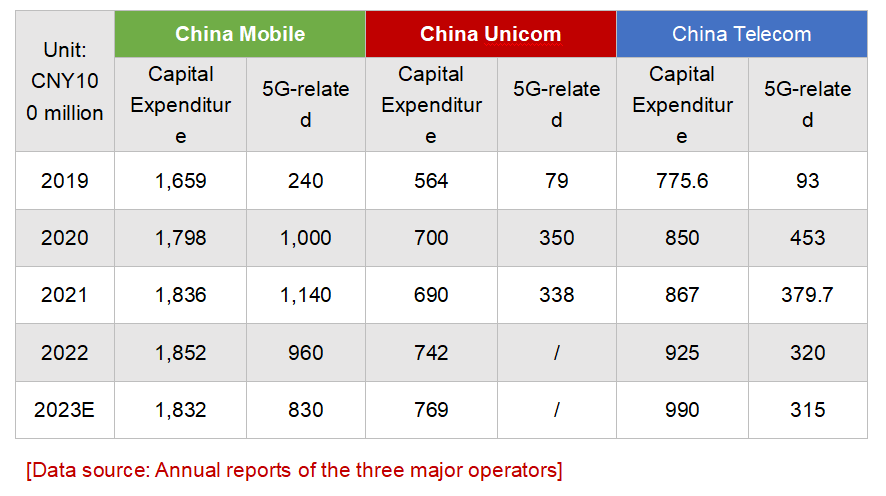 Second, massive investment and "contiguous coverage". The three major operators have constantly promoted the construction of high-quality 5G network infrastructure. As displayed in the preceding table, since obtaining commercial 5G licenses in 2019, these operators have heavily invested in 5G, with the accumulative amount exceeding CNY700 billion (excluding CNY270 billion saved by China Unicom and China Telecom through co-construction and sharing). Supported by these huge investments, a high-bandwidth infrastructure network providing contiguous coverage was quickly built, greatly improving user experience, accelerating 5G user and traffic migration, paving the way for experience-based 5G monetization, and driving the rapid development of 5G application scenarios and the 5G industry ecosystem.
Liu Liehong, Chairman of China Unicom, pointed out that China Unicom regards the construction and operation of ICT infrastructure as the top priority and has unswervingly increased investment into 5G development. Dong Xin, General Manager of China Mobile, the world's largest mobile communications operator, highlighted the importance of deepening the implementation of the "5G+" plan in promoting universal network coverage.
Third, technical planning with a strong starting point and high standards. While the world was still divided regarding how to evolve 5G technology, China's three major operators resolutely chose 5G SA networking, which is a full-service 5G infrastructure network offering a strong starting point and high standards. By adopting this networking model, they avoided the cost of secondary network reconstruction and enabled 5G to support converged industry applications, thus overcoming the bottleneck for operators' continuous business growth and beginning a new trend for global 5G SA networking. Moreover, during 5G network construction, it is necessary to consider traditional 2G, 3G, and 4G networks with a view to redeveloping spectrum resources and achieving smooth evolution towards an integrated 5G network.
Fourth, clear industry standards and prompt introduction of key technologies. During the early stages of 5G commercialization in China, the R15 standard was adopted on the network side, mainly for eMBB applications, which helped operators rapidly increase their dataflow of usage (DOU) and ARPU. With the deepening convergence of 5G applications, new service requirements are becoming increasingly diversified and complex, positioning 5.5G as the only path for future upgrades and evolution.
For example, in medium- and high-speed IoT scenarios, Chinese operators are verifying the RedCap technology used in R17 and are expected to put it into large-scale commercial use this year, as part of efforts to achieve the development of large numbers of 5G industry applications. Another example is how Chinese operators have solved the issue of limited 5G uplink coverage. They actively introduced super uplink technologies to effectively improve user experience in wide-coverage scenarios.
During a speech on the continuous evolution from 5G to 5.5G, Dong Xin, General Manager of China Mobile, expressed the Group's determination to work with industry partners to accelerate the evolution of 5G towards integrated networks that feature cooperative air and ground surveillance, intelligence, and integrated sensing and communications, in order to maintain China's lead in 5G development.
Fifth, categorization to accelerate the development of core 5G business models. In consumer markets, Chinese operators pursue superior 5G user experience, constantly improve 5G network coverage capabilities and peak rates, and support higher-definition and multi-view service experience, hoping to bring consumers the fun of continuous growth and exploration of the unknown and increase users' willingness to pay. In business markets, Chinese operators regard secure production, cost reduction, and efficiency improvement as opportunities to make breakthroughs in rigid demand. Technologies such as QoS, DNN customization, and slicing are employed to allow industry customers to flexibly deploy virtual private 5G networks for different industries, thus maximizing the commercial value of 5G for businesses.
China Unicom is a leader in this area, possessing profound insights and practices. Liu Liehong believes that the development of 5G has allowed China Unicom to achieve its "four transformations", going from a traditional operator to a digital technology leader, and thus further unleash the extraordinary potential of 5G.

In the 5G era, Chinese operators have achieved both technical and business success. Now, with the 5.5G era as the trend of our times, we are confident that Chinese operators will continue to find success in the 5G industry.