During IBC 2023, which ran from September 15–18 in Amsterdam, Netherlands, Huawei unveiled its Envision Solution — a video solution integrating the cloud, edge, and devices, redefining the direction of video service development.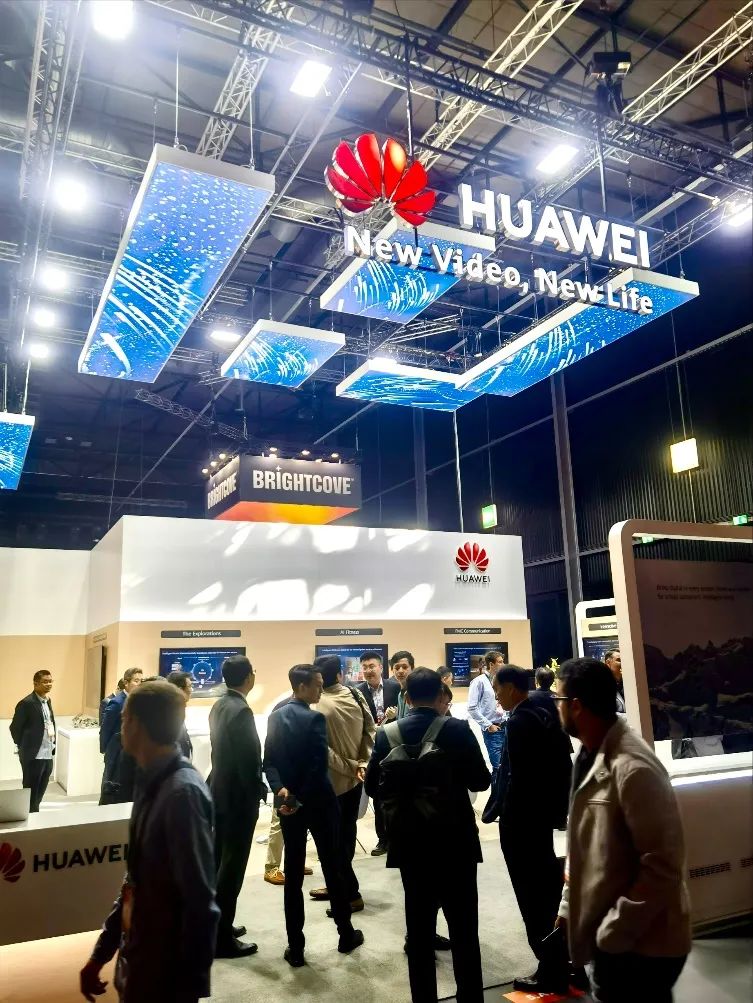 Huawei booth
On-Cloud and On-Premise Platform Deployment: Mutual Redundancy Secures Reliable Services
TV and video viewing, often regarded as one of the most favorite pastimes, is an important part of the digital home. Today's video services feature high traffic, high concurrency, and high experience, which all pose steep requirements on the stability, reliability, and security of both the video platform and the network.
To overcome the above issues, Huawei has built an Envision Video Platform that supports on-cloud and on-premise deployment. The platform allows efficient and stable migration of services, content, and users. It also incorporates the public cloud service capabilities that collaborate with industry chain partnerships for quicker ecosystem development and solution iterations.
Edge Nodes Close to Users: Cloud-Network Synergy Builds Differentiated Advantages
Refined operations on massive video content and hundreds of millions of users are the key to operators' video service monetization. To help with that, Huawei Envision solution gives full play to operators' rich access network resources and scattered equipment rooms, by deploying processing nodes at the network edge. As these processing nodes are much closer to users, they can deliver diverse ultra-low latency service experiences.
For example, the AI Generated Content (AIGC) capabilities deployed at the edge are capable of short video production, intelligent frame interpolation, and image enhancement. The intelligent algorithms and big data technologies, as another example, can be used to create multi-faceted user profiles, based on which different content can be intelligently recommended to different users. In addition, with operators' powerful edge access networks and their collaboration with the transport networks and fixed and mobile networks, differentiated value-added services can be provided to users, such as the online family album service based on a home VPN.
Upgraded Interactive Capabilities for Devices: Leading a New Way of Home TV Interaction
User experience is always the first priority. As home TV services gain more intelligence and interactivity, home TV devices also need to be equipped with more powerful capabilities. To that end, Huawei launched a new product, the media computing hub, with brand-new interactive input capabilities for more service scenarios. The hub streamlines the VoLTE network and IPTV network, and allows HD video calling and interaction across both large and small screens. The interactive input capabilities of the hub, including the video-audio collection and intelligent recognition capabilities, is open to third-party ecosystem applications for various service experiences such as AI fitness and somatosensory games.
During the exhibition, Huawei also showcased its latest cloud media solution as well as the HDR Vivid and Audio Vivid standards. The team welcomed many visitors to the booth and shared ideas with numerous customers and partners on the development of the video industry.
Huawei remains open to jointly innovating and collaborating more with video industry partners including telecom operators. Together, we can contribute more to video technology development, usher in a prosperous ecosystem, and fast-track the transition of the video industry towards convergence, communication, and interaction.