Posted by Yong Gan Shuo
Nowadays, 5G commercialization has been initiated on a global scale. China has shown its advantage over others in this round of 5G competition and even relevant institutions in the United States have given objective comments on China leading in the 5G competition. China and the U. S. come on top in a global 5G readiness rankings according to a report lately published by CTIA - The Wireless Association. Then what makes China take the lead in the 5G competition? And to which extent will such strengths help China dominate the 5G market? The preceding concerns are shared by many insiders beyond doubt.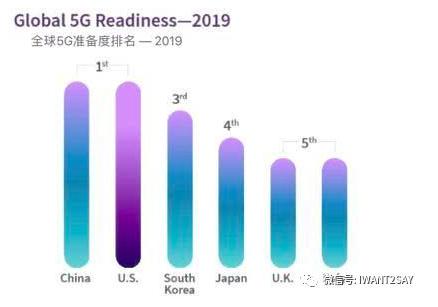 Source: CTIA - The Wireless Association
China Dominating 5G Standards among Others
5G is the first generation of mobile communication technology with uniform international standards. Previously, it was hard to make a direct technical strength comparison of states and regions which adopted different systems of communication technology. In contrast, different states and regions can be directly compared regarding the technical strength by their say in the standards of the 5G era. Therefore, here comes the need to analyze the 5G standards in the first place. The 43rdChinaStatistical Report on Internet Statistical Report on Internet Development shows that till March 2018, China accounted for 32% regarding the number of international 5G standard drafts submitted and dominated 40% of the world's standardization projects, taking the lead worldwide regarding the speed and quality of promotion.
A 5G patent report released by a German patent data company IPlytics at the end of last year reveals that up to April, Huawei held 1,554 patents followed by Nokia (1,427) and Samsung among other firms and had more 5G standard essential patents (5G SEPs) than other companies in the world. ZTE held 1,208 patents and was ranked in the fifth place among the world's top 5G SEP family owners. The preceding statistics are concerned with essential patents, among which, the so-called standard essential patent (SEP) is irreplaceable or technically inevitable as its name implies.
Huawei, ZTE, OPPO and China Academy of Telecommunication Technology (CATT) (or Datang, merged with FiberHome to China Information Communication Technology Group Corporation (CICT) at the moment) totally owned 36% of the world's 5G SEPs. This figure doubles the percentage of 4G patents held by China's firms in the world's total. In contrast, American sci-tech giants including Qualcomm and Intel only held 14% of 5G essential patents.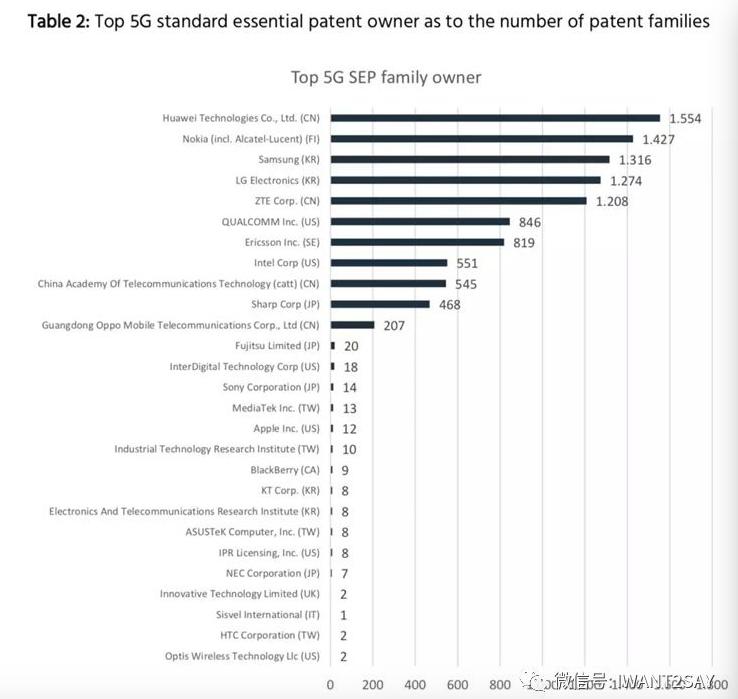 Who Is Leading the 5G Patent Race published by IPlytics in April
5G standards were worked out at many international conferences organized by 3GPP, where firms submitted their proposals on 5G technology. The mounting proposals indicated that firms were increasing their R&D spending and attaching greater importance in this respect. Till April 20, 2019, ZTE submitted 2,341 5G proposals, surpassing Intel, LG Electronics and other giants. Till the end of 2018, ZTE applied for more than 73,000 patent assets, over 35,000 of which were granted on a global scale; ZTE was ranked in the fifth place regarding the number of PCT patent applications submitted in the world for consecutive years; ZTE submitted about 7,000 international proposals on 5G wireless and core network and obtained over 3,500 patents regarding the 5G strategic layout in accumulation. The preceding data indicate that ZTE is seen as one of the major players in and contributors to the global activities of studying 5G technology and setting 5G standards.
Besides, China's three basic service providers have also helped a lot in working out 5G standards. For example, during the drafting of 5G performance standards, China Telecom took charge of making technical discussions and working out standards regarding the performance of 5G base station and band and organized the preparation of 3GPP official technical standards; China Mobile led in completing international standards for the first 5G network architecture in December 2017; China Unicom dominated in publishing the first 3GPP terminal radio frequency consistency test standard for Sub-6GHz with an independent 5G deployment in last November, offering technical reference for the terminal consistency test and drafting of relevant national standards in the 5G era.
Evidently, China has been ahead of others in 5G standards, where two Chinese firms (ZTE and Huawei) make remarkable contributions.
Leading Edge in Chips Reassuring Operators to Carve out a Future
A leading position in 5G standards cannot 100% ensure that China will dominate the 5G market. After all, 5G is a product with a large system involving innovation in many links, among which, chips are crucial.
So far, many international service providers have embarked on 5G commercial network test and deployment, wherein 5G network cost and power consumption are a matter of urgency (it is found by a service provider in the 3.5G frequency brand measurement that the energy consumption of a 5G base station amounts to almost 3.99 times of that of a 4G base station).Since 5G has a higher frequency and rate, it is more challenging to implement its techniques than 4G, among which, chip orientation is imperative, which will further optimize volume, power consumption and other indicators of 5G network equipment products, lower 5G network equipment cost and help put 5G into massive commercial operation after being adopted in many techniques. Therefore, chip orientation in 5G has become a highland where firms compete with each other secretly.
In this respect, Huawei and ZTE take the lead in the industry by breaking through essential techniques regarding massive commercial operation of 5G. Earlier this year, Tiangang Chip launched by Huawei greatly promoted in AAU (Active Antenna Unit) which can downsize a base station by over 50%, reduce its weight by 23% and save as much as 21% in power consumption. At MWC2019, ZTE showed two independently developed chips: MCS multi-mode soft-band chip and medium frequency chip. It is said that the former was designed in an advanced architecture based on ultra-long vector processing capacity and flexible scalar control capacity and can integrate multiple modes such as 2G, 3G, 4G, Pre5G and 5G with a flexible "soft band" and support single-chip base station solutions with a full range of key functions including base band, antenna/Ethernet interface and switch among others, which is the world's most integrated base band processing chip dedicated for communication. In terms of the SoC architecture, the latter can integrate multiple modes such as 2G, 3G, 4G, Pre5G and 5G with a flexible "soft medium frequency" and implement up- and down-conversion, digital pre-distortion and air interface among other functions in the remote radio frequency unit (RRU) of a base station.
By independently developing the preceding essential dedicated chips with a leading performance, such two Chinese firms as Huawei and ZTE are merely an epitome of Chinese firms leading in the world's 5G technology innovation and commercial use of system-level products. It is the best performance of such two national equipment suppliers that reassures the three national basic service providers that they can go all lengths to step forward from expansion of the scale test towards pre-commercial use.
According to the latest news, China Mobile announced its plan in March to increase 30,000-50,000 5G base stations and promote pilot 5G network building with effort; China Unicom disclosed its initiative in April to incorporate 40 cities into the coverage of the 5G network to create the latest "7+33+N" pattern; China Telecom also said 6 more cities would be involved in the 5G test to create a "6 (cities where tests will be conducted) + 6 (cities where tests have been conducted)" pattern.
It is predicted in a research report of China Securities that China will build and launch around 100,000 5G base stations nationwide and 300,000-400,000 base stations on a global scale throughout 2019.To fulfill the preceding goals, Chinese firms' efforts in chip orientation of base stations are undeniably crucial. Beyond doubt, Chinese firms will play a greater part in international commercialization of 5G at both national and international markets by their system-level innovation competitiveness in the 5G network.
China Dominating 5G Mobile Phones among Others
The 5G mobile phone carves a path for the commercialization of 5G network, which is the most critical factor in determining whether 5G network can be fully commercialized. Since this year, some Chinese mobile phone manufacturers such as Huawei, ZTE, OPPO, Xiaomi, Lenovo and OnePlus have launched and displayed 5G mobile phones on many occasions at home and abroad, some of which have been officially released in the European market. With the mysterious day of May 17th approaching, the debut of 5G mobile phone in the domestic market will be finally unveiled.
On May 6th, the first day of the Digital China Summit, ZTE's Axon 10 Pro 5G mobile phone was released to the domestic market, marking the leading place of 5G mobile phones in China. According to previous reports, ZTE's Axon 10 Pro 5G mobile phone has realized the out-field transfer of 5G network among the three major operators, indicating that ZTE has become the first communication equipment manufacturer to complete the end-to-end transfer of 5G network among the three major service providers in China. Before that, ZTE's Axon 10 Pro 5G mobile phone has first reached the 2Gbps rate under the 5G NSA current and testing network with the help of EN-DC technology. At the conference site, it showed a highest download rate of more than 100MB/sec for Honor of Kings and completed the downloading process within only 15 seconds, achieving the fastest downlink rate of the 5G current network. The prior release of ZTE's Axon 10 Pro 5G mobile phone marks that Chinese manufacturers have taken the first-mover advantage in the new round of competition in the smart-phone market.
China Mobile has announced that it will purchase tens of thousands of 5G terminals in 2019 and invest RMB 1-2 billion yuan in terminal subsidies. As for the price of 5G terminals, China Mobile estimates that the price of 5G mobile phones will exceed RMB 8,000 yuan in 2019 and that of data terminals will exceed RMB 3,000 yuan; while by 2020, the price of 5G mobile phones will drop to RMB 1,000 yuan, and that of data terminals will go down to RMB 500 yuan. China Telecom will release more than 2,500 trial commercial mobile phones with end-to-end network and business testing in the third quarter of 2019, while China Unicom hopes to achieve a large-scale launch of 5G commercial terminals by the fourth quarter of 2019.As introduced by Lei Zhang, the person in charge of ZTE's flagship mobile phone at the press conference, ZTE has already released the first batch of 5G mobile phones in bulk to the three major service providers in China.
5G mobile phone is also the largest contributing variable for the ranking of telecom equipment manufacturers. Compared with the 2B network equipment market, 2C mobile phone is actually testing the overall strength of manufacturers. The early birds have undoubtedly gained some benefits. With the launch of global 5G commercial construction, the feast of 5G mobile phones will also start. In the future, these two Chinese manufacturers with 5G end-to-end strength will undoubtedly take the initiative to expand their global businesses, while other 5G network equipment suppliers that have already cut off their mobile phone business will find it difficult to enjoy the benefits of 5G mobile phones.
Who can Be the Biggest Winner in the 5G Competition?
The construction of 5G network has boosted the investment in the telecom network equipment market, which has brought new growth momentum for telecom equipment suppliers. Meanwhile, the different levels of participation in 5G construction will also lead to a new round of reshuffle among equipment suppliers. Undoubtedly, the telecom equipment market in the 5G era is brewing a change.
Since the merger of Nokia and Alcatel-Lucent in 2015, the global telecom equipment market has been dominated by four giants of Huawei, Ericsson, Nokia and ZTE for a long time. However, observing industry insiders may have noticed that for some time various consulting organizations have also come up with some different ranking lists.
Guang Yang, director of analysis in Strategy Analytics, said, "that there are many rankings of 5G network providers, and they are also quite different. Some are based on the number of contracts, some on the number of deliveries, and also some on the contract amount and the delivery amount, etc. For example, Strategy Analytics' previous report was a market forecast based on the number of users served by wireless access network devices. These rankings or ratings can only reflect one aspect of the problem. We believe that if we want to comprehensively assess the strength of a manufacturer, we still have to consider its comprehensive competitiveness. It involves many aspects and cannot be simply judged with a single indicator. If we must find such an indicator, we feel that the most fundamental one is the long-term and continuous investment in technology research and development, especially the continuous investment in the face of the market downturn cycle, which is essential for maintaining the long-term competitiveness of equipment manufacturers."
Guang Yang also believes that in the past few years, Chinese manufacturers have generally outperformed foreign manufacturers in R&D investment, which may owe to the steady development of the domestic 4G market and the government's guidance and support for R&D investment. So far, Huawei's R&D investment in 5G has exceeded the total R&D investment of major foreign competitors. In spite of the extremely difficult operating situation last year, ZTE still maintained the stability of the R&D team, insisted on promoting 5G technology research and development, and continued the good development momentum of technology and products, embodying this long-term commitment and persistence.
As mentioned above, China's leadership in 5G market is inseparable from the dedication of Chinese manufacturers. Those manufacturers rooted in China, the largest 5G market around the world, will undoubtedly gain more dividends and win more growth space in the future.
According to Guang Yang, the broad development space of 5G business depends on the combination with all industries and the most important factor to consider for service providers or other industries in selecting partners is the technical innovation capability of the manufacturers, which is closely related to R&D investment. Of course, a fully competitive market environment is an important prerequisite for promoting technological innovation and this is why service providers generally hope to maintain the full competition in the equipment market, and often take advantage of new technology updates to introduce new suppliers and improve the level market competition. This rule usually offers an opportunity to expand the market for equipment market challengers.
China owns the world's strongest information and communication industry chain, the world's widest 4G network, the growing mobile Internet industry and the largest population of mobile Internet users, which means that once the commercial construction of 5G network starts, China will breed more powerful Internet ecosystems and more potential innovations. Even though the level of development varies among global service providers, China will undoubtedly come out in front as long as they enter the intermediate stage of acceleration. The "four new inventions (high-speed railway, payment by code scanning, shared bicycle and online shopping)" directly or indirectly benefiting from the 4G network have already been the envy of young people from countries involved in "The Belt and Road Initiative". In the future, the 5G network with huge power to change the society will generate more vitality to drive greater changes. China has already taken the lead in the 5G field. In the future, China's 5G powers, represented by Huawei and ZTE, will play a greater role in the global promotion of 5G network.