The 2023 ICT China High Level Forum was recently held at the China National Convention Center in Beijing, hosted by the Ministry of Industry and Information Technology (MIIT), and co-organized by the China Academy of Information and Communications Technology (CAICT) and China P&T Appliances. In one of the thematic forums, specifically the Cloud Native Development Forum, Huawei and China Mobile's cloud native innovation project scooped the 2023 Cloud Native Innovation Leader – Cloud Native Innovation Case Award.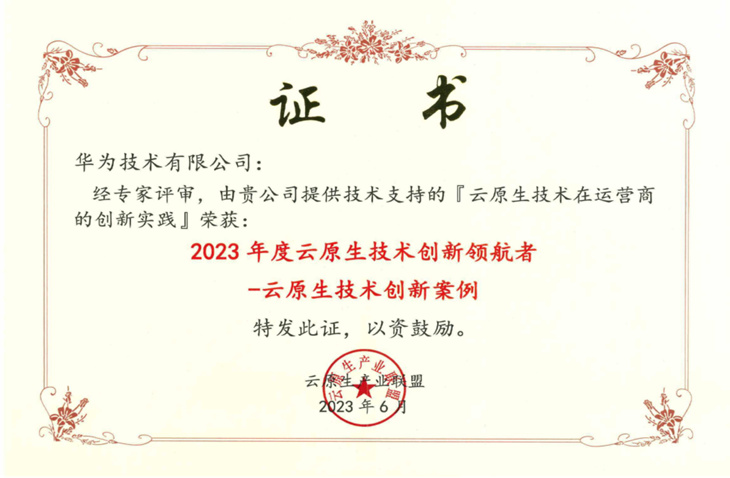 This award clearly demonstrates that Huawei's Telco Cloud Native solution has gained industry recognition for its persistent exploration in helping operators achieve business success. On the basis of adhering to building telecom cloud networks that feature both high stability and rock-solid reliability, Huawei has been exploring the leading role and new possibilities of cloud native in the telecom industry, and as a result of these endeavors, launched the Telco Cloud dual-engine container solution. This solution empowers operators to lay a solid network foundation, accelerate innovation, and gain technical advantages in a fiercely competitive market, achieving business success.
Fully converged architecture with ultimate performance and ultra-high reliability:The dual-engine container solution accommodates VMs and containers in the same architecture and allows on-demand scheduling of VMs, containers, and bare metal servers. As Telco Cloud resources are scheduled more efficiently, Telco Cloud management and virtualization overheads start to drop below the industry average. It is worth mentioning that dual-engine containers deliver a 20%+ higher performance than open-source bare metal containers, while sticking to carrier-class reliability (99.999%). Thanks to storage bypass, cross-layer fault demarcation, and node sub-health check, cloud-native containers have observed significant improvements in security, reliability, and O&M efficiency.
Automated Telco Cloud Native monetizing cloudification:One of the key O&M challenges for Telco Cloud lies in hitless upgrade. To address this, Huawei has leveraged the affinity of NEs automatically deployed by MANO on the basis of the cloud native architecture and stateless upgrade. As a result, Telco Cloud is batch upgraded without service loss, which is the only hitless batch upgrade case in the entire industry. In an ultra-large DC of China Mobile with 1500 hosts, Telco Cloud OS is upgraded and verified within just four time windows, and services do not need to be migrated, which ensures always-on services. Through technical innovations, such as OS hot patch and automatic upgrade with live migration, Huawei helps operators enhance version upgrade and services in a flexible and agile way.
Smooth evolution complying with ETSI standards, evolution uncertainties addressed by a deterministic architecture:In the past decade, we have witnessed the ETSI NFV development as well as the concerted efforts made in the unified standards by the whole industry. During this time period, best practices for organization capabilities, network architecture, and technical skills for operators have been gradually formed. With the Huawei dual-engine container solution, operators can easily adopt containers to their existing networks through capacity expansion rather than new deployment and both VMs and containers can be managed in the same resource pool, enabling the smooth evolution from VMs to containers. In this way, the solution can significantly protect customers' existing investments, minimizing risks and costs on the way to cloud native. This is what we call "using the deterministic architecture to address the uncertainties that will influence our pace."
Huawei is committed to telecom cloud network innovation, continuously building Telco Cloud solutions with high reliability and performance, helping operators achieve all-cloud transformation and innovation with this dual-engine container solution, and working with them to achieve business success.