At the 2023 Annual Conference on ICT Industry Trends and the ICT Industry Most Valuable Product Awards Ceremony held by Communications World Website (CWW) Omnimedia, New Calling, jointly announced by Zhejiang Mobile and Huawei, won the Best 5G Core Network Innovative Product award, with its superlative user experience and innovative excellence.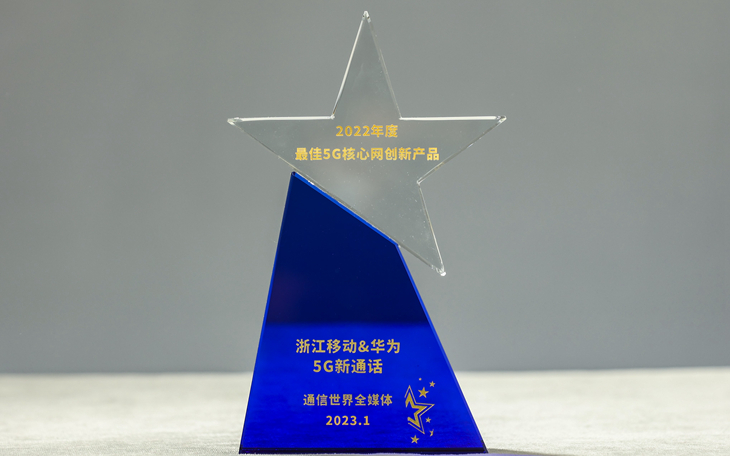 New Calling jointly announced by Zhejiang Mobile and Huawei won the Best 5G Core Network Innovative Product award
The New Calling solution adds a New Calling Platform (NCP) and Unified Media Function (UMF) to the existing voice network and forms a network platform. By using this platform, New Calling facilitates three competitive calling capabilities — UHD calling, intelligent calling, and interactive calling. By utilizing these capabilities, operators can roll out numerous innovative services, such as outbound video calling, real-time translation, fun calling, and remote assistance. In addition to redefining experiences across a range of scenarios — such as overseas travel, communication with hard-of-hearing people, and social interaction — these services can be widely used in the finance, public services, logistics, manufacturing, and many more sectors. This helps operators enhance their competitiveness and ultimately achieve business success.
Based on New Calling, Zhejiang Mobile has launched two typical services — fun calling and real-time translation, with the help of Huawei. In addition to making call communication more seamless, accessible, and enjoyable, these services will help Zhejiang Mobile retain its user base, build customer loyalty, and create new revenue streams. Fun calling allows users to replace the actual background with a preset image, use avatars for fun, and send emojis with a mere hand gesture or voice command. All these features make calls more interactive and immersive. Real-time translation recognizes speech, translates what the other user is saying, and then converts it into text, truly overcoming language barriers. This service is also helpful for users who are hard-of-hearing.
Zhejiang Mobile and Huawei will continue to explore more possibilities of New Calling. By upgrading traditional audio and video communication services, Zhejiang Mobile and Huawei will revolutionize the calling experience and usher in a new era of communication for hundreds of millions of users.