According to the research report in Q3 2019 from the Dell'Oro Group, a market research company, Huawei ranked as the No. 1 vendor in the trailing four quarter shipments in the new Mobile Core Network report. Huawei's market share for the quarter was 30%. Ericsson ranked second with 26%. The Mobile Core Network report provides a comprehensive look at the major core element including wireless packet core, IMS Core, policy management, and subscriber management. In addition, the report notes that Huawei has ranked as the number one vendor in shipments for the past seven quarters in a row, beginning in 1Q18 which is the first quarter in which all four segments are included.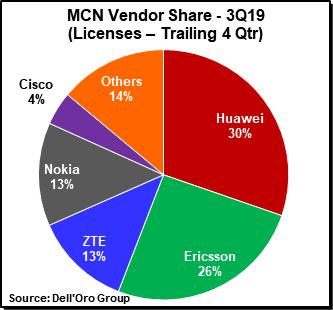 According to the report, annual mobile core network sales revenue in 2019 grows by 16% over 2018. The report points out that multiple factors lead to this rapid growth. Data traffic and subscribers increase as more 2G and 3G subscribers choose to use 4G and 5G networks, and more wearable devices access 5G networks. The acceleration of 5G deployment will continue to drive the growth of the mobile core network market. In 2019, 50 non-standalone (NSA) 5G networks have been commercially deployed worldwide. It is estimated that 5G standalone (SA) networks will be deployed in China, South Korea, Middle East, and United States by 2020.
The Evolved Packet Core and IMS Core are important parts of the mobile core network, and their sales volume contributes 40% and 33%, respectively, of the mobile core network market revenue. The packet core network experienced a strong year-on-year growth of 19%. Distributed core networks will become the mainstream as 5G deployments begin accelerating in 2020 and 2021.