At the 2023 5G Core Summit hosted by Informa, Jeffrey Wu, President of Huawei Packet Core Network Domain, announced the release of the 5.5G-oriented new product — Intelligent UDG. Wu indicated that next-generation mobile Internet has been undergoing significant service content shifts from 2D to 3D, content production model shifts from manual to smart, and transmission protocol shifts from TCP to QUIC. To adapt to these shifts, Huawei's Intelligent UDG offers ubiquitous 10 Gbit/s transmission rates and complies with multiple protocols including Media over QUIC (MoQ), achieving an ultimate experience in high bandwidth, high concurrency scenarios and helping operators embrace the 5.5G era with explosive traffic.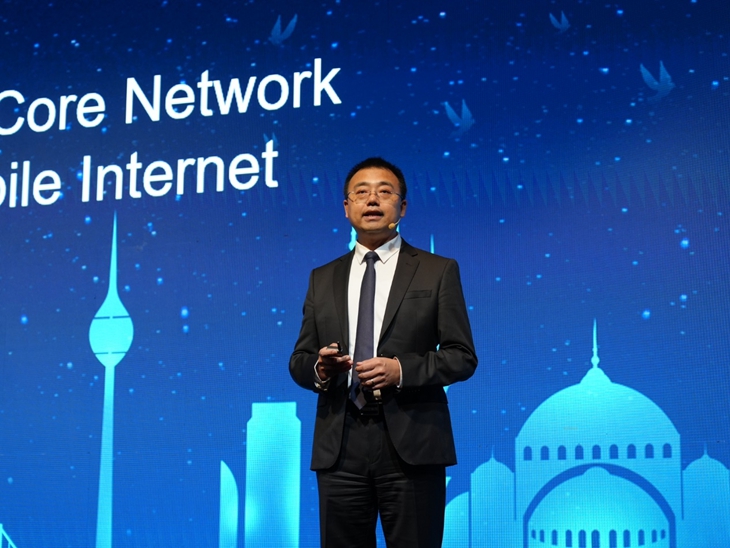 Jeffrey Wu, President of Huawei Packet Core Network Domain, delivering the keynote speech
With the rapid development of the 5G industry and the fast approaching 5.5G era, information consumption demands are posing higher requirements on mobile Internet and elevating the industry to new heights as well. In response, Huawei's Intelligent UDG integrates a network acceleration unit and introduces a series of key capabilities, including native intelligence based on hardware and software collaboration, intelligent flow forwarding, flexible resource scheduling, intelligent traffic shaping, as well as differentiated frame-level scheduling. All the aforementioned highlights help achieve ubiquitous 10 Gbit/s transmission rates.
Intelligent flow forwarding improves forwarding plane performance. The Intelligent UDG introduces a new hardware element, that is, the network acceleration unit. This unit works with the scheduling algorithms capable of intelligent flow identification, dynamic flow aggregation, and efficient flow forwarding. It helps drastically improve the performance of the forwarding plane.
Flexible resource scheduling maximizes resource utilization. The Intelligent UDG, powered by the network acceleration unit in conjunction with a global scheduling algorithm, flexibly schedules user-plane compute resources while processing heavy-traffic services. This maximizes resource utilization and also accelerates associated forwarding.
In addition to the enhancements in core network capabilities, special concern is given to end-to-end capabilities over the entire network. The Intelligent UDG leverages its native intelligence to identify traffic characteristics of different protocols and perform traffic shaping and frame scheduling to adapt to end-to-end network capabilities, achieving supreme network-wide efficiency.
Intelligent traffic shaping improves transmission efficiency. The Intelligent UDG performs intelligent traffic shaping on instantaneous flow bursts based on real-time awareness of microbursts. This prevents the user experience from degrading due to differentiated flow processing upon microbursts.
Differentiated frame-level scheduling offers a superlative user experience. The Intelligent UDG is able to identify frames of different protocols including MoQ in a smart way, classifies different data flows, and then uses an intelligent differentiated scheduling algorithm to provide better immersive experiences for multiple users in even high concurrency scenarios.
Looking into the future, Huawei's Intelligent UDG will incorporate more intelligent technologies, such as content storage on the core network based on integrated forwarding and storage capabilities, as well as compute and network integration. Powered by these technologies, the Intelligent UDG will provide more intelligent capabilities for operators' networks and comprehensively improve network efficiency.