On June 27, 2023, the 5G SA Industry Development Roundtable was held during MWC Shanghai. At the roundtable, Sean Zeng, Vice President of Huawei Packet Core Network Product Line, delivered a keynote speech entitled "5G SA: New Growth Engine of 5G." In the speech, he talked about SA standards and industry development, and expounded the typical features of 5G SA networks, as well as Huawei's key capabilities in helping operators deploy 5G SA Core for new growth.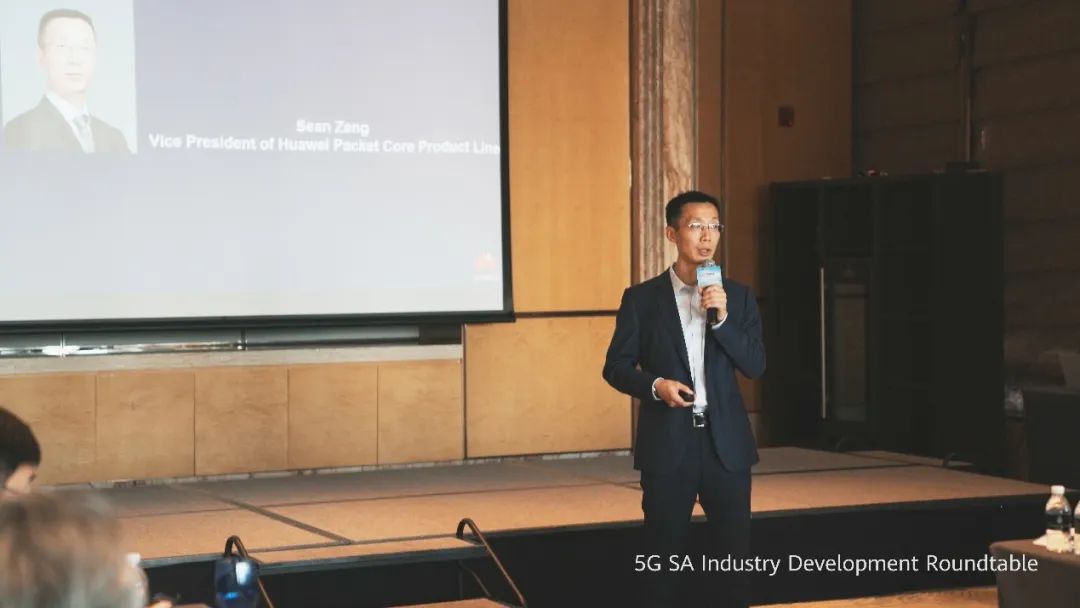 Now, the 5G SA standards have been frozen, and 3GPP has moved forward to the exploration of 5G-Advanced. The 5G SA network is confirmed as the target network for operators' future network evolution.
With the rapid development of the 5G industry, 43 telecom operators all over the world have commercially deployed 5G SA networks, and 115 operators plan to invest in 5G SA networks. In addition, the shipment of 5G terminals had exceeded that of their 4G counterparts by Q2 2022, and more than 80% of the 5G terminal models (over 2000) released around the globe support 5G SA networks.
5G SA networks have three typical features.
Energy saving
Live network test results show that the 5G traffic ratio on an SA network is 10% higher than that of the same base station on an NSA network, a 5G SA base station uses about 4% less power, and the communication module of SA-capable mobile phones on a SA network consumes about 20% less power than on an NSA network.
User experience
Due to the dual connectivity mechanism on NSA networks, the network icon may be inconsistent with the actually connected network, that is, when a 5G icon is displayed on the mobile phone screen, the phone may be actually connected to a 4G network for services. Such inconsistencies might mislead users, causing them to consider 5G not a real upgrade compared with 4G on service experience. While, this is no problem with 5G SA networks, where the 5G signal icon and network connection are definitely consistent.
Differentiated SLA requirements
5G is finding footprints in various B2B and B2C scenarios, which will boost operators' service growth. These scenarios involve different services and raise different SLA requirements on the network. Yet, the SA network and the network slicing technology are a great match to provide differentiated network capabilities for diverse service scenarios, such as industrial manufacturing, power grid, remote control, New Calling, and cloud phone.
To tap into the preceding key values of SA networks, Huawei provides three key capabilities to help operators quickly deploy 5G SA Core and achieve faster growth.
Fully convergent network
Huawei's fully convergent 5G Core integrates 2G, 3G, 4G, 5G NSA, and 5G SA, and can help operators deploy SA core networks at one step. With the convergent network architecture, different resources can be shared among networks of different generations. It is an optimal option in various aspects like quantity of interfaces and NEs, TTM, and user experience.
Precise user migration
Huawei offers a precise user migration solution based on user profiles. It can accurately identify the bottlenecks for SA usage, for example, 5G SA terminals with 4G packages, and 5G SA terminals with SA mode disabled. Based on this, operators can perform precise marketing activities to attract more users to SA networks.
B2B innovation
Huawei adheres to the concept of "public network for dedicated purposes." It has launched kite-like solutions to help operators deliver optimal services to enterprise customers in local-area, wide-area, and cross-domain scenarios, accelerating their digital transformation.
Now, the 5G SA industry is matured and is in full swing. Huawei will work with industry partners to continuously advance the development of the 5G SA industry, unleash more potential of 5G, explore new scenarios, and create new business modes.