[Barcelona, Spain, February 28, 2023] At MWC23, Marvin He, President of Hybrid Video Domain, Huawei Cloud Core Network Product Line, delivered a speech at the GSMA session "Can Immersive Technologies Transform the World?". Marvin noted that to embrace the prosperous development of 5G and 5.5G, Huawei proposed the concept of "New Video", which enables the video experience to transition from 2D to 3D and from conventional entertainment to "entertainment + communication", ushering in a new chapter for the video industry.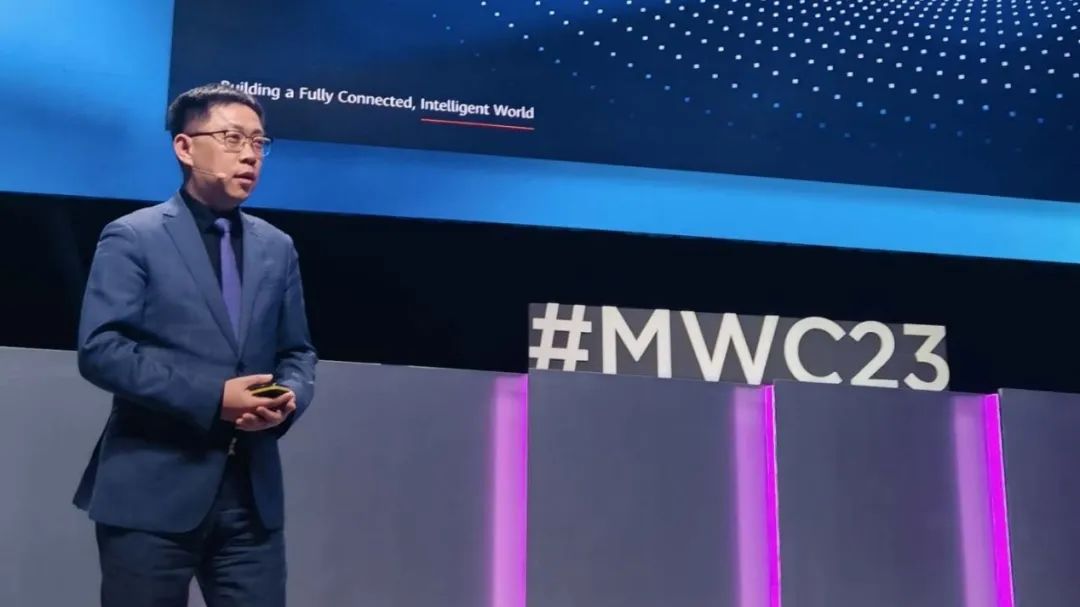 Marvin He, President of Hybrid Video Domain, Huawei Cloud Core Network Product Line
Robust Development of Video Technologies in the New Era
Each upgrade of communications technologies brings about changes to the media industry, such as texts in 2G, images in 3G, and videos in 4G. As technologies develop, people's audio-visual entertainment requirements increase accordingly, from common, unidirectional, and flat videos to HD, immersive, and an unhindered video experience.
In the 4G era with 100 Mbit/s Internet connections, immersive videos generally refer to large-screen HD videos and 4K VR 360° videos, which provide people with a superior video experience. To top this, when 5G arrived, it created large bandwidth, low latency, and wide connection, having led to the emergence of various new scenarios and services. 4K free-viewpoint, multi-viewpoint, 8K VR, and 3D audio and video experiences become realities, laying the foundation for the evolution of conventional videos to immersive ones. The large-scale construction and development of 5G also promotes the continuous evolution of technologies, standards, applications, and ecosystems. The video industry is now entering the 5.5G era, leading to a rapid development in immersive video technologies. Both large- and small-screen social interaction and 3D live streaming will be soon available to every home around the world.
According to Marvin, New Video arises from Huawei's continuous innovation to embrace 5G and 5.5G. It has multiple powerful features:
10-fold network capability: New Video enables 10 Gbit/s downlink and 1 Gbit/s uplink rates for video distribution.
Efficient content production: New Video can process video streams from hundreds of HD cameras in real time; it also enables fast 3D content conversion, making 3D video content accessible to more people.
Convergent service capabilities: Incorporating communication and video capabilities, New Video can help operators build a video-based "entertainment + social interaction" enablement platform. With such a platform, operators can upgrade their video services from single-screen entertainment to multi-screen and social interactive engagements, further integrating B2C and B2H and creating new home audio and video scenarios.
AI processing capabilities: New Video adopts AI processing capabilities to lower end-to-end latency, delivering an optimal operation response experience to end-users with diverse terminals.
Upgraded Platform and Innovative Experiences
At this year's MWC, Marvin launched three innovative solutions from Huawei: Metavision, Vivision, and Envision Video, which streamline immersive video services covering video production, distribution, and consumption.
Huawei Metavision solution provides site deployment and spatial video content production. In this solution, the server can process simultaneous video streams from hundreds of ultra-HD video cameras deployed around stages, theaters, and stadiums. Employing technologies such as intelligent transcoding, intelligent stitching, 6DoF virtual angle generation, and multi-stream synchronization, the server can deliver rich multi-DoF spatial video experiences, for example, 360° free-viewpoint, ultra-HD highlight moment, and multi-viewpoint with impressive audio and video synchronization.
Huawei Vivision Solution offers users an immersive audiovisual experience with the intelligent transcoding server and mobile phone 3D screen film. The intelligent transcoding server, enables existing 2D content to be converted into 3D, opening up more revenue streams for operators and content providers. Besides, the 3D video rendering SDK is offered on smart phones. Together with 3D screen films, it allows users to enjoy glasses-free viewing on their phones. This solution is the first of its kind in the industry to convert 2D live streams to 3D, adding only a 5-second latency to live streaming, and offering a brand new live streaming experience to viewers.
Huawei Envision Video Solution provides a video platform that supports convergent video experience and secure and efficient content distribution. It converges IPTV and OTT, and can connect all terminals at home and all devices on the go. This solution is designed to support mega-scale video service management, which reaches hundreds of millions of subscribers and handles tens of millions of video assets simultaneously. Huawei Envision Video enables operators to better cope with the service challenges in this new era. In addition, it is beyond a cloud-based carrier-grade solution; it can handle 64 times traffic surge with the anti-overloading mechanism implemented, while also delivering all immersive experiences such as 360 VR, glasses-free 3D, HDR Vivid and social interactive videos. On top of that, it also ensures low latency for different scenarios such as VR motion-to-photon (MTP), live streaming, and video-based communications and interactions.
Marvin noted at the session that AI has become indispensable to the industry and acts as a catalyst for the evolution of videos. From production content to user-generated content to AI-generated content, the video industry will be open, diversified, and full of challenges and opportunities.
Huawei is always ready to collaborate more with industry partners, to innovate for a robust future for the video industry.