Qingdao Port, China Mobile, and Huawei jointly deployed the MEC solution in the New Qianwan Terminal of Qingdao Port. The 5G network was connected to the gantry crane for 5G remote control. This was the successful first step, verifying this 5G remote control application scenario in port environments, and marking the beginning of cooperation between the three parties in the 5G smart port field.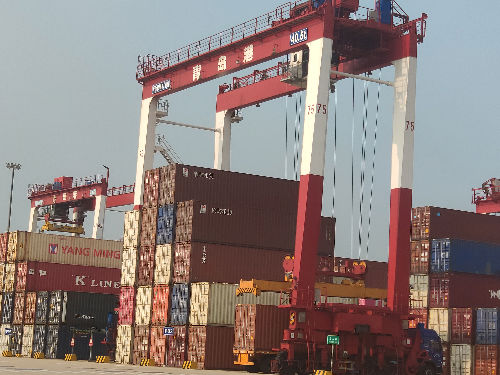 The gantry crane in the New Qianwan Terminal, connected to the 5G+MEC system
Qingdao Port is a world-famous port enterprise located on Jiaozhou Bay, Shandong Peninsula, next to the Yellow Sea, and facing Japan and the Korean Peninsula. It is an international trade port and transit hub along the Yellow River basin and the western side of the Pacific Ocean. It is mainly engaged in import and export cargo including containers, coal, crude oil, iron ore, and food, as well as international and domestic passenger services. In 2018, the throughput of goods in Qingdao port reached 542.5 million tons, an increase of 6.3% year-on-year, with 19.32 million TEU in containers, a year-on-year increase of 5.5%. In terms of scale, it ranks 8th in the world and 5th in China.
Qingdao Port covers a total of 420 square kilometers, including the Dagang Port, Huangdao Oil Port, New Qianwan Terminal and Dongjiakou Port.
Qingdao Port is the eighth largest port in the world and the fifth largest port in China, according to 2018 data.
At the end of February, 2019, during the Mobile World Congress (MWC) held in Barcelona, Qingdao Port, China Mobile, and Huawei announced that they would leverage each of their advantages to jointly build the 5G smart port in Qingdao. Three enterprises, outstanding in their fields have come together to continue the thousands of years of advancement in the port industry. The three parties will jointly explore in-depth integration of next-generation information technologies, such as 5G, ultra-HD video, artificial intelligence, and cloud, to define the future of smart port.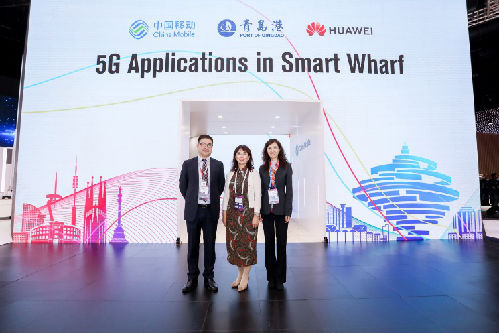 The three parties announcing the joint 5G smart port at MWC 2019
Smart ports require powerful communication, higher bandwidth, lower latency, and more reliable connections. Key service systems in port environments such as gantry crane, container truck, and video surveillance systems have been using optical fibers and industrial Wi-Fi for communication. The construction and O&M for these conventional systems is expensive, deployment is inflexible, and they lack stability and reliability. 5G features high bandwidth, large capacity, and low latency, providing more options than with traditional methods. The combination of edge computing and network slicing will provide solid ICT infrastructure for smart ports.
5G macro base stations are deployed in high locations to provide 5G coverage for container yard areas in New Qianwan Terminal. Huawei recently interconnected the gantry crane with Huawei's 5G+MEC system, providing a reference for 5G in smart port scenarios and the "device-pipe-edge-cloud" model.
The onsite testing showed a stable uplink rate of 60 Mbps for the 5G terminal in the gantry crane. The terminal supports real-time HD video backhaul from multiple cameras installed around the gantry crane. After MEC was introduced, the end-to-end network latency fell to between 13 and 18 milliseconds, meeting latency requirements for remote control between the central control room and the gantry crane.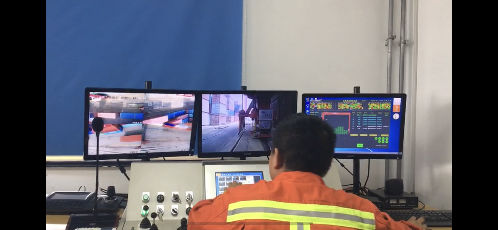 Viewing the multi-directional 5G video in the central control room
Build a Dedicated 5G Network to Create a More Intelligent Qingdao Port
5G is laying a solid foundation for network-based, digital, and intelligent upgrades in scenarios such as factories and ports. It provides a reliable and predictable network environment to meet demands for differentiated and deterministic networks. With its native cloud hyper-distributed architecture, 5G provides differentiated + deterministic network service capabilities using key technologies such as dynamic intelligent network slicing and super-performance heterogeneous MEC. It applies to complex scenarios such as 5G + machine vision, 5G + 360-degree security, and 5G + man-machine collaboration to realize more intelligent factories, ports, and campuses.
The Huawei 5G MEC solution is an indispensable edge platform for future 5G industry applications. It moves applications, content, and some service processing and resource scheduling functions from the core network closer to the access side at the network edge. This provides a reliable and optimal service experience by coordinating applications, content, and networks. It can be used in a wide range of scenarios such as industrial manufacturing, self-driving, remote control, and smart grid, and can be deployed flexibly in factories, ports, mines, substations, and other campus scenarios.
As leading enterprises in the port industry, telecom network operation, and 5G products and solutions, Qingdao Port, China Mobile, and Huawei will continue to strengthen cooperation, expand 5G coverage in ports, and explore more opportunities for deployment of dedicated 5G networks. Further work with partners will verify more application scenarios, such as crane control, 360-degree security, and AGV communication, to build safer, more reliable, and more efficient smart ports.
The source for this news article was published on October, 2019: