The 2023 ICT Industry Trend Annual Conference was held in Beijing today. At the conference, China Mobile Zhejiang, Huawei, and Haier were awarded the Best MEC Technology Innovation of 2022 for their collaboration on jointly launching the enhanced 5G MEC solution for small- and medium-sized enterprises (SMEs).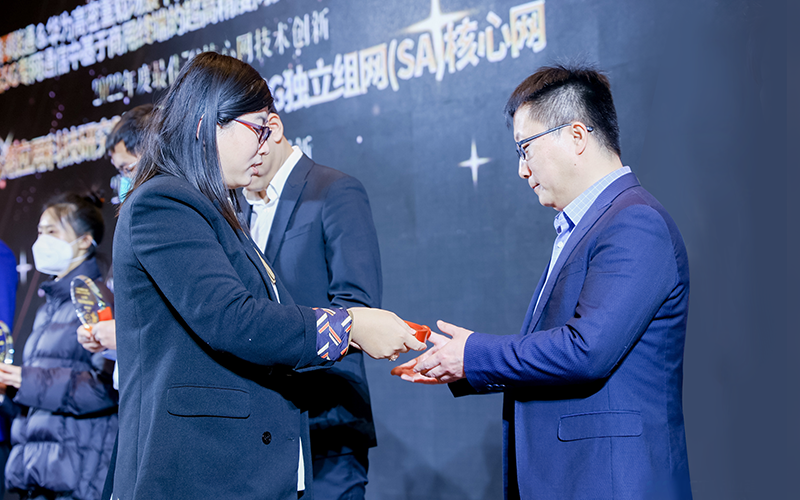 2022 Best MEC Technology Innovation Award
There are approximately 150 million SMEs in China that constitute a significant portion of the nation's economy. Service cloudification of SMEs has become imperative for enterprise digitalization. However, SMEs still face tough challenges such as size limitations, lacking specialist knowledge, heavy investments (including prolonged returns on investments), and high network O&M costs. To address such challenges, China Mobile, Huawei, and Haier's COSMOPlat jointly launched an integrated cloud service solution for 5G MEC–based smart manufacturing for SMEs. In the first phase of this solution, two mainstream digitalization services are provided: industrial vision-assisted quality inspection and AR-assisted standard operation. In that regard, the procedure of applying 5G by SMEs is simplified from the following three aspects:
One integrated 5G device: For example, a conventional 5G machine vision device occupies an area of two to three square meters at each workstation; and multiple components need to be integrated onsite, which can take approximately a week to install. In this case, the computing power is moved upward to the MEC platform, and devices are simplified and integrated, with installation taking just one day to complete. In addition, devices can be used simply with a SIM card.
One 5G MEC–based enhanced private network: Conventional MEC supports only the virtualized network function descriptor (VNFD)–based integration mode. After the computing power is moved upward to the MEC platform, service integration can be completed within two weeks by CT professional engineers. Thanks to the convergent edge cloud, it enables the MEC platform to support the elastic cloud server (ECS), elastic volume service (EVS), and cloud networks. Services can then be integrated through a self-service portal, shortening the integration period from several weeks to just several days.
One enhanced MEC cloud service portal: Conventionally, networks and applications need to be provisioned separately for services. This requires collaboration across departments through individual work orders, which is time-consuming and uncontrollable. Currently, with the help of computing-network integration and SDN, SMEs can realize automatic provisioning of services within minutes via the cloud service portal.
In addition, the solution creates a win-win ecosystem for operators, industrial Internet platform providers, and SMEs.
For SMEs, they do not need to design 5G networks, invest heavily, or set up a long-term O&M team. Instead, they can access the mobile 5G mall to implement one-stop service subscription and provisioning and enjoy long-term service assurance from local O&M teams. Such services provided by the mall reduce the total cost of operations (TCO) by 40% and the product quality is improved by 28%.
For industrial Internet platform providers, service delivery capabilities are significantly improved. Conventionally, the computing power is deployed on the device side; the deployment requires an area of more than three square meters and a period of more than one week to set up. After MEC is harnessed, the computing power is moved upward to the MEC platform, and the device installation is shortened to just a couple of days. In addition, SIM cards are plug-and-play and these improve the delivery efficiency by up to 90%.
For operators, their data/information/communication technology (DICT) service revenue from the 5G-powered large-, small-, and medium-sized enterprises has achieved double-digit growth.
The solution has been put into commercial use in the city of Ningbo, which is located in Zhejiang province, China. SMEs in Ningbo's home appliance manufacturing industry can now complete service subscription and provisioning simply via the 5G mall, thus realizing one-stop digitalization through one integrated 5G device, one 5G MEC–based enhanced private network, and one enhanced MEC cloud service portal. 2023 will see the solution extend to another seven cities in Zhejiang province, covering more industrial clusters such as automobile accessories and semiconductors. This initiative will enable more SMEs to rapidly migrate their services to the cloud.