By: Rick Howard, VP Analyst at Gartner
Bill Finnerty, Sr Director Analyst at Gartner
Milly Xiang, Sr Director Analyst at Gartner
The pandemic forced government agencies to reassess their digital strategies and transform. Governments' priorities shifted, as resources were scarce. The impact of COVID-19 accelerated the move to remote work while negatively impacting cities with a significant proportion of government workers. The pandemic forced governments to accelerate the implementation of digital services; yet, much of the increased volume lacked digital maturity.
Gartner's 2021 technology trends for government arise from the challenges wrought from the pandemic. They evolve as a response for government CIOs to design flexible operating and organizational models that support tremendous disruptions. Further, they build on Gartner's 2019-2020 technology trends, where we had focused on how those trends had the potential to optimize or transform public services.
The top technology trends are directly linked to public administration and policy issues that government leaders must address into 2023. We refer to these issues as "business" trends. From these business trends, we developed 10 technology trends that will impact government (see Figure 1).
Figure 1. Top Technology Trends in Government for 2021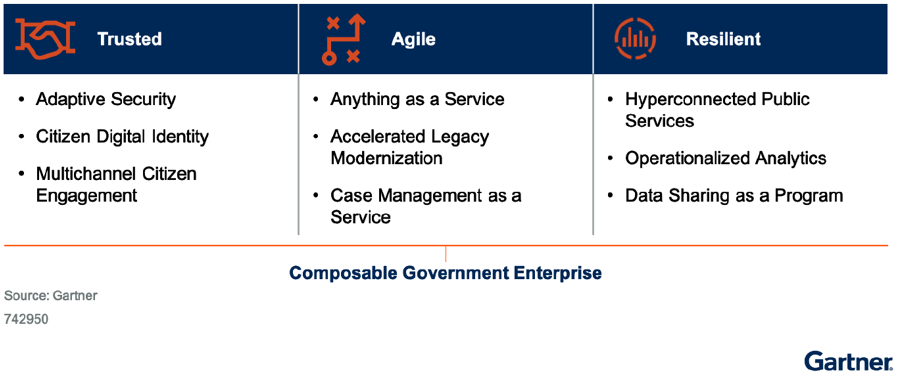 1.Composable Government Enterprise
The composable government enterprise is any government organization that adopts composable design principles. It makes composable design a core aspect of the enterprise architecture (EA) design principles. Being a composable government enterprise enables an organization to extend the reuse of capabilities and continuously adapt to changing regulatory, legislative and public expectations.
EA programs must be elevated to a business support function, not just technical, to enable the focus on rearchitecting the way services are designed and delivered. The role of chief enterprise architect (CEA) will need to be equal parts talent, data, technology and operations prognosticator.
Digital leadership is essential for government organizations to establish the capabilities necessary to be composable. Reimaging public services to most effectively deliver value and establish the trust of constituents will require a clear vision, an enterprise-level view of citizen experience and maintaining the governance essential to adapting to a changing environment.
2.Adaptive Security
The adaptive security model is one in which cybersecurity systems operate more like an autonomic biologic immune system. 1 The adaptive security architecture features components for prediction, prevention, detection and response. The adaptive model forgoes traditional notions of perimeter, assuming there is no boundary for safe and unsafe, a necessary conceptual shift given the migration to cloud services.
Two implications are paramount - sustained funding and talent. A robust cybersecurity program can be expensive. The cost of tools and outside services or consultants to establish or reinvigorate a security program can be quite high. Further, dedicating an increased budget to cybersecurity may well come at the expense of capability and services that business unit leaders want and expect. In the eyes of business unit leaders who might get less support from IT teams, investments in cybersecurity may appear as unnecessary insurance. The ability, or lack thereof, to differentiate an adaptive security implementation from traditional document-based compliance may also limit ability to obtain support for necessary budget resources.
Cybersecurity expertise is in extremely high demand. Government agencies can be challenged to compete with the private sector for staff with necessary skills. This can aggravate the budget issue by requiring more dependence on outsourced labor. Skills shortages for cybersecurity are widely reported in the media. The operational imperative and possible compliance requirement to implement adaptive security in the face of budget and staffing challenges, require CIO leadership and creativity.
3.Citizen Digital Identity
The definition of citizen digital identity is evolving with its use cases. In retrospect, citizen digital identity was defined mostly as electronic identification (eID), authentication and electronic signatures in online government services. The contemporary definition of citizen digital identity has grown to include use cases like age validation while preserving privacy, sharing identity data through digital wallets, acting as a delegate for a parent or a company. A near-future-oriented definition considers the growing convergence of physical and virtual identities. When digital identity data flows seamlessly between individuals, organizations and objects, decisions about sovereignty over digital identity data will become, at best, politically contentious.
Government CIOs must link digital identity to salient use cases. Governments have in the past rolled out digital identity schemes without ever validating intended uses with the intended users. But digital identity requires exploration, a business case, gradual expansion and validation of assumptions for use cases.
Pressured by the pandemic, many governments are forced to react quickly but need to keep sight of long-term objectives. Remote onboarding and authentication technologies have stood the crisis test and can be quickly deployed. The bigger challenge is to steer such quick fixes in desired directions for building trust and resilience in the long term - for example, by mandating adherence to established standards like NIST or eIDAS.
Governments should be more proactive in a changing digital identity ecosystem. Government is no longer the sole authority on identity in a digital context, but it should assume its privileged role as facilitator, regulator or federator. Proactive stance is important to ensure that digital identity developments support, not sideline, policy priorities like personal privacy, national security, universal service access or digital sovereignty.
4.Multichannel Citizen Engagement
Multichannel citizen engagement is a seamless, bidirectional engagement with constituents across organizational boundaries while delivering a personalized experience using the preferred and most effective channels to reach constituents. Multichannel citizen engagement uses data to actively monitor the effectiveness of engagement efforts and revises them as needed to deliver a more satisfying set of citizen interactions. It is essential that governments that implement multichannel citizen engagement adhere to regulations and user preferences around the use of personal data.
Investment in a multichannel communications platform to enable engagement with constituents across preferred channels will be essential to improving engagement efforts.
Governments should invest in a multitude of engagement tools, approaches and instruments to create holistic engagement plans that leverage in-person, remote, synchronous and asynchronous interactions. Failing to do so will create an imbalanced weighting of population segments.
5.Anything as a Service (XaaS)
Anything as a service (XaaS) is a cloud-only sourcing strategy that embraces acquiring the full range of business and IT services on a subscription basis.
XaaS technologies can offer a much shorter time to value than traditional on-premises implementations, while also alleviating limited IT resources and capacity, and normalizing IT investment and upgrade costs into operating expense (opex) budgeting practices.
The pace of XaaS adoption in government is quickening as leadership has become more comfortable with cloud delivery models while overcoming concerns regarding security and data ownership.
Government CIOs must strategically manage the shift toward XaaS models for IT applications and infrastructure by reconsidering all elements of the I&T operating model. XaaS changes the financials and tools of I&T and, therefore, requires new ways of working and managing performance.
6.Accelerated Legacy Modernization
Governments have seen, firsthand, the limitations and risks posed by decades-old legacy infrastructure and core systems. To be better equipped to deal with the next disruption, government CIOs are accelerating the move to systems and the need to adopt modern, modular architectures. Technologies such as public cloud, API management and software-defined networks are used to create the platforms upon which agility and responsiveness can now be built with confidence. Legacy modernization also requires agencies to equally address the historically poor data quality contained within many systems of record.
Government CIOs will find themselves competing with higher priorities for investment funds to complete this much needed work. Business cases will be heavily scrutinized in an environment where reducing impacts on citizens and businesses will be high on the political agenda. CIOs must balance momentum and lessons learned from risks faced and mitigated with the need to reduce costs and progress at pace.
Many governments are placing increased trust in the hyperscale cloud providers. However, there is an increased tension in some communities about becoming overly reliant on these providers. Efforts are being made in Europe, for example, to create an underlying infrastructure to provide more open competition and increase data sharing and ease of use.
7.Case Management as a Service (CMaaS)
A modular and interoperable approach, case management as a service (CMaaS) is used for the design and development of cloud-based case management solutions as digital products. CMaaS products are developed according to four composable business design principles: modularity, autonomy, orchestration and discovery.
A composable approach to case management modernization - where application capabilities are extracted, encapsulated and surfaced via APIs - enables organizational resilience and faster innovation. These API-wrapped application modules form a platform of PBCs that can be rapidly composed and augmented in multiple patterns to quickly support new:
CMaaS will also necessitate new ways of working through the formation of case management product teams with skills in development, test automation, integration, DevOps and APIs, data analytics and user experience (UX).
As government organizations embrace the concept of a composable business architecture, business technologists, aka "citizen developers," will increase their proficiency in the use of enterprise low-code application platforms.
8.Hyperconnected Public Services
Hyperconnected public services is the whole-of-government use of multiple technologies, tools or platforms to automate as many business and IT processes as possible.
Hyperconnected public services is a business-driven approach to process transformation that begins with the principle that "everything that can and should be automated will be automated."
The hyperautomation journey is ongoing and iterative. It will involve numerous business-driven initiatives across government ecosystems and will leverage an extensive array of technologies.
Hyperconnected public services require investments in new capabilities to manage end-to-end constituent journeys and as well as consistency of employee experience.
9.Operationalized Analytics
Operationalized analytics in government is the strategic and systematic adoption of data-driven technologies, such as AI/ML and advanced analytics, at each stage of government activity. This shifts government agencies from the dashboard reporting of lagging indicators to predictive decision support, and will help decision makers - from front line to executives - make better context-based operational decisions in real time. Operationalized analytics generate proactive business processes that leverage AI/ML and advanced analytics to improve the quality of the citizen experience.
For governments to scale and reap the benefits of digital transformation, CIOs must integrate AI and data and analytics capabilities with service delivery and operational processes while ensuring governance covers data usage and quality. Data generated by citizen-facing applications, ecosystem partners, the Internet of Things (IoT) and back-office systems requires a flexible analytics architecture that supports real-time analysis and AI-based decision support. CIOs must take action that involves integrating disparate information management and security policies into a cohesive framework that fosters a culture of data literacy.
Government CIOs and chief data officers - or equivalent roles - must collaborate to execute an "analytics everywhere" strategy that steadily advances the impact and expands the use of real-time analytics capabilities. This includes adopting pragmatic, just-enough approaches to adaptive governance, data architecture, standards and developing workforce competencies that yield higher business value over time.
10.Data Sharing as a Program
Data sharing is often ad hoc, driven by high-profile use cases such as child protection incidents or gender violence that cannot easily be generalized. Data sharing as a program moves it into being a scalable service, with multiple reusable capabilities, supporting the drive toward more composable approaches in government service delivery.
Sharing means compromise, and requires: All participating parties accept increased risk to data they previously controlled, as well as exposure of
data inadequacies, in return for contribution to mission delivery or budget savings. Political will and balancing of the financial risk. A program has a continuing remit to deliver value and improve over time. It does not need to solve the whole problem at once, and can develop value in proportion to effort.
As the organization sees increasing value in leveraging data, the CIO will need to establish policies and guidance for data sharing which support both small and large-scale initiatives and allow for continual escalation, resolution and learning from challenges. This will require a balance of controls versus incentives, and a level of dynamic risk sharing between participating agencies as initiatives evolve.