The 8th 5G Core Summit (5GCS) was recently held in Istanbul, Türkiye, running from November 14 to 15, 2023. Leo Ma, Vice President of Huawei Cloud Core Network Product Line, delivered a keynote speech, summarizing the development trend and achievements of NFV in the past decade, expounding the key features of Telco Cloud-Native from 1.0 to 3.0, and calling on industry players to work together to move towards Telco Cloud-Native 3.0 and leverage the benefits of cloudification.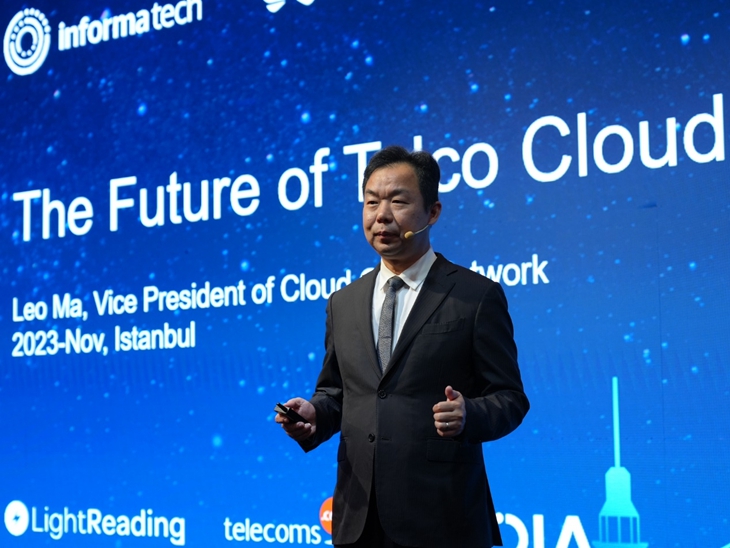 Leo Ma delivering a keynote speech
The concept of Cloud Native originates from IT practices and both the views and understandings of it differ significantly between members of the telecom industry. Besides elasticity, agility, high reliability, and automation, Huawei attaches great importance to carrier-grade requirements and O&M intelligence for a telco cloud, representing the evolution of Telco Cloud-Native from availability, ease of use, and then to intelligence.
Telco Cloud-Native 1.0: Availability — Carrier-grade High Reliability and High Performance
In the initial phase of NFV, telco cloud faces numerous challenges, such as performance deterioration caused by virtualization and failure of reaching carrier-grade reliability with COTS hardware. In light of this, Telco Cloud-Native 1.0 is dedicated to realizing availability of cloudified networks. After years of practice, Huawei enhanced the reliability and improved the performance of telco cloud, delivering a leading 99.999% carrier-grade reliability and paving the way for the development of large-scale global telco cloud infrastructure.
Telco Cloud-Native 2.0: Easy to Use — Rule-based E2E Automation
Cloudification brings not only service agility but also difficulties such as complex O&M and coupled upgrades between VNFs and the platform. In particular, layered decoupling deployment requires different vendors to integrate and interconnect, leading to multiple service breakpoints and a failure in E2E automation. Against this backdrop, in Telco Cloud-Native 2.0, automation is promoted to make telco cloud easy to use.
·VNF-level agility: Empowered by the Cloud Native architecture with a stateless design, VNFs can be automatically scaled. They also support In-Service System Upgrade (ISSU), as the VNF and platform upgrades have been decoupled from each other.
·Network-level agility: By means of Continuous Delivery (CD) and Continuous deployment (CT) workflows as well as a network-level canary upgrade, services can be rolled out more reliably and agilely.
·Smooth evolution: The convergent dual-engine architecture enables One Telco Cloud to support both OpenStack and Kubernetes, protecting the Return on Investment (ROI).
Telco Cloud-Native 3.0: Intelligence on Demand — Intent-driven Automation and Intelligent O&M
Looking into the future, we must consider and realize the value of cloudification and agility, and utilize intelligence to further cope with potential network issues that commonly affect industry. In this regard, Telco Cloud-Native 3.0 wields intent-driven automation and intelligent O&M in order to deliver differentiated solutions for different scenarios.
Regarding specific core network scenarios, Telco Cloud-Native 3.0 harnesses the discriminative intelligence model to achieve quick wins in network O&M. For instance, through signaling storm prevention, signaling storm issues are decreased by 90%; via precise fault demarcation and locating, link failures can be quickly located within just 5 minutes (reduced from 60 minutes).
In respect to common core network scenarios, Telco Cloud-Native 3.0 adopts the generative intelligence model, leveraging digital assistants and experts to comprehensively enhance the autonomous driving capabilities of networks — covering network planning, construction, maintenance, and optimization.
Huawei hopes to team up with industry partners to realize the value of cloudification by introducing technologies such as intent-driven automation and intelligence, move towards Telco Cloud-Native 3.0, and bring about new business and social values for 5G and 5.5G networks.