On November 14 and 15, 2023, the 8th 5G Core Summit was successfully hosted in Istanbul, Türkiye. During the summit, Chen Haiyong, President of the CS&IMS Domain of Huawei Cloud Core Network Product Line, delivered a keynote speech. Chen pointed out that with the consolidated voice network and innovative technologies such as Network as a Service (NaaS), foundation models, and network computing power, New Calling will bring new business opportunities to the voice industry.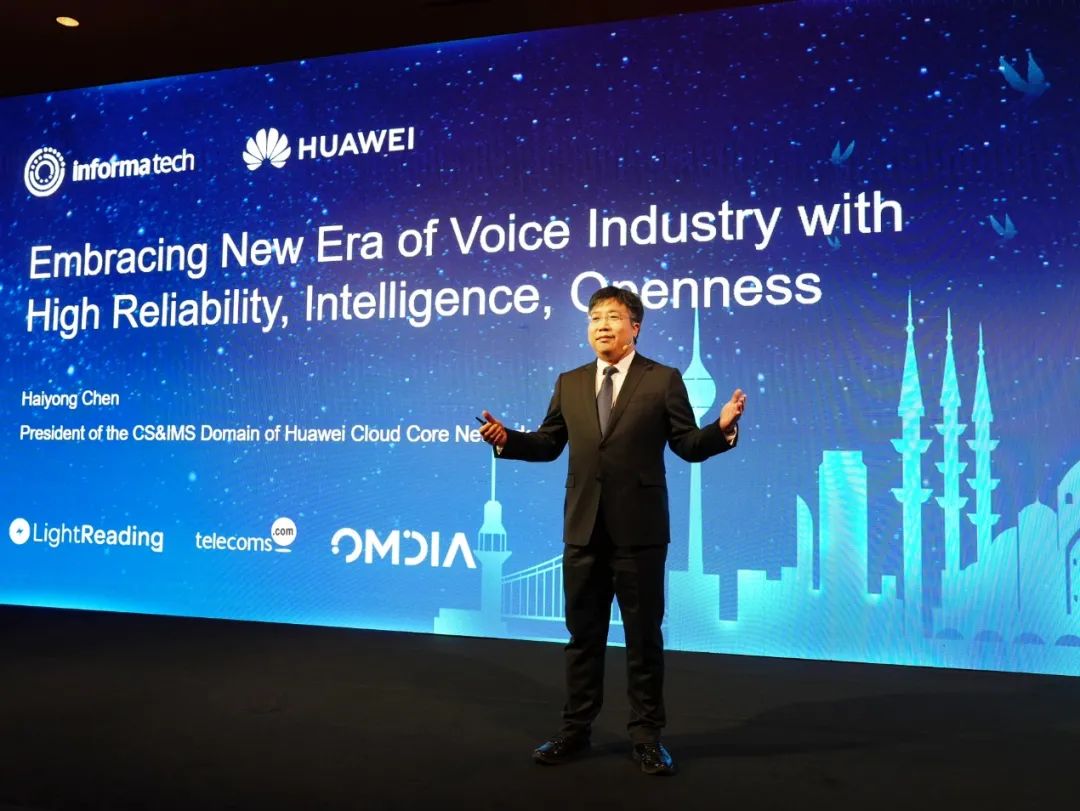 Chen Haiyong delivering a keynote speech
Consolidating the basic voice network, laying a fertile ground for innovation
With the sunset of global 2G and 3G networks and continuous evolution of 5G networks, network complexity is escalated in the 5G era and signaling storms cannot be avoided. As such, building a robust VoLTE network has become a consensus in the voice network industry. Facing this trend, Huawei launched the Single Voice Core solution, which is designed to help operators retire their 2G and 3G networks, allowing them to smoothly transition towards 5G as well as accelerating subscriber migration and VoLTE roaming deployments. Huawei also launched the USC product with strong flow control capabilities, which can help operators with signaling storm prediction, impact containment, and fast recovery, thus laying a reliable and stable network base for more innovations.
Ultra-HD + interaction + intelligence, achieving service innovation
By incorporating ultra-HD, interactive, and intelligent capabilities into calls, New Calling will bring various innovative service experiences to individuals and enterprises.
Calling + ultra-HD: With visualized voice calling, individual or enterprise users can customize their personal images, and such images will be displayed during calls. This allows individuals to express themselves and help enterprises strengthen their brands.
Calling + interaction: Based on the IMS Data Channel capability, users can exchange data such as files, locations, and annotations during a call. In this way, various services can be executed during a simple call, opening up a new market space.
Calling + intelligence: Empowered with foundation models and network computing power, New Calling supports user-specific digital characters as well as voice-driven digital character facial expressions and mouth movements, delivering more intelligent and innovative calling experiences.
NaaS driving ecosystem prosperity
New Calling is at the forefront of technological breakthroughs in the voice industry, and is positioned as a platform that embraces a rich ecosystem. Based on NaaS, New Calling provides standard APIs to developers and independent software vendors (ISVs) for application development. In doing this, the New Calling network can be built into an open service enabling platform that aggregates and encapsulates network capabilities, such as audio and video media processing and real-time data interaction, and it can open these capabilities to vertical industries. This not only aids fast service innovation, but also helps build the industry application ecosystem and creates more market opportunities.
Huawei looks forward to working with industry partners to prosper the New Calling market, open up new growth space, and bring new business and social value to the voice industry.