At MWC Shanghai 2023, Huawei and industry partners released the Chinese version of the ETSI white paper titled Evolving NFV towards the next decade. The original white paper, published by ETSI NFV ISG, reviews the achievements of NFV over the past decade and analyzes its evolution directions and driving forces in the coming decade, pointing out that an enhanced network infrastructure is key for sustainable telecom network development.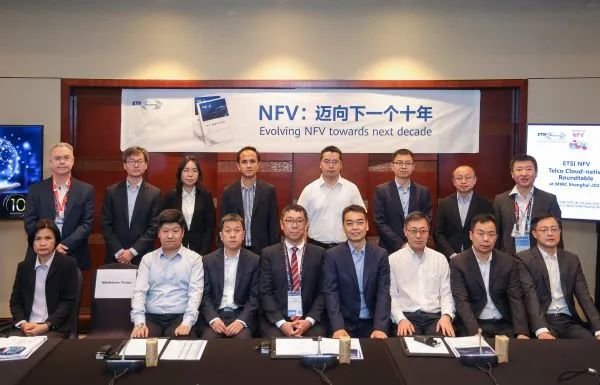 Evolving NFV towards the next decade whitepaper release ceremony
Network Functions Virtualization (NFV) has been a vital catalyst in the telecom industry's transformation. It innovatively decouples hardware from software, changing the way communications networks are developed, deployed, and operated. As the first standards organization oriented to NFV, ETSI Industry Specification Group for Network Functions Virtualization (ETSI ISG NFV) has been working toward standardizing the NFV framework. This framework has become a reference for the telco cloud and virtualization network architecture, boosting the construction of telco cloud infrastructure and 5G networks.
While network deployment and operations are becoming increasingly complex, NFV technologies are developing accordingly — from VMs to containers, and then to heterogeneous infrastructure, declarative intent-driven networks, and autonomous networks. This white paper proposes that, in order to help operators build next-generation telecom infrastructure, more partners should work together to jointly explore future NFV technologies and promote architecture standardization and network transformation.
The white paper identifies the following areas as key pillars for evolving NFV towards the next decade: API development, further leverage of open source, a truly multi-cloud environment, unified NFV management and orchestration, enhanced automation, and AI-based technologies. The transformation of telecom networks is accelerating and NFV needs to respond to this by introducing new infrastructure, further simplifying the NFV framework, and drawing on virtualization technologies that can accommodate telecom PaaS and SaaS, so as to elevate network automation to a new level and drive the evolution towards 5G-Advanced, 6G, and beyond.
Yoshihiro Nakajima, ETSI ISG NFV Chair, noted that the first NFV white paper jointly released by leading telecom operators 10 years ago heralded a new chapter in the telecom history. Looking to the next decade, operators, IT/CT vendors, and open source communities need to work together to bridge the gap between IT/CT technical concepts, facilitate broader support of NFV standards, and accelerate the revolution of telecom network technologies. And this Chinese version of the whitepaper can help development of future Telco cloud in China and further help the standardization discussion and development.
It has been proved that an implementable standard paves the way for evolving the NFV framework to support future telecom network generations. Huawei will work with other industry partners and members in ETSI to enhance cooperation with open source communities; jointly explore challenging and innovative application scenarios, requirements, and concepts; and continue to contribute in NFV evolution. Together, let's fuel the development of NFV over the next decade.