At the China Cloud Network Conference 2023, the SDN/NFV/AI Industry Alliance of the China Communications Standards Association announced the winners of the 2022 China SDN/NFV/Network AI Excellent Case Award. The autonomous core network project jointly conducted by China Mobile Zhejiang and Huawei won the Best Case Award. This award represents recognition for China Mobile Zhejiang's core network O&M practices and the leading role of Huawei's core network autonomous driving network (ADN) solution, as well as their contributions in promoting the autonomous network in the industry.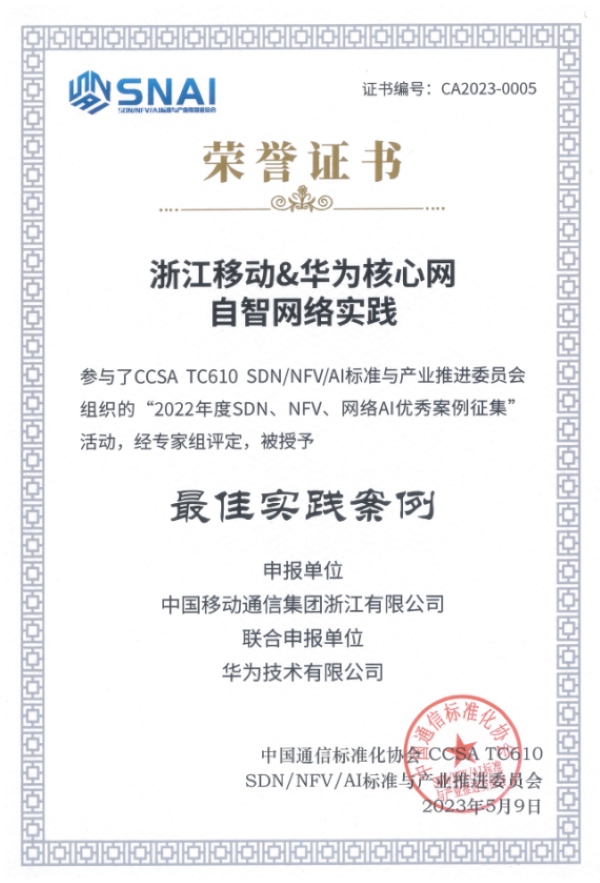 China Mobile Zhejiang and Huawei scoop the Best Case Award for their autonomous core network project at the China Cloud Network Conference 2023
The core network acts as the brain of the communications network, scheduling and managing global network resources. As core networks are built across regions, they have become increasingly cumbersome due to their broader scope and larger capacity. Out of all the branches in the China Mobile group, China Mobile Zhejiang took the lead in migrating core network services to the cloud. With the blooming of core network cloudification, significant O&M challenges have risen and as a result, Huawei and China Mobile Zhejiang teamed up and initiated a series of innovative practices on autonomous core networks, tackling the O&M dilemmas in their stride with intelligent and automated means.
Throughout the development of the autonomous core network project that focuses on network stability and O&M efficiency, both parties have built an intelligent end-to-end fault defense system that boosts the full-process troubleshooting capabilities involving proactive prevention and prediction, quick network fault detection, accurate fault demarcation, and hitless fault rectification. This helps operators reduce Mean Time to Repair (MTTR) and improve Mean Time Between Failures (MTBF).
Transition from passive handling to proactive prevention: The intelligent KPI anomaly detection, based on a bunch of machine learning algorithms such as Boxplot, RRCF, LOF, and more, is used to timely identify subhealthy issues. In addition, faults can be detected within just five minutes with the help of multi-dimensional incident aggregation.
Transition from expert analysis to machine diagnosis: Frequent link-level problems, high KPI deterioration risks, and NFV cross-layer faults are sorted out through the intelligent central point clustering algorithm, AI model inference, and online orchestration fault scenarios, respectively. As such, faults can be demarcated in minutes with improved handling efficiency and user experience.
Transition from manual switchover (relying on expert experience) to real-time, visualized, intelligent DR based on automatic simulation: The intelligent DR assistance solution applies automatic simulation, shortening the evaluation duration from one week to just ten minutes. With the cutting-edge HEBO algorithm, the optimal flow control policies for the entire network can be generated faster, ensuring a 100% successful DR switchover. In addition, the DR switchover, empowered by a visualized process and machine-assisted network change detection, is fully under control. So far, five cross-region DR switchover drills involving millions of users have been successfully conducted.
The China Mobile Zhejiang and Huawei autonomous core network project has achieved benchmark status for joint industry innovation, providing both practical experience and technical expertise. Facing the future together, both parties will extend their strategic collaboration to explore and embrace a higher-level autonomous network.