On May 9, 2023, China Cloud Network Conference was hosted by the SDN/NFV/AI Industry Alliance of China Communications Standards Association in Beijing. At the conference, the enhanced "Connection+Computing+Capabilities" integrated solution for industries that is based on 5G+MEC (enhanced 5G+MEC solution) stood out from hundreds of cases and was honored with the "2022 China SDN/NFV/Network AI Excellent Case Award". This award acknowledges the collective efforts of China Mobile (Zhejiang), China Mobile Research Institute, Huawei, and COSMOPlat (Ningbo). It is yet another industry recognition for the solution after China Mobile (Zhejiang) receiving the 2022 Best MEC Technology Innovation Award from the Ceremony Communications World Website (CWW) Omnimedia.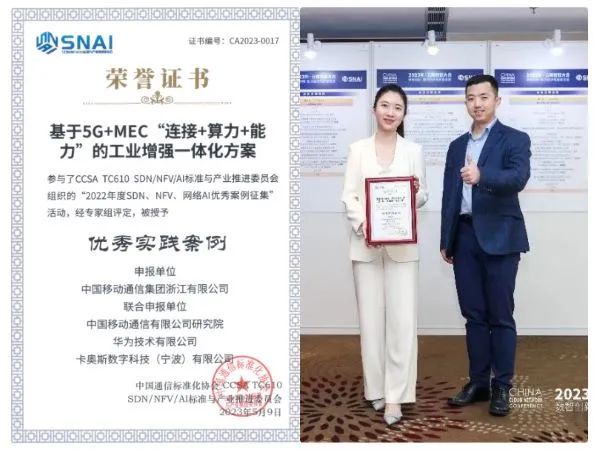 The enhanced 5G+MEC solution won the "2022 China SDN/NFV/Network AI Excellent Case Award" at China Cloud Network Conference 2023
In this February, Zhejiang province, located on China's eastern seaboard, launched the "415X" action plan from 2023 to 2027. According to this plan, Zhejiang will build four world-class advanced industrial clusters, 15 provincial industrial clusters that will demonstrate the characteristics of "Zhejiang Made", and a number of (X) new industry clusters that have high growth potential. The operating revenue of these "415X" advanced manufacturing clusters aims to exceed CNY¥12 trillion by 2027.
Against this backdrop, all players in the industry chain actively conduct digital enablement, and lead the transformation of the manufacturing industry by improving the total factor productivity, hoping to build an international "Zhejiang Made" brand that features high-end, intelligent, and green production.
The enhanced 5G+MEC solution, that has been collectively launched by China Mobile (Zhejiang), China Mobile Research Institute, Huawei, and COSMOPlat, addresses three main challenges that enterprises will encounter during the digital transformation process: data security, system stability, and return on investment. This effectively demonstrates that enterprises with advanced technologies introduced during the digital transformation process can effectively improve production efficiency, reduce labor costs, and improve product quality.
From Cloud-Network Synergy to Cloud-Network Integration, for More Robust Data Security
One aspect of manufacturing that concerns numerous business owners and managers is quality inspection. Another equally important concern is the data that's generated during machine vision–assisted quality inspection, as this involves the enterprises core secrets. It goes without saying that enterprises must effectively control data generation, transmission, and storage. In the conventional cloud-network synergy mode, data may be transmitted out of the enterprise network and to the cloud. However, cloud services may be scattered in cities, provincial centers, or other provinces, which increases risks, as these are typically uncontrollable. This solution exploits the high-speed optical network expanding to the network edge and benefits from the local high-quality 5G network coverage. Based on the 5G MEC architecture, the computing power is directly deployed in cities and counties, implementing localized management and ensuring the security of enterprises' core data assets. By making data generation, transmission, and storage visible and manageable, while at the same time complying with laws and regulations, this solution fully protects enterprise interests. Furthermore, this solution implements three types of integrations: operations integration, service integration, and capability integration. Specifically, operations integration provides one-stop service handling, provisioning, and assurance for cloud and network services. Service integration upgrades cloud and network service orchestration through automation, self-service, self-healing, and self-optimization. Capability integration provides a collection of basic cloud and network capabilities to deliver flexible, differentiated, and deterministic services.
From MEC to Enhanced MEC, for More Stable Cloud-Network Integration
This solution enables highly stable, reliable technologies that benefit operator networks to fit in edge computing scenarios. Enhanced MEC is characterized by a robust, reliable platform as it adopts cloud-network native and a carrier-class cloud base, complies with both ETSI and 3GPP specifications, and satisfies the highest SLA requirements in the industry. Such a reliable platform can be used flexibly because enhanced MEC offers multiple resources (including VMs, containers, bare metal servers, networks, and storage resources) as services, self-service integration is supported, and service application integration is shortened from a fortnight to just one day.
From Resource-Consuming to Integrated, for More Adaptation to Enterprise Requirements
This solution offers embedded cloud-network native industrial applications that integrate devices, clouds, and networks, move terminal computing upwards, and migrate cloud algorithms downwards, so that enterprises' internal process operations can be easily carried out just like the way how mobile devices are used. Take machine vision as an example. In the conventional solution, machine vision terminals occupy an area of 2 to 3 square meters, involve massive components, and require a long onsite integration period. After the solution featuring compact 5G machine vision is introduced, an area of only half a square meter is required. Besides, services can be provisioned after a SIM card is inserted, as the original computing conducted on terminals is moved upwards to the network edge. This solution has empowered more than ten scenario-specific applications, such as 5G machine vision–assisted quality inspection, 5G standard AR operations, 5G data collection, 5G action identification, and 5G smart monitoring. Multiple small- and medium-sized manufacturing enterprises have taken the lead in deploying these applications and have benefited significantly from 5G digital transformation. For example, enterprise A uses 5G standard AR operations to remotely accept their orders outside China, demonstrating its smart manufacturing capabilities and helping increase their new service orders by up to 20%. Enterprise B makes full use of 5G machine vision–assisted quality inspection to improve the manufacturing efficiency by 60%. This increases the daily production volume by dozens of units, contributing to a rise in production value by roughly CNY¥1 million.
As specified in the "415X" action plan of Zhejiang province, there will be a stepwise shift from the "digital workshop" to the "smart factory" and then to the "future factory" for the digital transformation of enterprises. The above paradigm shifts center on the digital reconstruction for small- and medium-sized enterprises in diverse segmented industries and aim to achieve full-scenario coverage by building application benchmarks across various counties. By 2027, the "Zhejiang Made" brand will make steady strides in the global value chain, innovation chain, and industry chain. By 2035, a global advanced manufacturing base will be essentially available.
China Mobile (Zhejiang) will stay up to speed with the vigorous development of the digital economy and stay committed to its aim of "creating a world-class information technology innovation company". During this journey, China Mobile (Zhejiang) will team up with industry partners such as Huawei to develop a sound service ecosystem of 5G smart applications, pave the way for enterprise digital transformation, and inject new momentum into the high-quality development of the economy and society.