[Barcelona, Spain, February 27, 2023] Huawei successfully held its Product & Solution Launch event during MWC23. At the event, Richard Liu, President of Huawei's Cloud Core Network Product Line, released a cutting-edge calling solution — New Calling. Leveraging a "1+3+N" architecture, the solution allows users to enjoy a superlative audio and video experience, and also helps operators transform their calling business from voice-only to video- and content-oriented operations. In this way, the solution adds intrinsic value to the industry and stimulates service innovation, facilitating the transition towards 5.5G.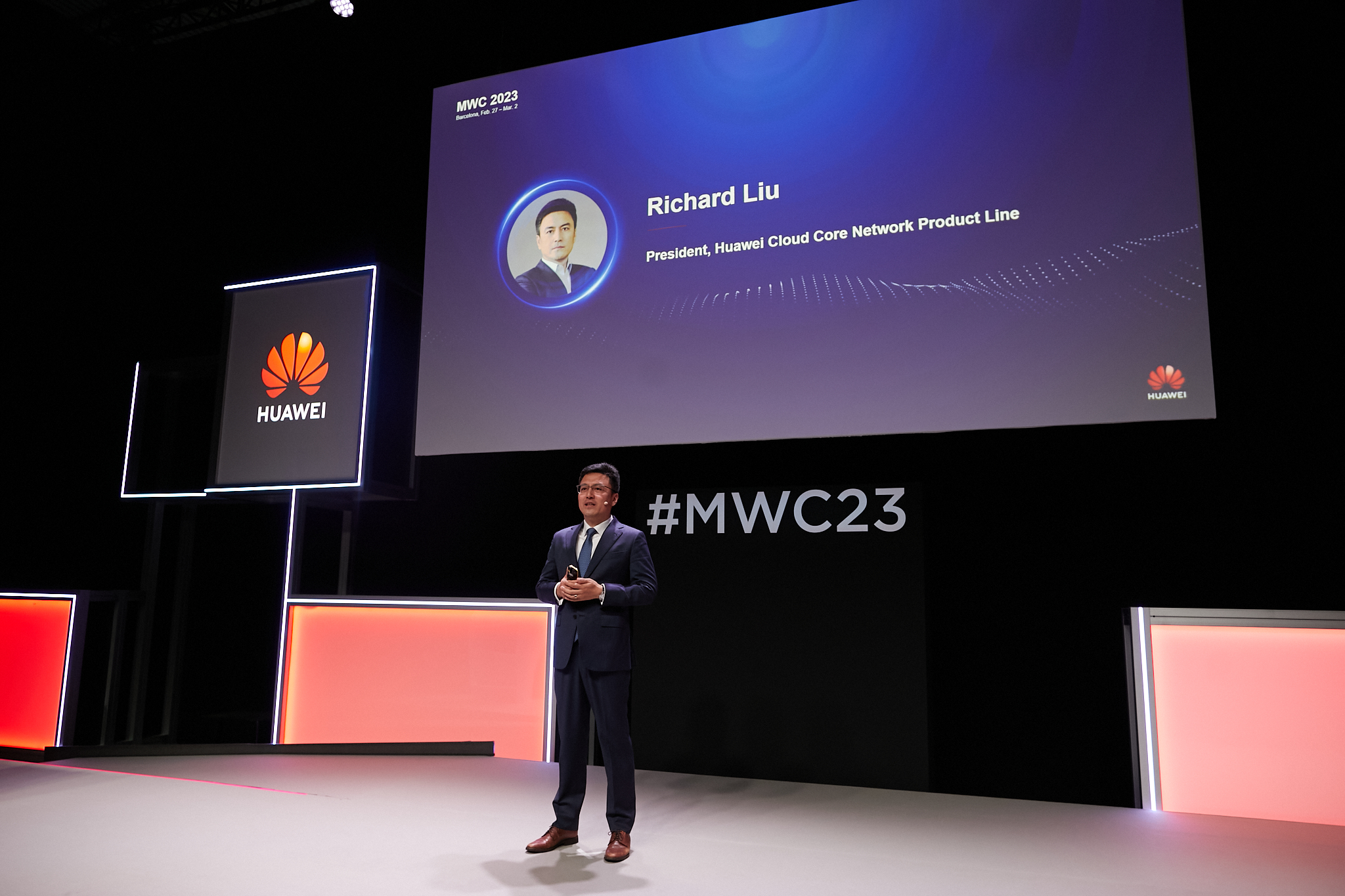 Mr. Richard Liu delivering a keynote speech
After years of development, the global VoLTE penetration rate has reached 46%, with some individual leading operators surpassing this figure by 85%. It is safe to say that the existing network has provided a prime ecosystem for service innovation. Through observing the Chinese market, we can see that Video RBT has been verified for commercial use, and operators now have accumulated extensive experience in content-based operations. The new question facing the industry is how we can further improve calling experiences and monetize the network.
To answer this question, Huawei put forward the New Calling solution. This solution provides a New Calling Platform (NCP) and a Unified Media Function (UMF) on top of the existing IMS network. By leveraging cutting-edge video and image processing techniques, New Calling helps operators develop more services and provide a superlative calling experience, better serving individuals and enterprises.
The New Calling solution grows in two phases. First, New Calling offers intelligence capabilities to enable innovative services such as visualized voice calling, real-time translation, and fun calling. Not only can individuals benefit from these services to convey and express emotions, however, the elderly and hearing-impaired can communicate more easily too. Currently, Chinese operators have started commercial trials and this year we will see the construction of a nationwide New Calling network in China.
Second, New Calling adds interaction capabilities to calls. Specifically, data can be transmitted during calls in addition to voice and video information, requiring that the terminals natively support Data Channel (DC). In this way, operators can provide more services, such as interactive menus, remote damage assessment, and online maintenance, helping enterprises reduce costs and improve efficiency.
At the Huawei Product & Solution Launch event, Richard Liu said that voice and video calling will continue the transformation to immersive communications. He noted that Huawei/'s New Calling solution can use a single New Calling Service Enabling Platform to unleash ultra-HD, intelligent, and interactive calling capabilities, which provides a stepping stone for operators to roll out numerous innovative services, build their competitiveness, and achieve business success.
Without doubt, New Calling will bring brand-new communication experiences to users and spur service innovation in the communications field. Huawei will make collective efforts with partners to promote the development of New Calling and open up a new horizon for communications.
MWC Barcelona 2023 runs from February 27 to March 2 in Barcelona, Spain. Huawei showcases its products and solutions at stand 1H50 in Fira Gran Via Hall 1. Together with global operators, industry professionals, and opinion leaders, we dive into topics such as 5G business success, 5.5G opportunities, green development, digital transformation, and our vision of using the GUIDE business blueprint to lay the foundation for 5.5G and build on the success of 5G for even greater prosperity. For more information, please visit: .