Recently in Guangzhou, Guangdong Unicom and Huawei joined hands to pilot the world's first live streaming experience assurance solution based on the intelligent core network. In this pilot project, the Network Product Innovation Center of Guangdong Unicom's Network BG and the Huawei Cloud Core Network Product Line conducted joint research and testing. Leveraging big data, artificial intelligence, and autonomous networks, they verified the feasibility of the intent-based network experience assurance solution for live streaming services.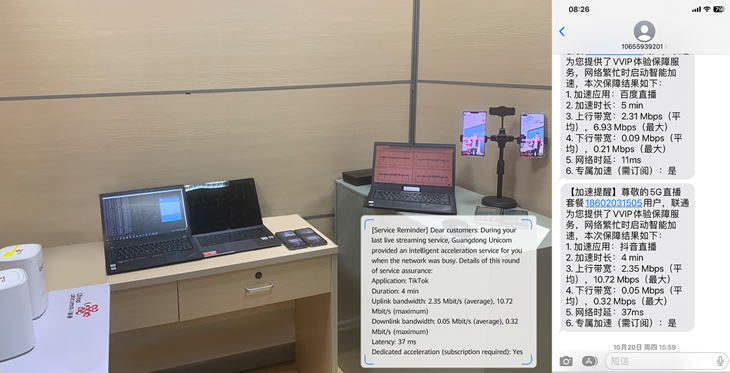 Test site of the live streaming experience assurance
When it comes to live streaming e-commerce, the sky is certainly the limit. Its explosion in recent years has put it at the forefront of the e-commerce sector, and it will continue to proliferate over the next three years. During live streaming, the majority of streamers will introduce products while on the move, which places tremendous demand for high-quality mobile networks. For streamers, even a one-minute lag may incur severe sales losses. Faced with these challenges, Guangdong Unicom and Huawei innovatively proposed the intent-based dynamic experience assurance solution based on the intelligent core network. When employing this solution, live streaming apps and their network experience can be intelligently identified. An experience baseline is formulated based on the service awareness signature database, through which a dynamic assurance mechanism can be triggered on demand. This allows the live streaming experience to be assured in real time. On the intuitive web portal of the Network Data Analysis Function (NWDAF), live streaming experience indicators, such as the uplink rate, latency, and jitter, are clearly visible. When a user's service indicator is lower than the experience baseline over a certain period of time, demarcation analysis is performed and the experience assurance mechanism is automatically triggered to provide a special channel for the user. By doing so, the user can maintain both a stable and seamless live streaming experience during network congestion. After a round of service assurance is completed, the user will immediately receive an automatically generated report, showing details of the assurance, such as duration and experience indicators. This closed-loop process implements intent-based user experience assurance, which is visible, manageable, and controllable.
In this solution, multiple NFs, such as the NWDAF, UPF, and PCF, of the intelligent core network collaborate with each other to effectively utilize network resources. Together they implement the closed-loop, dynamic, and intent-based management of the live streaming experience. The NWDAF is a new NF introduced by 3GPP to the core network. It is used to meet the demands of differentiated experience assurance and operations as new services and applications continuously emerge. As an AI engine on the 5G network, the NWDAF provides data awareness, intelligent analysis, and closed-loop control capabilities to improve network management efficiency, resource utilization, and service experience, helping operators achieve differentiated operations.
This successful pilot solution lays a solid foundation for later commercial use and sets a precedent for an intelligent experience assurance of mobile data services. In this regard, this solution will be gradually applied to more mobile data services, such as cloud phones, cloud gaming, HD video conferences, online education, and AR/VR, aiming to provide consistent and reliable experience assurance for more users and empower a closed-loop experience management of operators.