Recently, Jiangsu Mobile joined hands with Huawei to successfully enhance IMS-based New Calling functions in lighting up phone screens. In addition to this, the first call featuring fun video calling and intelligent translation was performed and verified successfully, which has laid a solid foundation for its subsequent service rollout in China. China Mobile has added New Calling to its "8+5" user experience strategy, helping breathe fresh air into calling experiences and raising brand awareness.
Jiangsu Mobile together with Huawei has completed the end-to-end network reconstruction and verification, and successfully lighted up screens and presented streaming media during calls, providing a personalized call experience for users.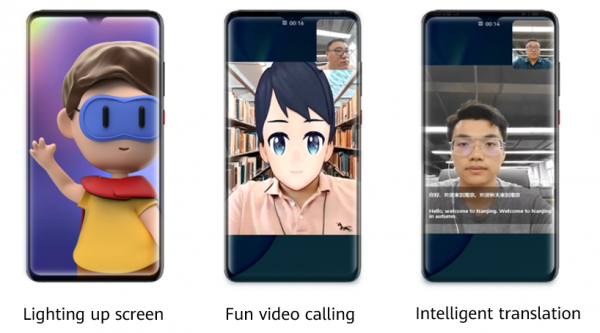 With the upgrade of network capabilities, the call screens can be lighted up to display customized short videos during a voice call. Users can subscribe to their exclusive virtual images, and enterprises can customize their own brands' promotion materials to convey enterprise concepts and value propositions. This function offers extensive social and business values.
Fun video calling enables callers to use virtual images to try on different outfits or replace call backgrounds, which is achieved by synthesizing video streams on the network side. Users can also use gesture and voice commands to add fun facial expressions generated by the system to convey their emotions.
Intelligent translation recognizes and translates voice and displays the translation on the video call interface in text. This is a powerful tool to facilitate communication across different cultures or for people who are hard of hearing.
There are nearly 30 million hard of hearing individuals in China, and more than 200 million elderly people who are experiencing hearing difficulties. These people will benefit from intelligent translation of New Calling by allowing them to achieve barrier-free communications.
The success of the first call made by Jiangsu Mobile means that China Mobile has taken a solid step towards the widespread rollout of New Calling services. Jiangsu Mobile will continue to make efforts in the business design and user experience of New Calling services, building on their reputation and promoting large-scale service growth. New Calling will become a comprehensive information service product to serve tens of millions of consumers, creating new value for voice services and beyond.