Recently in Hangzhou, Huawei helped Zhejiang Mobile make the world's first cloud-based core network voice call with the Kunpeng compute platform. This platform is used in Huawei's end-to-end cloud solution. On June 29, 2019, the mobile data services and VoLTE calls were successfully implemented in the field test. The call demonstrates Huawei's ability to begin helping carriers start and accelerate commercial use of the Kunpeng compute platform.
The Kunpeng compute platform is driven by Kunpeng processors and TaiShan servers. The platform has several features that set it apart from other mainstream compute platforms. The ARM-based reduced instruction set (RISC) and multi-core architecture are used to provide higher overall performance and processing efficiency. The in-house processor core and architecture ensure the platform is secure and reliable. The platform supports mainstream operating systems and application software, and is an open ecosystem.
As mentioned, Huawei TaiShan servers with Kunpeng processors are used for storage and computing, and are compatible with all software in the solution, such as virtualization, SDN, distributed storage, MANO, and EPC/IMS. The default operating system is Huawei's Euler OS and the database is Huawei's GaussDB. All of these Chinese-made components implement a solid foundation for a controllable cloud core network. Huawei's solution fully complies with China Mobile's network cloud resource pool networking specifications and China Mobile's standard NFV/SDN network cloud technical architecture.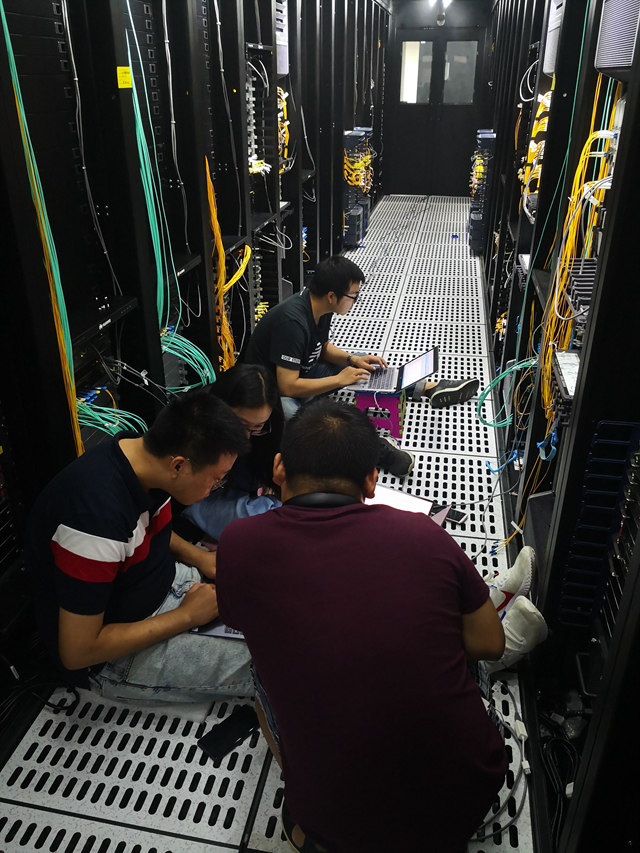 Engineers testing the equipment
Huawei has worked with partners to globally provide leading network solutions and devices to carriers for more than 30 years. Huawei is dedicated to building advanced, stable, reliable, secure, and controllable cloud-based networks and is actively exploring new network construction technologies such as NFV, SDN, and 5G. In addition, we will improve development of the next-generation compute platform to bring it to a strategic position in the industry. We strive to build a successful Kunpeng-powered network cloud ecosystem, encompassing servers, distributed storage, cloud OSs, and core networks, to help carriers implement comprehensive transformation of their networks.
Huawei collaborates with Zhejiang Mobile in depth, actively participates in China Mobile NFV/SDN and 5G tests, accelerates the commercial deployment of the NFV solution, and helps Zhejiang Mobile complete the first test and verification of the SDN-based 5G core network. The voice call demonstrates the initiative and leadership of both Zhejiang Mobile and Huawei in the exploration of 5G network construction. It marks the realization of the core network as a fully Chinese-made solution.