By: Chris Ganly, Sr Director Analyst at Gartner &
Owen Chen, VP Analyst at Gartner
It is commonly believed that "you can't cut your way to growth," but you can cut your way to survival. Economic uncertainty, trade wars, even natural disasters mean putting measures in place to simply stay afloat and "win in the turns." To that end, CIOs are facing increasing pressure to reach immediate IT cost savings, but in a way that has the least damage to the long-term health of the business. This is particularly difficult to achieve when global IT spending is projected to reach nearly $4 trillion this year alone.
To do so, CIOs need to have a thorough understanding of all IT items in the profit/loss statement and the balance sheet, which is usually not under their direct purview. This article outlines the 10 rules of rapid spend reduction (see Figure 1) that help CIOs rise to the pressing challenge of IT cost savings.
Figure 1. 10 Rules for Rapid IT Spend Reduction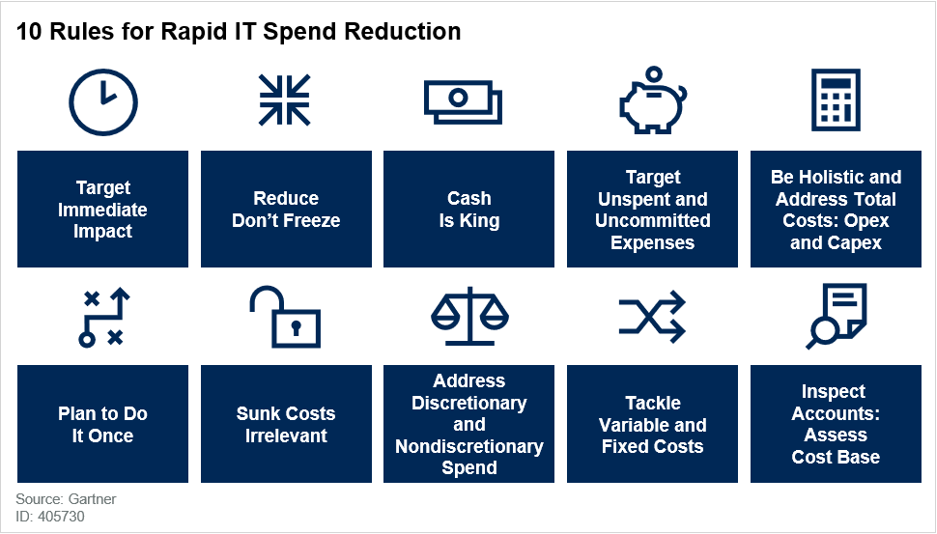 Source: Gartner (2019)
A caveat to cost-cutting planning: The amount of time and level of effort given to such an exercise is often dictated by time pressures. However, planning should be prioritized regardless of these pressures, as it will drive the strategy, approach and effectiveness of the execution long-term. Beyond the size of the budget, CIOs should also determine and establish the enterprise's preparedness and willingness to spend to save to begin with.
Follow these 10 rules when assessing your IT cost reduction options:
1)Target immediate impact: Cut or reduce items where the organization will feel an immediate impact (e.g., months not years). This might include monthly "nice to have" subscriptions or quarterly license costs.
2)Reduce, don't freeze: Focus on costs that can be reduced or eliminated altogether, not those that can be frozen for a temporary period of time only to reappear again in the future. Memberships and subscriptions are good examples here, especially since you can always reinstate them down the road.
3)Cash is king: Target those items that will have a real cash impact on the profit and loss statement, for instance cloud savings in SaaS or IaaS as opposed to reducing owned hardware assets (which only made up 13% of cross industry IT spending by asset category in 2018).
4)Target unspent and uncommitted expenses: Unless payments can be recovered, or prepayments returned, this is where the most immediate impact will be. Ensure contracts are evaluated for renegotiation/termination clauses.
5)Be holistic and address total operating expenditures (opex) and capital expenditures (capex) costs: Based on Gartner's IT Key Metrics Data, 25% of the average IT budget is spent on capital. While opex costs usually have the clearest impact, capex cost reduction can help too. As such, always ensure that the complete range of IT spend is considered and addressed when looking for rapid reductions.
6)Plan to do it once: Organizations don't always cut deep enough the first time because it's hard and confronting (and usually in the personnel area). They try to "get away" with cutting as lightly as possible, so are often faced with having to revisit it again and again.
7)Sunk costs are irrelevant: From a rapid-reduction standpoint, sunk costs are irrelevant. But consideration should still be made to the cost-benefit or value of halting such payments.
8)Address discretionary and non-discretionary costs: Discretionary spending is usually the first to get cut in cost-saving exercises, but CIOs should look to other opportunities to reduce usage, service levels and consumption levels of the nondiscretionary costs, like infrastructure. Take a holistic approach to see which "change the business" costs can stay.
9)Tackle both variable and fixed cost: Most organizations focus on variable costs, like communications costs or contract labor, because they are easier. However, don't ignore the possibility of eliminating fixed costs, too, like rent or payroll. They can have the added advantage of also reducing associated variable costs at the same time.
10)Inspect accounts: Collaborate with your finance partner to obtain a comprehensive view of the expense and balance sheet accounts. This view will feed into identifying immediate cash reductions in opex and capex costs.
Rapid Spend Reduction Categories
The below table outlines a few examples of easy way to reduce costs in sample IT categories.

Common Cost-Cutting Risks to Avoid
Undertaking rapid cost cutting increases the likelihood of some key risks. Working in silos to meet cost-cutting targets in IT, without consideration of the enterprise-wide consequences, could ultimately lead to a detrimental impact on the wider business in terms of service, capabilities or financials. Such risks include, but are not limited to, cost shifting, focusing on projects, cutting costs in the wrong places, and follow-on impacts like higher turnover or lower morale.
When faced with immediate cost pressures, CIOs still need to take a thoughtful approach to cutting costs, ensuring that they mitigate the risks and minimize the longer-term impact on the organization. Cost cutting can be a difficult exercise for CIOs, but a tight focus on the savings outcome and the timing to get there will pay dividends.