China Telecom won the "Connected Smart Home Operator of the Year" award at the Broadband World Forum (BBWF) 2021. As one of the most important events in the fixed network field, BBWF has now been running for 20 years. The "Connected Smart Home Operator of the Year" award from BBWF recognizes excellent operators in the home broadband field. As such, this award demonstrates China Telecom's leading position in this field.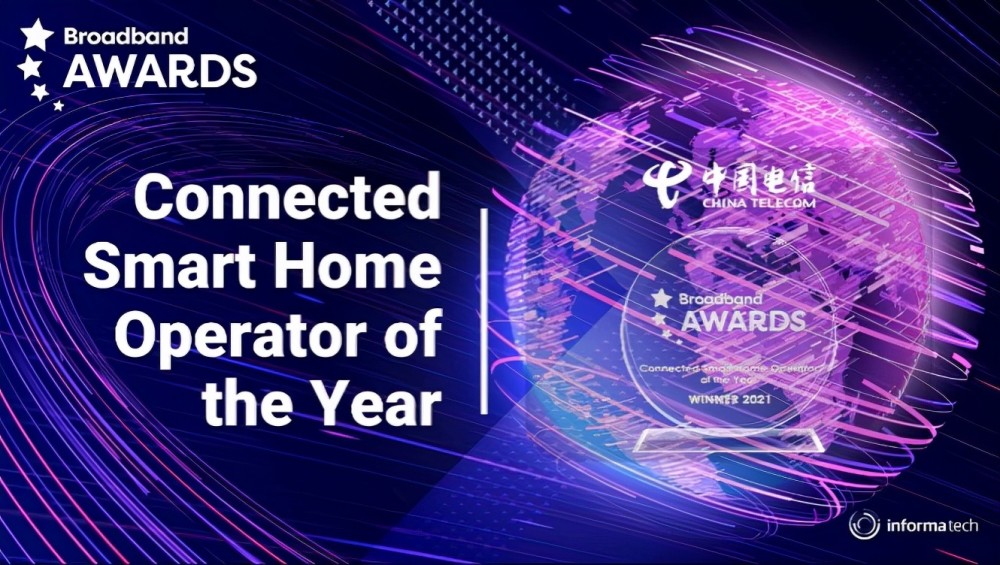 With the rise of gigabit optical networks, 5G, and the Internet of Things (IoT), a new round of technological revolution and industry transformation is taking place around the world. And thanks to a series of preferential policies, technology advancement, and business model transformation, the digital home industry has entered new period of rapid growth. China Telecom is an important player in China's digital home ecosystem and has overwhelming network infrastructure advantages. With these advantages, China Telecom works with Huawei and other partners to provide fiber to the room (FTTR) home networking services to deliver full gigabit coverage for medium and large residences. In addition, China Telecom has launched scenario-specific broadband based on smart home gateways to further improve home network experience and continuously promote the development of the digital home industry.
FTTR Helps Build an All-Optical Gigabit Network for Home Users
Compared with traditional networking, FTTR uses optical fibers instead of twisted pair cables to extend network coverage to each room, overcoming the rate limits of network cables and solving the Wi-Fi coverage problem in large residences. Both the primary and edge devices in the FTTR solution provide gigabit network ports and Wi-Fi 6 connections, enabling gigabit Wi-Fi coverage in every room. An FTTR network features high bandwidth, low latency, premium experience, and smooth upgrade to meet high service requirements. To effectively support the gigabit fiber broadband, gigabit Wi-Fi, and gigabit 5G development strategies, China Telecom released the white paper on all-optical home gateways and optical routers in June 2021, and played a leading role in the standardization of FTTR terminals in the industry.
E-surfing Digital Life, a subsidiary of China Telecom, has a core patent group for home networks, and is a major player in the formulation of multiple international and industry standards. E-surfing Digital Life drives the development of intelligent home networks with innovations such as zero configuration registering broadband service, e-OS intelligent system, and EasyMesh interconnection. To promote green home networks featuring all-optical connection, full gigabit coverage, seamless Wi-Fi roaming, and intelligent management, E-surfing Digital Life cooperates with Huawei and other industry chain partners to promote the FTTR productization and integrate all-optical networking capabilities into intelligent home networks. Users can easily manage all-optical home networks on the Xiaoyi Manager app. For example, they can load applications, detect faults, and optimize home networks with just one click.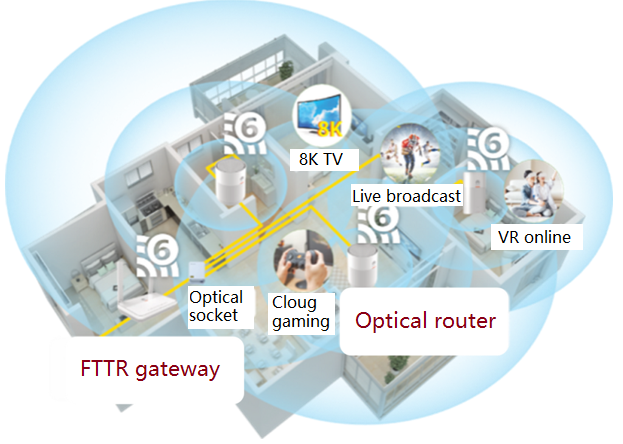 To date, China Telecom has officially released the FTTR gigabit networking service in 16 provinces in China and piloted the service in other provinces. By delivering full gigabit coverage to each room of a residence, the service not only meets requirements of bandwidth-hungry applications, but also significantly improves the reputation and recognition of China Telecom.
Smart Home Gateway Helps Build Premium Service Experience
Live broadcast, education, and remote office services require high bandwidth, low latency, and no frame freezing. To meet such requirements, China Telecom actively promotes scenario-specific broadband packages such as live broadcast broadband and education broadband packages. Reflecting the differentiated competitiveness of China Telecom, these packages improve user experience and loyalty.
Scenario-specific broadband uses innovative smart home gateways that support Wi-Fi 6 to achieve an ultra-gigabit Wi-Fi rate, and uses unique intelligent technologies to identify and accelerate specific services such as live broadcast, education, and remote office, eliminating frame freezing and disconnections in such services. By launching the live broadcast broadband package at the Ruili Yushi live broadcast base in Yunnan Province, China Telecom has set a new benchmark for scenario-specific broadband. Currently, scenario-specific broadband has been put into commercial use and trial use in a number of provinces, providing premium service experience for tens of thousands of users.
In 2021, Gigabit Optical Network was written into the government work report of China for the first time, attracting wide attention from the entire industry chain. As a world-leading telecom operator, China Telecom is dedicated to providing users with premium digital home services and promoting the prosperity of the all-optical broadband industry.