The emergency industry provides special products and services for emergency prevention, preparations, monitoring and warning, as well as handling and rescue. The development of emergency rescue in China is still in the initial stage, leaving plenty of room for improvement. The major problems include unreasonable rescue personnel structure, seriously inadequate emergency rescue equipment, and inability to obtain patients' vital signs or to provide instant and accurate treatment due to lack of specialists or generalists at rescue sites. Previously, when onsite rescue videos, in-vehicle patient surveillance videos, and medical device data are transmitted over 4G networks, there are always delays, failing to support remote expert diagnosis. This problem is properly addressed when 5G is introduced. 5G greatly improves the service experience of mobile users by providing high bandwidth. It also meets the requirements of massive connections and wide coverage of the IoT.
The Emergency General Hospital, China Unicom, and Huawei jointly built a 5G emergency project to integrate 5G with healthcare and enable 5G coverage in all scenarios like remote diagnosis, pre-hospital first aid, and smart hospital.
5G + Satellite technology: An integrated air-ground medical network is built to ensure signal coverage for all services. By connecting the emergency center and first aid devices, the network transmits all onsite medical data through a 5G private network and satellite communication to enable high reliability and low latency.
5G + MEC: The 5G MEC private network is deployed at the edge. It supports onsite first aid, pre-hospital emergency care, and in-hospital medical treatment in WAN interconnection scenarios, enabling uninterrupted, real-time, and multi-party collaborative remote first aid.
5G AR glasses consultation: Onsite personnel use AR glasses to obtain remote assistance from experts, facilitating quicker and more accurate diagnosis for patients' injuries.
5G first aid backpack: Portable medical devices, including tablets, ultrasound devices, and portable 5G emergency rescue devices, can quickly collect patients' vital signs such as B-mode ultrasound images, heart rate, 12-lead electrocardiograms, blood pressure, blood oxygen, body temperature, and fetal heart sound. Such medical data is then quickly and automatically recorded into first aid medical records.
Portable 5G emergency rescue device: The devices provide functions such as onsite calling and real-time image upload for rescue personnel when they are off ambulances. The devices better apply to scenarios where ambulances may not reach, such as emergencies during alpine skiing or freestyle ski cross races. Using the customized first aid map built in the device, medical personnel can learn about the distribution of rescue personnel and vehicles in real time, effectively dispatch the resources, and provide timely treatment.
5G ambulance: Having the same appearance as a common ambulance, the 5G smart ambulance is not only equipped with common medical devices such as monitors, electrocardiogram machines, and fibrillation monitors, but also data collection devices such as cameras and first aid gateways. Medical personnel on 5G ambulances can send acquired data back to the emergency center in real time through the in-vehicle 5G first aid gateways via the 5G network, implementing real-time data exchange and sharing. Ultra-HD audio and video communication can be set up between rescue personnel and experts in hospitals, allowing the experts to visually learn about patients' conditions and remotely provide first aid consultation and guidance. This helps gain more time for rescue.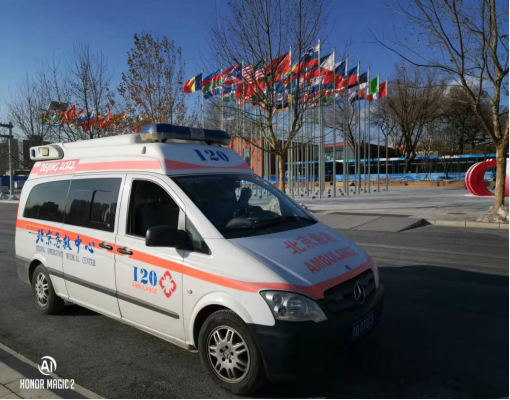 Appearance of a 5G smart ambulance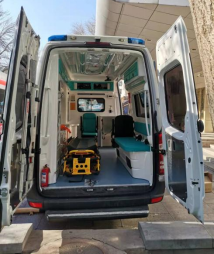 Devices in a 5G smart ambulance
5G + Pre-hospital first aid platform: The platform assists dispatchers in better service dispatching, with hospital information provided, uses the rescue process quality control module to guide through the rescue process and generate standard first aid medical records, and analyzes first aid services through big data analysis.

5G remote consultation: Multiple channels of data, such as onsite HD audio and video and patients' vital signs, is transmitted to the temporary command center in real time via the 5G network. The data is then synchronized to the Emergency General Hospital thousands of miles away, allowing experts in the hospital to quickly learn about the wounded at the rescue site and remotely guide onsite rescue work.
5G smart emergency has been used for routine first aid, emergency relief, and emergency prevention in large-scale activities. A success story is the emergency prevention in the 2022 Winter Olympics and Paralympic Winter Olympics. 5G smart first aid sets up a data transmission channel between pre-hospital first aid and in-hospital treatment, further shortening the rescue response time. The simplified and optimized first aid process enables multi-area linkage and information sharing between the competition zones, emergency centers, and hospitals. 5G smart first aid has become an emergency assistant for rescue in different stadiums and competition zones, safeguarding athletes in the Winter Olympics throughout the process. With 5G smart first aid, patient archives are immediately generated upon their boarding to the ambulances, the injured can be sent to any appropriate hospitals during the transfer, the ambulances in service can be located in real time, and all relevant medical data can be shared among onsite rescue personnel, command centers, and hospitals. All these contribute to the success of the emergency rescue in the Beijing 2022 Winter Olympics and Paralympic Winter Olympics.
On the 14th "National Disaster Prevention and Mitigation Day" on May 12 of this year, the State Council Command & Control Office for Earthquake Disaster Rescue & Relief Operation, the Ministry of Emergency Management, and the People's Government of Gansu Province jointly held a practical drill (named "Emergency Mission 2022") concerning earthquake relief in plateau and cold areas. Its objective is to promote concepts of security development, enhance public awareness of disaster prevention, and improve the country's emergency rescue capabilities. During this period, the Emergency General Hospital set up a medical team of 26 people to provide medical support on site, and China Unicom provided 5G network connections to facilitate a digital rescue. Based on the 5G network, the rescue site, command center, and hospital are interconnected for fast, real-time data transmission and sharing, thanks to the large bandwidth and low latency of 5G. In this way, a new rescue model is created, supporting interrupted, real-time, and multi-party collaboration.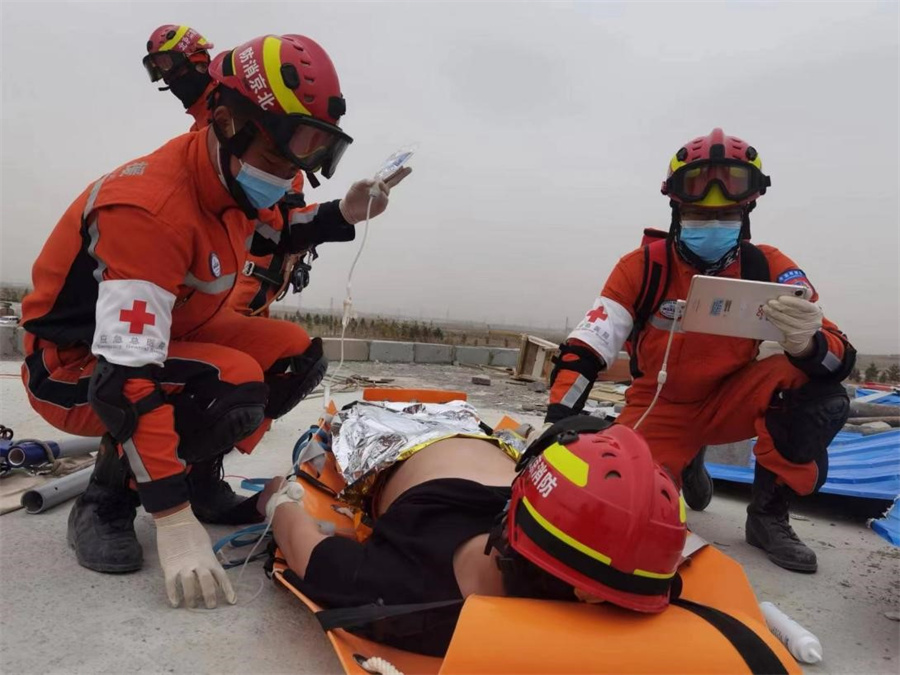 Practical drill site
With the implementation of the 5G emergency project, the emergency rescue medical institutions and emergency centers in 42 provincial cities in China can be equipped with 5G emergency first aid devices. In the future, the Emergency General Hospital, China Unicom, and Huawei will continue to put the project into practices, conduct researches on 5G application innovation in the first aid and emergency rescue field, and continuously optimize the capabilities of the 5G emergency platform to facilitate deep development of the emergency industry.