Gartner Sr Director Analyst Kevin Ji
Gartner VP Analyst Roger Sheng
Gartner Sr Director Analyst Milly Xiang
Emerging technology is the key innovation engine to support digital transformation for enterprises in China. Gartner's 2020 Hype Cycle for ICT in China includes 24 technologies and practices that equip I&O leaders to address digital revenue opportunities and achieve a sustainable business capability.(see Figure 1).
In this Hype Cycle, we have added new technologies that are emerging or being hyped in China: Workstream Collaboration, Live Commerce, Data Middle Office, Middle Platform, Cloud security in China and Blockchain in China
Figure 1. Hype Cycle for ICT in China, 2020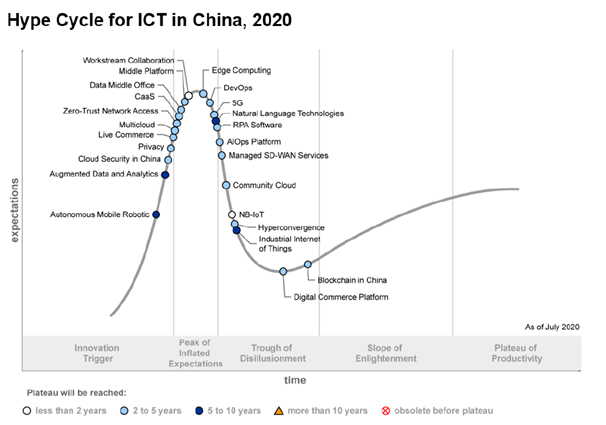 Source: Gartner (July 2020)
Workstream Collaboration
Workstream collaboration in China leverages integrated communication and collaboration, business process and knowledge management technologies, and tools to provide users with self-service, out-of-the-box experiences that scale across platforms. It allows real-time internal and external collaborations, and client delivery on any device, from any location.
During COVID-19, workstream collaboration has become a key digital capability to support daily communication, conference and other business operations. In China, collaboration tools such as DingTalk, WeLink and Tencent Meeting have been widely adopted during the social distancing period to ensure business resilience.
Live Commerce
Live commerce had seen strong adoption in China before COVID-19, and Credit Suisse estimated the market reached $5 billion in 2019. The service saw huge spikes during COVID-19 when many businesses were forced to use digital channels and live commerce was attractive due to its quick launch time and little technical expertise required.
Leading live streaming platforms such as Douyin and Kuaishou with a combined user base of close to one billion have become important traffic sources. Some organizations reported encouraging data where they reached as many visitors in a three-hour streaming session as they would have from physical stores in six months. Online marketplaces such as Taobao, JD and RED have also launched live commerce channels integrated into the marketplace, offering a seamless check-out experience.
Data Middle Office
Data middle office (数据中台) is an organizational strategy that allows organizations to effectively enable stream data and transaction data users in the front office to make decisions using data generated in the back office from a single consistent view. The simplest way to think of building data middle office is how a company curates the composable and reusable data and analytics (D&A) capabilities that deliver distinct digital operations, and connects them throughout the value chain via its technology stack.
Data middle office is inching closer to the Peak of Inflated Expectations due to the hype in the market and the inherent confusion on what is data middle office and how to deliver it. It was introduced by Alibaba Group and many internet companies followed their own definition and products. Organizations lacking ideas on how to build reusable D&A capabilities within own business context will struggle to adopt it effectively.
Middle Platform
Since Alibaba Group introduced the concept of "middle platform" (aka Zhongtai) in 2015, other major internet companies including Tencent, Baidu, ByteDance, Didi Chuxing (DiDi) have also launched their own versions of middle platform initiatives.
Given the exponential growth of the adopters during the past years, middle platform has become a key topic in China where many enterprises believe it is one of the critical factors for them to accelerate digital transformation. Meanwhile, providers have been promoting the benefits of middle platform and investment has been active during the past 12 months.
Cloud Security in China
Cloud security has a broad coverage which contains the core concepts from people and process to the technology including cloud security architecture as long as cloud access security broker (CASB), cloud workload protection platform (CWPP), cloud security posture management (CSPM) and secure access service edge (SASE). In China, this is a hot topic and also a big challenge during cloud migration journey.
In China, we observed that cloud security is the one of key obstacle to slow down the large enterprise cloud migration journey. Enterprise cannot expected that cloud security vendors deliver a one-size fits all solution as it fits in on-premises. In China market, most of local vendors focus on the cloud workload protection to help client use public cloud safely. But enterprise need understand the security capability gap between physical infrastructure and cloud service environment and start to transform security capability to fit for hybrid infrastructure in future.
Blockchain in China
Blockchain in China has more advanced progression comparing to the rest of the world due to the strong support from the central government. In 2016, Blockchain became part of country's 13th five-year plan and after passing the Peak of Inflated Expectations in late 2018, it was designated as a 'national priority' in October 2019 and climbed through the trough. with a surge to invest, implement Blockchain from a more practical and commercially viable perspective.
Despite the 'Blockchain complete solutions' are not widely available yet, Blockchain use cases with business value have emerged in the China market. Those use cases deliver value by creating novel business models in the areas such as supply chain finance, trade finance, insurance, etc.