By the end of 2022, the number of elderly people aged 60 and above in China exceeded 280 million, accounting for 19.8% of the total population. Among them, 44 million are either disabled or semi-disabled. Six million elderly care workers are needed, but there are only 500,000 available. The aging problem is becoming more and more prominent. There is a serious shortage of elderly care service personnel, and smart elderly care methods are lagging behind. There is an urgent need to build a smart elderly care service system.
The nation has been emphasizing the construction of a coordinated elderly care system involving institutions and communities to offer both nursing care and health care services. The elderly care service network for both citizens and travelers is expected to improve, integrated with innovative next-generation information technologies in the health and elderly care fields. This will help improve the intelligence level of health care products and services, develop aging-friendly technologies and products, and cultivate new travel service systems such as smart elderly care. After 5G information technology is officially put into commercial use, topics related to "data intelligence" will be highly popular across all walks of life. As a matter of fact, smart elderly care is actively trending.
The 5G Smart Care Community, jointly created by Sun Valley in China Railway's International Eco-city and China Unicom (Guizhou Branch), is the first 5G smart elderly care community in Guizhou, China. Empowered by advanced technologies such as 5G, big data, AI, and IoT, the Sun Valley smart care brand, Yunyi, has been created, which seamlessly connects the online smart elderly care service management platform with offline intelligent devices, closely linking the virtual digital space with real life, and stimulating powerful "digital intelligence" energy.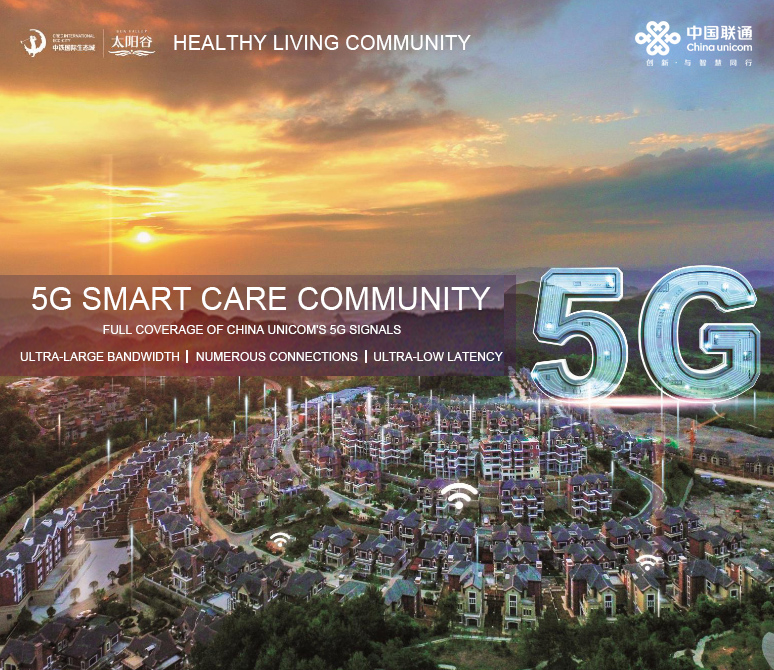 Yunyi takes the lead in introducing the concept of community-based smart elderly care service and empowering the health care industry with technologies such as 5G, big data, IoT, cloud computing, and AI. This project empowers data to transform the three major operational scenarios of home, buildings, and communities into intelligent and elderly-friendly ones. Health care services are empowered by the three smart cloud platforms "Smart Community, Smart Health, and Smart Elderly Care". Devices deployed, for example, fall alarms, emergency calling, intelligent security, and sleep detection, are linked to the smart management platform, achieving a fully-perceptible living with convenient and imperceptible use, while at the same time solving the pain points of the health care industry's operational services.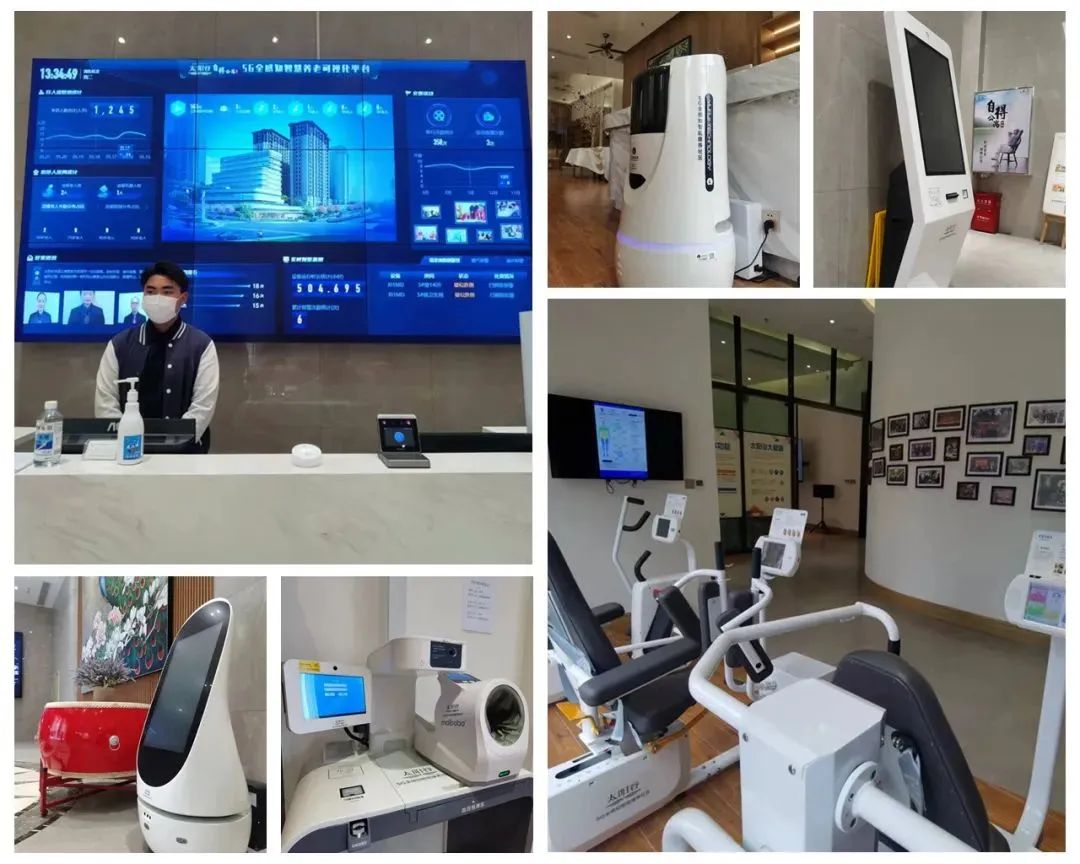 Physical fitness exercise for elders
Health check
Smart health care dashboard
Meal delivery robot
Welcome robot
Self-service property management
The three smart service platforms serve as the characteristic content of Sun Valley's 5G Smart Care Community. Supported by a hardware group that integrates advanced technologies such as 5G, IoT, high-precision sensors, AI, and L4 autonomous driving. The offline property management, comprehensive health services, and Kangjun elderly care services help build a featured smart care service with "fully perceptible data and imperceptible services", realizing a closed management loop of "terminal for data collection - platform for timely feedback - staff for timely response". Convenient, efficient, comprehensive, and professional high-quality elderly care services will be offered to meet an individual's pursuit of a better life.
Smart Health Platform
The smart health platform serves as the central pillar among the three platforms offered by Sun Valley. The 5G smart health platform features state-of-the-art health detection hardware and a wide range of health management services, including health check, sleep tracking, community entertainment, nutritious meal recommendations, and physical fitness guidance. Additionally, the platform can establish personal health records for residents, develop tailored health plans, and deliver personalized health management services.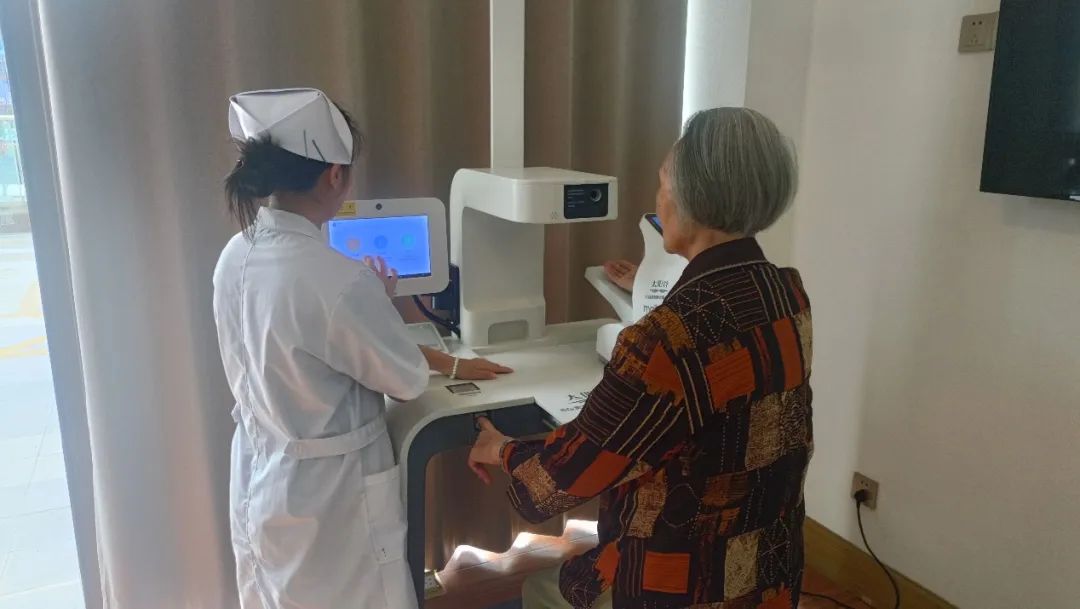 Health check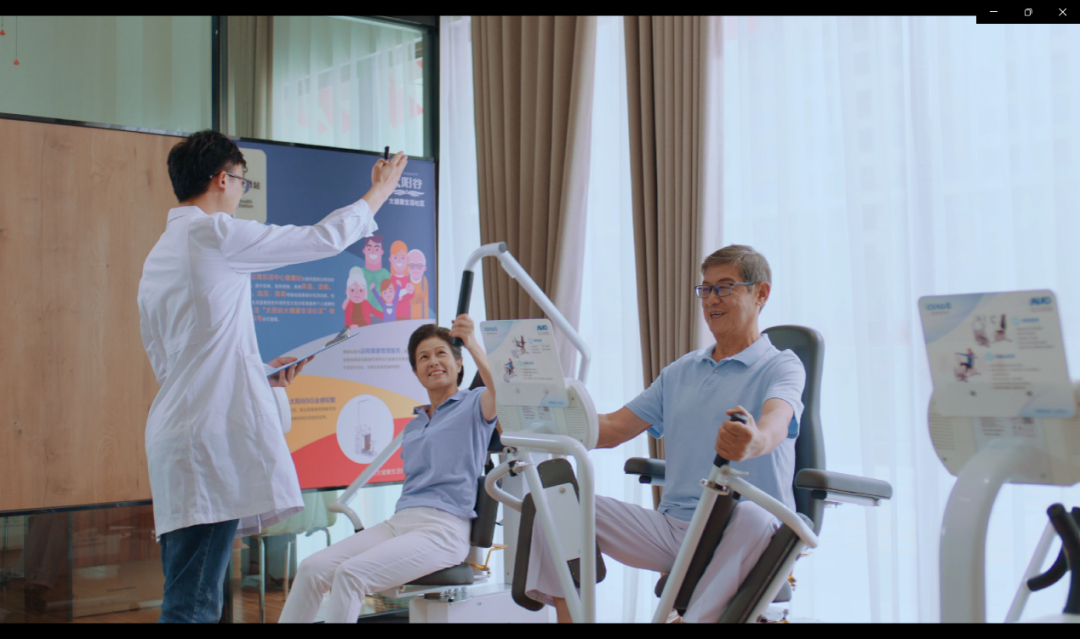 Physical fitness exercise for elders
Smart Elderly Care Platform
The smart elderly care platform in Sun Valley is connected to a range of IoT terminals for security protection, such as smoke sensors, door status sensors, infrared sensors, smart control panels, and fall alarms to create a robust smart security protection system, covering not only individual homes but the entire community as well. This platform allows the elderly to select and purchase professional home-based elderly care services such as fall alarms, emergency call systems, physical therapy support, and life care assistance.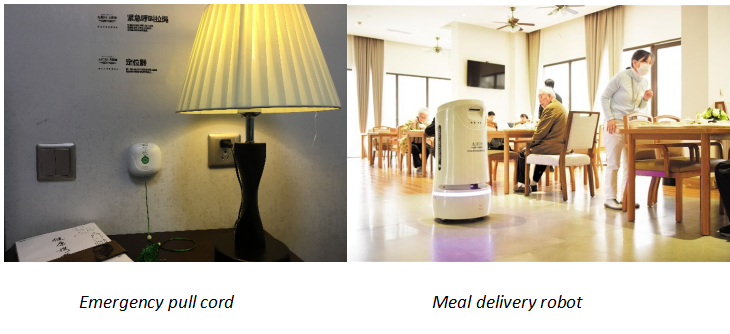 Smart Community Platform
The smart community platform within Sun Valley is designed to satisfy the needs of the entire community. It seamlessly integrates various smart management systems, including security, parking, access control, elevator control, and property management systems. Additionally, the platform incorporates diverse functions to enhance the community living experience, including services related to clothing, food, housing, transportation, education, entertainment, health, business management, and all-in-one cards. The platform aims to reduce community management costs, enhance property management efficiency, and provide residents with high-quality and convenient community life services.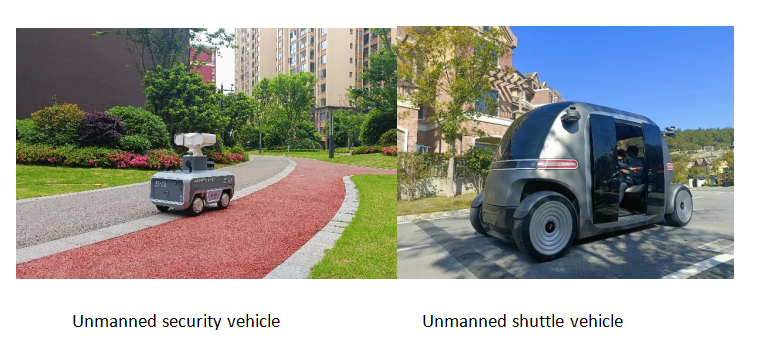 The 5G Smart Care Community in Sun Valley effectively promotes the smart transformation of elderly care services, enhances the service quality, efficiency, and overall experience, while also reducing labor costs. Furthermore, the staffing ratio of health managers can be optimized from 1:8 to 1:50, and that of care service personnel can be optimized from 1:10 to 1:80, saving CNY3.5 million in labor costs each year.
As a pioneer in smart care for Guizhou province, the 5G Smart Care Community in Sun Valley is dedicated to continuously exploring the smart care market. By overcoming challenges in the smart elderly care scenarios, the community actively seeks out optimal solutions to enhance smart care services. Leveraging the Yunyi Platform, the community develops a comprehensive smart elderly care service system, facilitating the implementation of various smart care application scenarios. In Guizhou province alone, there are 1003 elderly care institutions and 716 home-based elderly care communities, collectively providing over 1.5 million beds for the elderly. By replicating and promoting the mature operational model of the 5G Smart Care Community in Sun Valley, the province can enable elderly individuals to access high-quality, efficient, comprehensive, and considerate care services.