At a 5.5G Core session themed "Leverage Connectivity Value, Enable Full Services" during the 20th Huawei Global Analyst Summit (HAS), Liu Hong, Head of Technology of GSMA Greater China, delivered a keynote speech on 5G core networks evolution towards 5G-Advanced. In his speech, Mr. Liu interpreted 5G-Advanced standards and shared GSMA point of view on how core networks can smoothly transition to 5G-Advanced.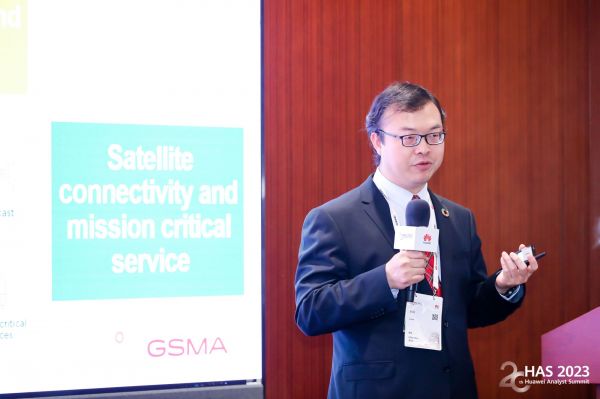 5G is the fastest-growing generation of mobile communications networks. By the end of 2022, the number of 5G connections had exceeded 1 billion; and as of January 2023, 229 commercial 5G networks had been established worldwide. According to GSMA prediction, 5G is likely to overtake 4G in 2029, to become the dominant global mobile technology. 3GPP designated 5G-Advanced as the second phase of 5G. 5G-Advanced will ignite a new wave of technology innovation, and is designed to push the boundaries of 5G technology, further improving network speed, coverage, mobility, and power efficiency. It will also support new use cases, from XR to vehicles, industrial IoT, and emergency services. From the perspective of the core network, 5G-Advanced will improve network capabilities from five aspects.
AI-Oriented Network Design
In particular, 3GPP Release 18 included a multitude of use cases enabled by native AI support in the network. As 5G deployment continues to ramp up, users are becoming increasingly sticky to 5G services, and also raising their expectations for better network quality. To ensure that 5G provides high-quality services and continues to scale up in a timely, reliable, and cost-effective manner, intent-driven automation must be introduced into every network management phase, from planning to deployment, operations, and maintenance.
Deterministic Network (DetNet) and Industrial IoT
5G-Advanced will enhance time sensitive communications, guaranteeing almost zero packet loss and bounded latency. This requires high-performance UPFs, industrial gateways, and MEC servers with dedicated hardware to boost the throughput while reducing the deterministic latency.
Boundless XR Experience
As 5G boosts new services, people are increasingly interested in highly interactive applications, such as virtual reality (VR), augmented reality (AR), and extended reality (XR). To better support these applications, 5G-Advanced standards have defined the related KPIs, QoS requirements, reliability requirements, as well as power and capacity enhancements. The standards also included enhancements in QoS management and active queue management. In addition, a few features have been introduced to improve the system performance in mobility, coverage, and data rates. This will take the XR experience to new levels and also improve other service experiences, and help operators implement and monetize closed-loop SLA management.
Enhanced RedCap
5G-Advanced will enable more and more devices to be networked with diverse connections. RedCap will evolve in 5G-Advanced to further strengthen the support for industrial wireless sensor networks (IWSNs) and various wearables such as smart watches and glasses. This requires further scaling the data rate, enhancing low-power modes, and improving the positioning and ranging capabilities. Furthermore, the enhanced RedCap must inherit the features defined in Release 17 and continue to be compatible with all 5G NR devices.
Satellite Connectivity
In Release 18, there are plans to support the communications for unmanned aerial vehicle (UAVs), as well as satellites or HAPS operating as non-terrestrial networks (NTN) with seamless interworking with terrestrial networks for the maritime industry, IoT use cases, and other applications.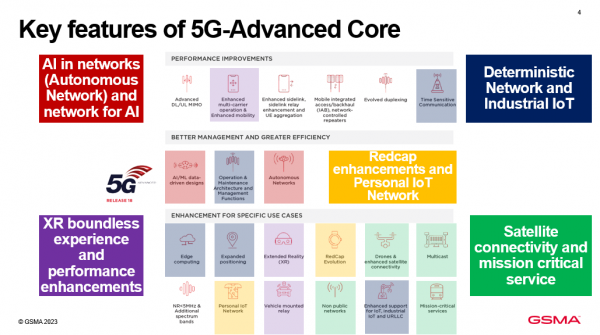 With the advent of 5G-Advanced, almost all operators are claiming that they will deploy the technology within two years after the standards are released. As Mr. Liu mentioned, "We might be able to witness the first adopters deploying pre-standard 5G-Advanced networks soon, in China, the Middle East, or other places in the world."
GSMA will continue to work with industry partners to continuously promote 5G development, unleash 5G potential, and jointly define the future of mobile communications.