By: Michelle Bazargan, Sr Director Analyst at Gartner
Daniel Sun. VP Analyst at Gartner
Most large organizations tend to struggle with driving business model innovation (BMI). They often cannot see a way to separate the requirement of searching, learning and testing the new business model, while running the current business model. Large enterprises also often tend to pass innovation responsibility solely to CIOs. This has led many innovation teams to focus on technology, searching for cool new ideas and driving "shiny object" experiments.
Business model innovation should not be hidden from the main business or siloed in the technology organization. It must be part of and aligned with the overall strategic goals of the organization, and the team should include key business leaders. To drive BMI, create the future and stay in business, CIOs can inspire and educate the leadership to understand and establish a diverse business and technology team to look for and test profitable business models that drive the future. A separate, dedicated BMI capability is needed to continuously search for insights, hypothesize and test future business models. This capability can be fueled through what Gartner describes as an innovation ecosystem.
CIOs can help the organization create a sustainable advantage by creating a collaborative innovation cycle, following four recommended steps.
Establish a Diverse Business and Technology Team
To ensure BMI is not centered around technology or hyped trends and experiments, CIOs should form a diverse team of leaders and those who have different backgrounds and perspectives and both business and technology experience. Similar to a startup, CIOs driving the capability to continuously plan, create and test future business models will need that team to think through, visualize and articulate new business model opportunities or plans.
Most importantly, CIOs should seek those who are curious, open-minded and ask questions (as opposed to having all the answers). That's critical to seeing the art of the possible and connecting the dots to create the future.
Create Your Own BMI Framework
Business models provide a blueprint for how an organization creates, delivers and captures value. A business model encompasses four components: customer, value proposition, capabilities and financial model. Gartner's BMI framework highlights attributes of the business model and the associated operating model that should be considered as areas of innovation.
This is a great tool to understand new business model opportunities and innovation in a straightforward, structured way to ensure market monetization potential. It will also set a clear vision and high-level summarized business plan. This method is leveraged by startup founders to pitch feasibility and scale to investors and can be used for organizations as well.
It can also enable CIOs and teams to represent the opportunities to executive leadership and the board, and effectively articulate the art of the possible for experimentation (see Figure 1). This visual aid, used as a tool, will also help establish a starting point in working with innovation ecosystem partners.
Figure 1: Business Model Innovation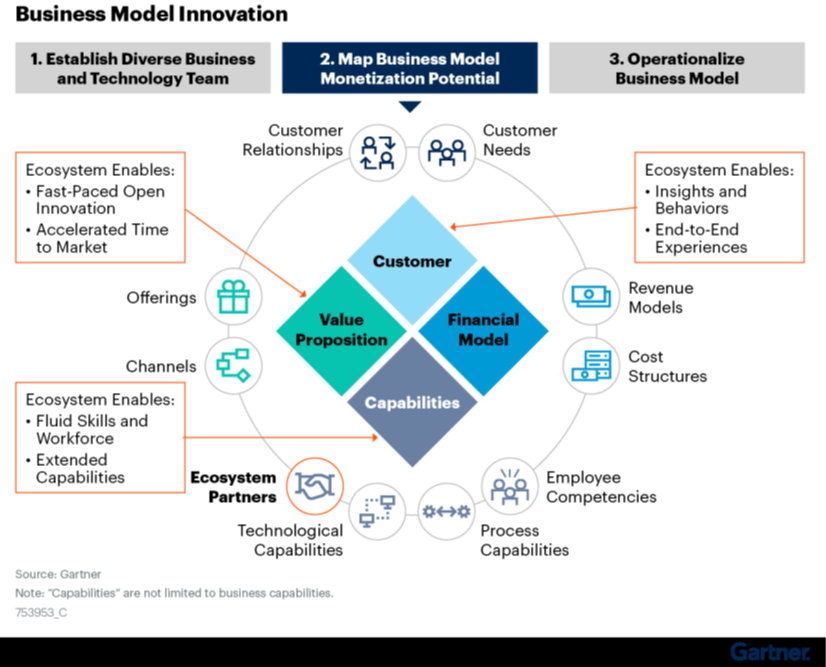 Identify Diverse Ecosystem Participants
Companies that are successful in building sustainable BMI look beyond the four walls of their organizations for trends, ideas and insights. Long-term success depends on having a well-rounded, diverse set of external market participants that can augment, accelerate and scale the innovation process.
Innovation candidates for ecosystem participants to evaluate include research firms, communities, institutions, schools, universities, vendors, partners, startup firms, corporate accelerators, incubators, venture capital and private equity firms, key industry players, governments, and regulators.
Leverage Innovation Ecosystem Partners
A customized business model will reveal the key resources needed for the identified opportunity. Innovation ecosystems can then be leveraged to scan, attract and recruit the required external capabilities.
A diverse set of participants is better positioned to unlock innovation that drives market growth. Diverse and inclusive teams drive nonlinear novel thinking, creativity and adaptability required to boost innovation. Companies with above-average diversity produce 45% greater proportion of revenue from innovation, translating into overall better financial performance. This can be fast-tracked by leveraging an innovation ecosystem.
Leveraging innovation ecosystem partners produces two additional key benefits to every organization seeking to achieve its diversity and inclusion more quickly. Organizations can have broad access to talented, diverse team members across the
globe and eliminate location bias through innovation ecosystems. By embedding more diverse and inclusive skills into innovation, organizations create better products and services, and grow the future business models.
Foster Shared Capabilities to Gain Market Insights
Organizations often place more time and emphasis on their solutions, and less time on understanding the end-to-end customer journey, touchpoints and experiences to innovate. We simply cannot create and innovate from our own lens and perspective, or rely on "customer feedback." Innovation is not about obsession with technology; it's about obsession with customer behaviors.
Innovation ecosystems can drive shared customer intelligence and insights, which can include both known problems that the customer shares and unknown problems that can be seen through behaviors and patterns as they navigate their journey. Understanding emerging customer behaviors, beyond existing customers, is critical for innovating the existing business model to create value for an emerging opportunity that the ecosystem identifies.
Gather Internal and External Data Insights in the End-to-End Customer Journey
To facilitate another major enabler of insights, CIOs should assemble an end-to-end customer journey map and explore where predictive analytics can be leveraged using areas such as artificial intelligence (AI) and machine learning (ML). That will enhance insights by deploying use cases such as language, vision and sentiment analysis from sources such as historical data and social media insights. Where possible, unregulated data can also often be shared with an ecosystem and can further enable creating the BMI framework accurately.
Learn, Experiment and Co-create
Innovation ecosystems have lowered the barriers to entry for many industries and sectors. For example, the space community is rapidly expanding; an industry that used to be solely for governments has now become more accessible through ecosystem partnerships.
Extend and Include Innovation Ecosystem Participants in the BMI Process
For organizations in many industries, keeping up with the pace of change and maintaining their competitive edge require evaluating and integrating into an innovation ecosystem to drive business innovation. The state of intellectual property has changed from "monopoly and protection" to "sharing," and innovation has shifted from an enterprise perspective to discussions that encourage open innovation.
The five key elements of the innovation ecosystem are: value exchange, diverse talent and participants, shared capabilities, rules of engagement and continuous management of, learning about and evolving the model.
It is imperative for organizations driving BMI to extend and include innovation ecosystem participants in their learning, ideation, co-solutioning and experimenting process and business innovation operating model.
Participants can come in and out of each phase of ideation, lean startup and experimentation, depending on the capability and need.
To sum up, as the pace of disruption and change accelerates, established enterprises must create a business innovation capability that continuously searches, collaborates and experiments with key players in the innovation ecosystem to test and launch new, profitable business ideas and models. Even a highly profitable organization must do this to stay in business for the long haul.