By: Owen Chen, Sr Director Analyst at Gartner,
Lily Mok, VP Analyst at Gartner,
Sandy Shen, Sr Director Analyst at Gartner,
Peter Liu, VP Analyst at Gartner,
Kevin Ji, Sr Director Analyst at Gartner &
Julian Sun, Director Analyst at Gartner
The trade war between the U.S. and China has already raised significant tensions and ambiguity in the global economy. The trade war inflicts pain on many sides, impacting consumers and businesses in the U.S., China and beyond. While it is difficult to predict where the U.S.-China trade war will be heading, its negative impact on businesses will continue to linger, even after trade conditions improve. Therefore, it is imperative that business leaders reevaluate their strategies for operations in China and associated value chains impacted by the U.S.-China trade war. The focus should be on improving organizational resilience in response to uncertainties using levers including business cost optimization, market diversification, new supply chain capabilities, and product and business model innovation (see Figure 1). CIOs supporting Chinese enterprises and multinational companies in China can play a critical role in helping their businesses make these strategic shifts.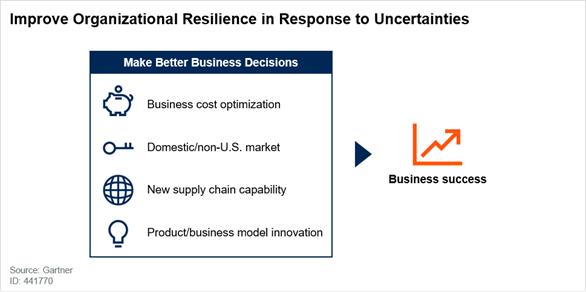 Figure 1.
Use a scenario-based planning technique to explore uncertainties and define action plans
When dealing with the huge uncertainties caused by the U.S.-China trade war, a scenario-based planning technique is recommended to explore future possible situations and define action plans. CIOs should promote the adoption of scenario-based planning in the enterprise, participate in any existing scenario-planning processes and leverage scenario-based planning to regularly assess the impact to IT.
Leverage data and analytics to make fact-based strategic decisions
The uncertainties caused by the trade war will strongly influence enterprises' decisions on their customers, partners, the Internet of Things, internal processes and employees. The threats and opportunities need to be evaluated. To mitigate the risk from strategic decisions, CIOs should leverage data and analytics to illuminate and enrich the U.S.-trade war in the business context, enabling more accurate and relevant decisions. To meet the changing needs or emerging opportunities to enable the business to improve business decisions, CIOs should leverage the data and analytics platform at the center of the digital business platform. It should act as the unifying intelligence with a set of interrelated platforms to provide service-based data and analytics capabilities.
CIOs should develop partners and ecosystems analytics, customer analytics, IoT analytics, and business and operational analytics based on data and analytics platforms to help make decisions during the U.S.-China trade war. The priority depends on the challenge organization is facing with partners, customers, IoT or employees. Starting with a data and analytics platform will give CIOs more fact-based evidence to drive decision making. While organizations build a more robust data and analytics platform, CIOs should also invest in nontechnology trends, such as data literacy and data storytelling. For long-term strategic decisions, CIOs should also put more data-literate people in lines of business with decision making authority.
Drive cost optimization is the most likely business choice to deal with uncertainties
When tariffs are increased, enterprises may need to lower sales prices so that prices are still competitive and enterprises can keep their market share. To stay profitable when price is decreased, the enterprise will need to reduce costs. However, businesses should recognize the risks when they reduce costs. For example, some enterprises may cut the long-term research and development cost that could impact the business's sustainability. Some enterprises will cut security control cost, with the hope that bad things won't happen. Once cost reduction is selected as a strategy, enterprises will need to set the objective. For example, if the tariff rate increases by 25%, the enterprise doesn't have to cut cost by 25%. Buyers and dealers may be able to share the burden.
Support the business in entering new markets
Because of the U.S.-China trade war, many China enterprises - especially in the manufacturing industry - with a focus on the U.S. market are reconsidering their marketing priorities. Enterprises that cannot easily absorb the increased tariff may decide to shift the focus from the U.S. market, or make a business expansion plan to China's domestic market and/or non-U.S. market. The shift is a new challenge for CIOs, as they need to reconsider their IT strategy on how to meet new business targets. CIO should:
• Prepare a solid IT extension plan that aligns with the business expansion plan. Start slow and keep costs low when expanding into a new market, since the new market extension is a middle-term plan for the business.
• Align with compliance and regulation. Make sure the IT initiatives align with the regulations implemented by various regions. For example, in China, there is the Cyber Security Law, and in the EU, there is the General Data Protection Regulation.
Infill new capabilities in supply chain management
CIOs need to infill new capabilities and gain executive support in their supply chain management system. To support the short-term, midterm and long-term horizons to mitigate the risk of disruption, CIOs should:
• Incorporate scenario planning and simulation. Create digital twins of the supply chain network so that you can simulate restructuring networks, and test for the impact on total network cost, service levels and inventory in the midterm.
• Quantify the exposure, and support the business decision. Quantifying emphasizes predictability, accuracy, reliability and stability leveraging real-time data. To prepare for uncertainty, CIOs should invest in supply chain analytics technology.
• Be agile and able to act quickly. Sustained innovation emphasizes exploration, learning through rapid iteration, agility and the ability to act in the face of uncertainty. It requires a structured approach and a supportive environment that encourage intelligent risk taking and recognizes that there will be failures in pursuing innovation.
• Deploy and integrate through Supply Chain as a Service Architecture. In a SCaaSA, all supply chain activity is tied to a modular service portfolio independent of organizational structure or asset ownership.
Innovate new product and business models
As organizations face mounting macroeconomic pressures, it is the best time for them to focus on new products and business model development. This can help them not only to transition through the difficult time, but also to prepare for future growth when the market goes into an upswing.
Some innovation opportunities we identified under the trade war pressure are:
• Expand from physical products into services.
• Offer a subscription.
• Add new channels.
• Build digital platform business.