On May 6, 2022, the first 5G Mobile Stroke Unit (MSU) ambulance was officially put into use by the Affiliated Hospital of North Sichuan Medical College in Nanchong, Sichuan. The MSU ambulance is equipped with CT scan and other critical equipment and systems for immediate in-vehicle examination, minimizing the treatment time of acute strokes. This is a joint achievement from Xuanwu Hospital of Capital Medical University and China Unicom,which is the first ambulance with mobile CT equipment in northeast Sichuan, to provide stroke patients with lifesaving care.
In-Vehicle CT Scan: Accelerated, Remote Treatment with 5G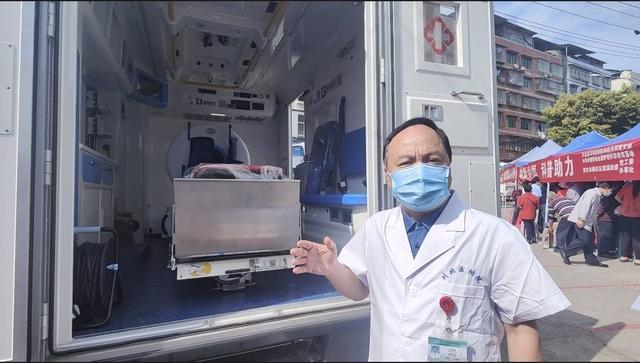 Professor Wang Xiaoming
"I've been feeling dizzy recently, and sometimes my hands and feet become numb," said Ms. Li, an elderly resident in the Shunqing District, during a field consultation. The doctor, Professor Wang Xiaoming from the Affiliated Hospital of North Sichuan Medical College, informed the patient to do a CT scan on the 5G MSU ambulance, to check her cerebrovascular system.
A colleague from the radiology department, Dr. Wang, assured Ms. Li of machine's safety. "Don't worry, this is just the same as in the hospital, but this allows us to obtain the CT scan here, so you don't need to travel to the hospital," said Dr. Wang.
A Doctor performs CT examinations
"This ambulance system aims to improve the diagnosis and treatment of difficult neuropathy diseases, especially for cerebrovascular diseases," said Professor Wang. The 5G MSU ambulance is worth CNY7 million, and integrates advanced mobile CT, remote ECG monitoring, palm ultrasound, and examination and monitoring devices, to treat acute stroke patients through immediate in-vehicle examination. The MSU also provides medical protection during the Winter Olympics this year.
Time Is Brain: Immediate Response in Golden Period is Key to Successful Treatment
Yu Juming, Director of Neurophysics Department of the Affiliated Hospital of North Sichuan Medical College, said that strokes are common in China, with over 3 million cases a year. To limit the mortality rate and physical impacts of stokes, it is crucial to ensure quick response. Delayed thrombolysis treatment results in permanent limitations of mobility and aphasia for over 75% stroke patients. This imposes an enormous burden on patients, their families, and even the society.
The 5G MSU ambulance is the first MSU with CT equipment in northeast Sichuan. According to Yu, based on the first receiver's information, medical personnel will drive the 5G MSU ambulance to the patient's location and take them to the hospital. En route, doctors will be on hand to perform a quick CT scan for the patient in the vehicle, and thanks to the vehicle's information and 5G systems, the scan results will be sent to the hospital in real time to ensure the hospital's expert team can remotely guide the treatment. If the patient is diagnosed as having had a stroke, onsite doctors can perform thrombolysis treatment to break down and remove blood clots immediately in the ambulance. In addition, onsite doctors can communicate with the hospital's neurology staff and open the green channel for stroke emergency response, realizing seamless transfer between pre- and intra-hospital treatments.
For stroke response, every second matters. Such blood clots prevent oxygen reaching the brain, causing brain cells to die within minutes or hours. The golden period to save a stroke patient's life is 3 to 4.5 hours. For ischemic stroke, intravenous thrombolysis must be performed within 4.5 hours, and if successful, the patient is more likely to make a recovery. The 5G MSU ambulance is a game-changer for stroke care, and ushers in a new era of remote 5G healthcare.