Recently, 5G Core Summit 2022, hosted by Informa Tech and co-hosted by Huawei, was successfully held in Bangkok, Thailand. At the summit, Dave Bolan, Research Director of Dell'Oro Group delivered an online keynote speech entitled "MEC Market Opportunity for MNOs, Is It Too Big To Be Ignored?".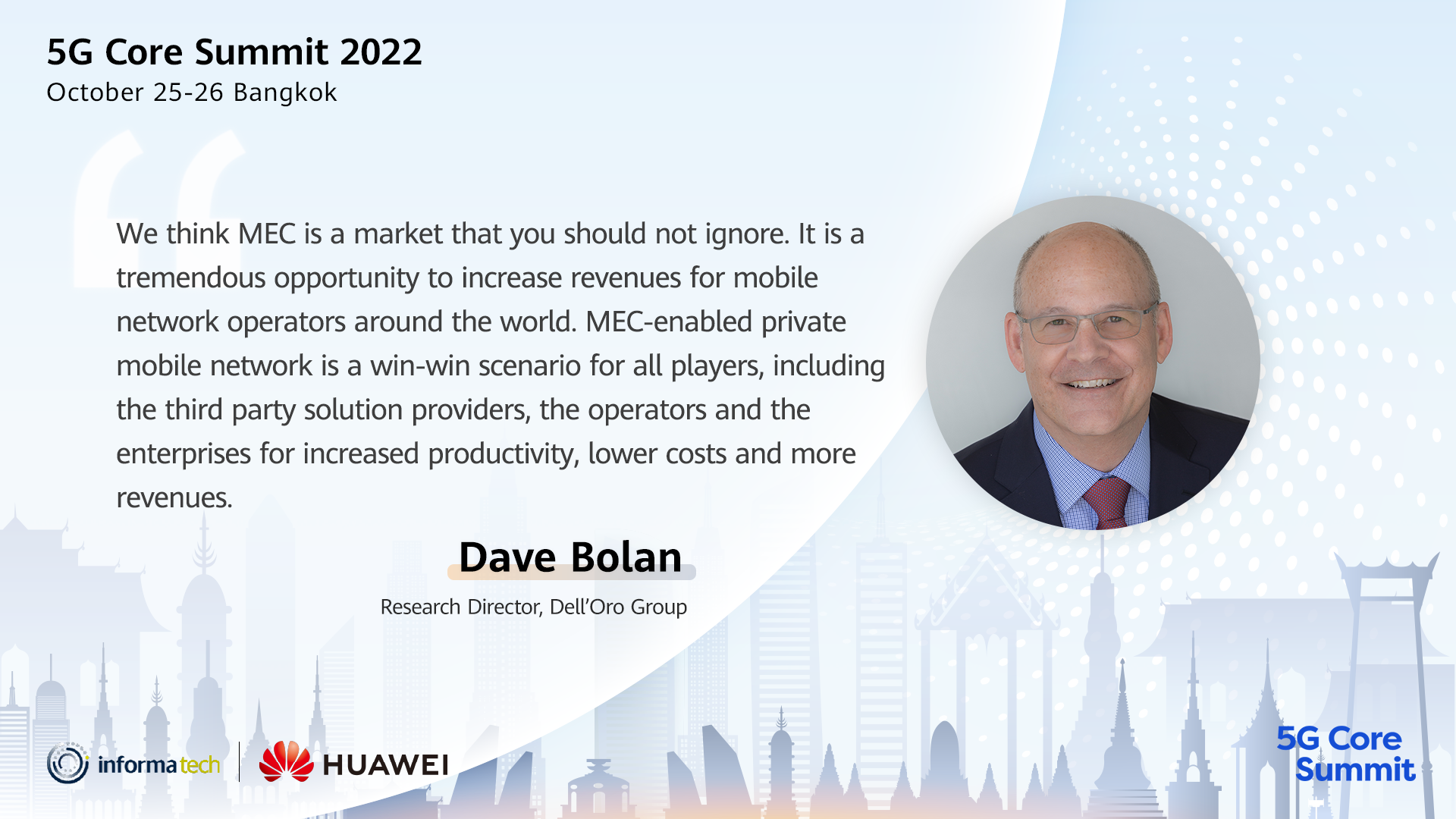 Dave Bolan is a seasoned senior industry analyst in the 5G Core and MEC fields. He released a research report on MEC market this month. Based on the analysis of leading 5G markets in China, South Korea, and the US, he predicts that from 2021 to 2026, the MEC market will develop at an average compound annual growth rate (CAGR) of 67%, and about 25 million potential MEC sites have been identified for deployment around the world. This presents a unique opportunity for operators to monetize 5G networks.
According to the MEC architecture defined by 3GPP and ETSI, there are two types of 5G private networks that are built based on public networks. One is the public MEC-based network and supports services featuring wide coverage such as drones, power grid networks, and autonomous driving. The other is the private MEC-based network and supports services requiring lower latency and local data processing. We estimate that public MEC could be extended to 10.5 million sites and private MEC to 14.5 million sites. At these sites, operators can extend UPF-based 5G connections to more users, provide MEC server-empowered computing services, and deliver diverse cloud services based on the telecom cloud platform that integrates third-party applications.
South Korea, the US, and China are leading the way in the global MEC market. In South Korea, KT has built public MEC sites to provide services for VR games and autonomous driving. SKT has built public MEC sites, allowing users to access these sites within a 100 km radius while they enjoy services such as online gaming. In the US, Verizon takes the lead in public MEC deployment. 79% of the population in the US is within 240 km from these MEC sites. Furthermore, in partnership with cloud service providers, Verizon constructs private MEC sites for services or applications such as visual assistance and intelligent/machine learning analysis.
Meanwhile in China, its three major operators have built public MEC sites covering more than 300 cities in 31 provinces, and constructed private MEC-based 5G private networks in various vertical industries, that include smart factories, smart campuses, smart mines, smart ports, and smart healthcare. Leveraging the MEC sites, in addition to providing basic network services, operators can work with cloud service providers and digital service providers to broaden their service portfolios, empowering the digital transformation of more industries.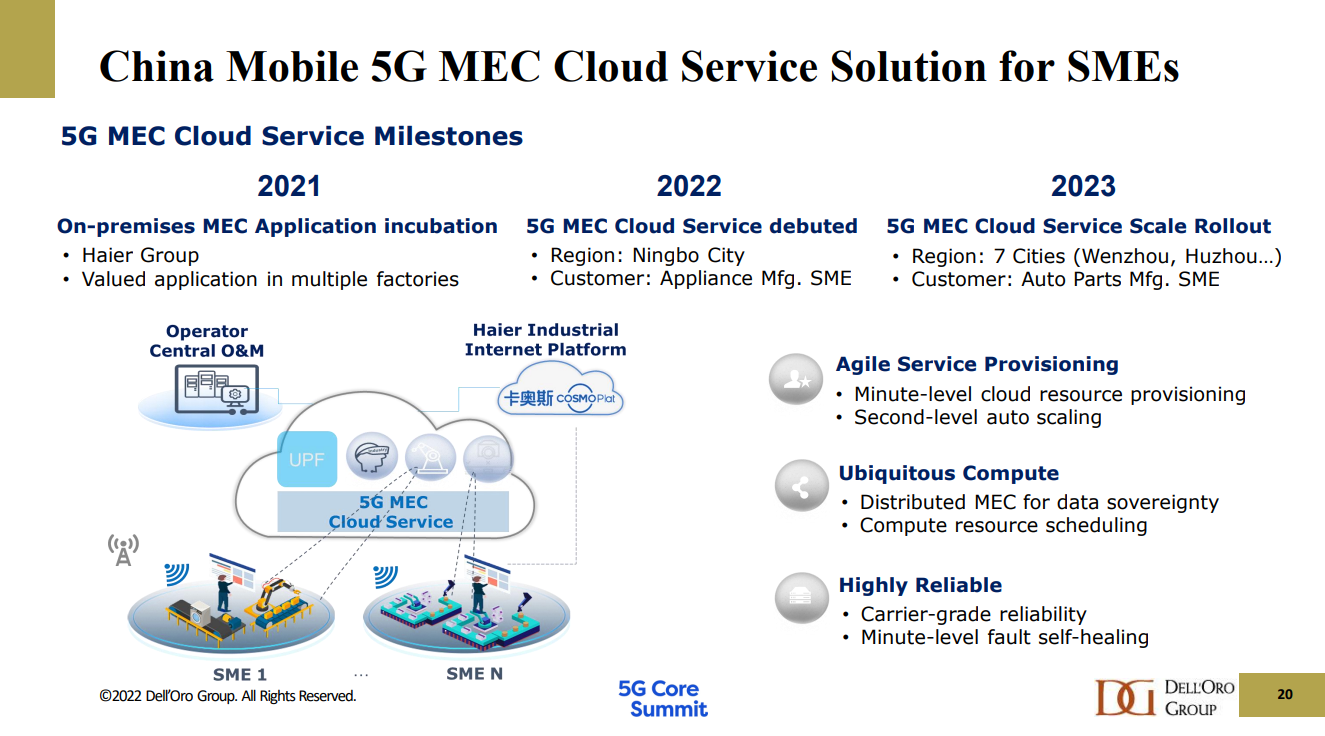 For example, based on the "5G + MEC" architecture, China Mobile cooperated with Haier and launched a 5G MEC-based smart manufacturing cloud service for SMEs in Zhejiang province, by leveraging its public MEC platform and Haier's COSMOPlat. With this cloud service, SMEs can place orders online through the self-service portal and purchase services such as 5G AGV, energy consumption management based on 5G data collection, and surface quality inspection using 5G machine vision. This service has been piloted in one city, covering the home appliance manufacturing cluster there. It will be extended to more cities in 2023 and empower more SMEs in specialized and innovative fields, such as automobile parts manufacturing.
Dave Bolan concluded that, there are profitable MEC market opportunities, as MEC-based 5G private networks will bring win-win outcomes to operators, edge service providers, and industry customers.
For more information about the research report MEC MARKET OPPORTUNITY FOR MNOS, visit https://www.delloro.com/knowledge-center/white-papers/mec-market-opportunity-for-mnos.