In October 2023, GSMA released a whitepaper named 5G New Calling: Revolutionising the Communications Services Landscapeon its official website. This whitepaper was produced by the 5G New Calling project team at GSMA Foundry, and included contributions from China Mobile, GSMA, AIS, Huawei, Itaú, iFLYTEK, UNISOC, Xiaomi, Zain Kuwait, China Broadnet, Honor, MediaTek, Meizu, and OPPO.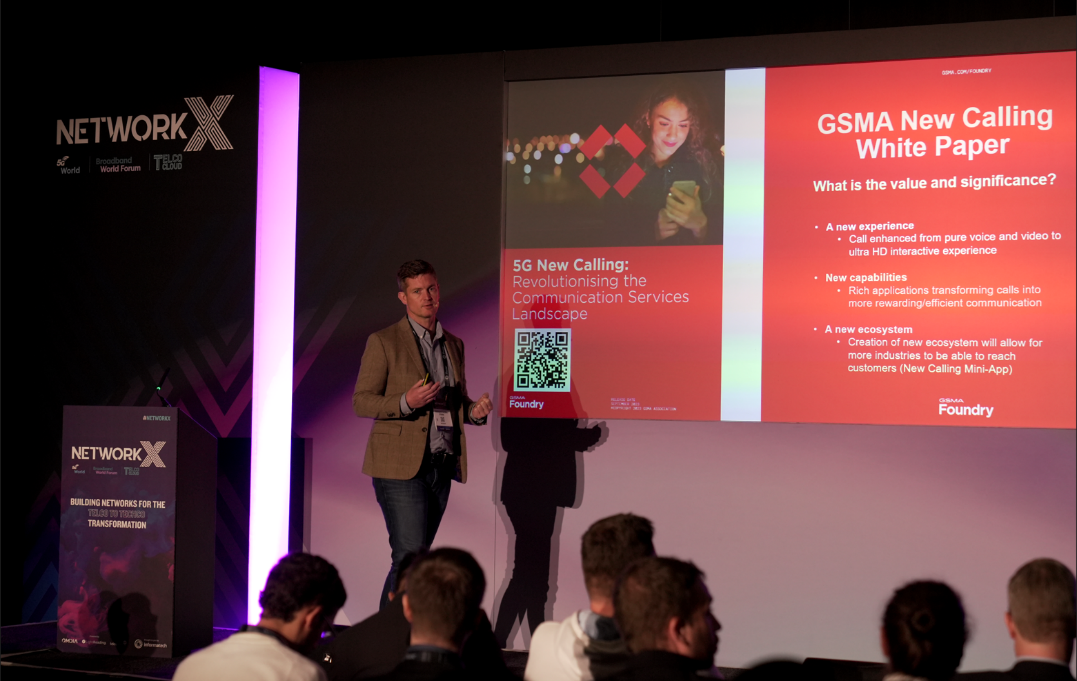 Photo: Richard Cockle presenting in Paris
At the New Calling Summit held in Paris on October 25, Richard Cockle, Head of GSMA Foundry and Industry Innovation, delivered a keynote speech highlighting key points from the whitepaper. Richard said that the whitepaper provides insights into the developing trends in the mobile voice industry. It describes typical service scenarios, the progress of industry standards, and also service innovation practices of leading operators, which will help stimulate industry cooperation, and promote a consensus around industry development.
The whitepaper outlines the progress of several world-leading operators who are spearheading 5G New Calling service innovation, network deployment, and commercial service verification. For example, China Mobile has started deploying a nationwide 5G New Calling network, and rolled out phase one video-enhanced services, including real-time translation, fun calling, and visualised voice calling, in Jiangsu and other provinces. China Mobile has also verified data channel-based interactive calling services on the live network and completed the first live calls. Commercial terminals supporting data channels are now also available.
Zain and AIS, leading mobile network operators in the Middle East and Southeast Asia, have conducted proof of concept (POC) tests on 5G New Calling services, accelerating network deployment. Operators in Europe and Latin America are also making efforts to promote the deployment of 5G New Calling networks.
AI foundation models and network computing power are bringing the communications service landscape to the brink of significant and revolutionary change. These developments support 5G New Calling, which will leverage IP Multimedia Subsystem (IMS) and introduce the potential for ultra-HD, intelligent, and interactive personal and enterprise communications services. By opening up opportunities to developer communities to create and distribute new services and applications, 5G New Calling will expand mobile operators' capabilities and stimulate groundbreaking innovations in the communications domain. New Calling will play a key role in the global communications landscape over the next few years following 3GPP Release 18.
To access the "5G New Calling: Revolutionising the Communications Services Landscape" GSMA whitepaper visit https://www.gsma.com/5g-new-calling-foundry-whitepaper/
GSMA Foundry is the go-to place for cross-industry collaboration and business development, where GSMA members and industry players come together to rapidly develop real-world solutions to industry challenges, nurture new ideas through initial commercial trials and scale proven solutions at a regional and global level to forge our digital future.
For more information, please visit https://www.gsma.com/foundry/projects/5g-newcalling/.