At the 20th Huawei Global Analyst Summit, Huawei held a session themed "5.5G Core: Leverage Connectivity Value, Enable Full Services". During this session, Fu Guoqiang, the new business director of Technology and Standards Research Institute of CAICT, delivered a keynote speech entitled "New Calling, New Growth". He pointed out that with the large-scale deployment of 5G New Calling, a solid technology and market foundation has been laid for shifting the calling experience from voice-plus-video to intelligent interactions. Undoubtedly, 5G New Calling will again draw public interest in calling services and empower a wide range of industries, expanding the 5G application ecosystem and enriching user experience.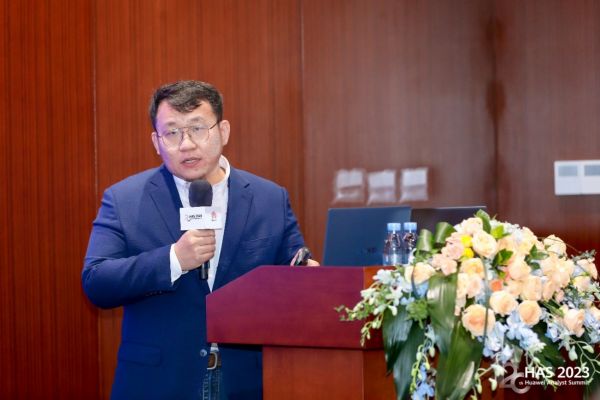 Fu Guoqiang delivering a keynote speech
Transitioning Calling from Voice-Plus-Video to Intelligent Interactions, Better Exploring Calling Value
As most are aware, circuit switched (CS) services have been serving public users with high reliability and good quality for decades, becoming an indispensable part of people's daily life. However, these conventional voice and video calling services lack innovation and are continuously squeezed by OTT applications. It is difficult to provide innovative calling services to match 5G for public users.
For this reason, Fu Guoqiang mentioned that with the development of industry technologies, conventional voice and video calling services are developing towards HD, intelligent, interactive, and immersive. To provide users with diversifying calling services such as enterprise business cards, remote assistance, and interactive menus, operators should be capable of aggregating the industry ecosystem and channeling solid technical support for new applications, in addition to enhancing network capabilities such as artificial intelligence, extended reality, and data channels.
Promoting New Calling Standards, Laying a Solid Foundation for Industry Development
In 2020, 3GPP introduced the Data Channel on the basis of audio and video channels, which is a key technology for New Calling. In December 2021, 3GPP initiated the Next Generation Real Time Communication (NG-RTC) project in Release 18. As a result of concerted industry efforts, the New Calling architecture, interfaces, and processes have been standardized.
The China Communications Standards Association (CCSA) collaborated with international standards organizations to define the New Calling architecture and service functions, terminal technical requirements, enhanced media plane, and real-time voice and video evaluation, gradually improving the standards system for New Calling. Together, they leveraged the first-mover advantages from leading operators in China who deployed New Calling on live networks, drove the development of standardization through practice, and then guided the development of international standards.
In July 2022, the China Academy of Information and Communications Technology (CAICT) and Huawei jointly released a blue report on 5G New Calling. This report comprehensively elucidated the 5G New Calling solution and key capabilities, and proposed service development strategies and suggestions in terms of scenario development, product positioning, and industry chain collaboration.
Piloting and Commercially Verifying 5G New Calling, Fast-Tracking Its Implementation
Clearly, 2023 will mark the first year of commercialization of New Calling as world-leading operators vigorously propel the New Calling industry. Operators in China have taken the lead in the industry, shifting from pilots to commercial verification. Some operators outside China have also started verifying New Calling services, fast-tracking the maturity of the industry ecosystem.
New Calling services show great promise, but are dependent on the collaboration and support of operators, equipment vendors, terminals, and industries. At the end of the speech, Fu Guoqiang called on industry partners, government, and enterprises to work together to feature 5G New Calling services, explore new user demands and application scenarios, build terminal and content-oriented ecosystems, as well as open up new possibilities for enabling 5.5G services.