During the 2023 Huawei Global Analyst Summit, Kevin Xu, Asia-Pacific Regional Director from TM Forum, delivered a speech about the scenarios and standards concerning autonomous core networks, for a 5.5G Core session themed "Leverage Connectivity Value, Enable Full Services." Kevin noted that Autonomous Networks (AN) have taken hold of the entire industry, but automaton should not be the only focus. Instead, autonomous core networks need to cover the entire lifecycle including planning, development, maintenance, optimization, and operation, and what's more, ensure high reliability during network maintenance. By current standards, Management Data Analytics Function (MDAF) is positioned to underpin such high reliability. However, it is yet to be fully explored and improved.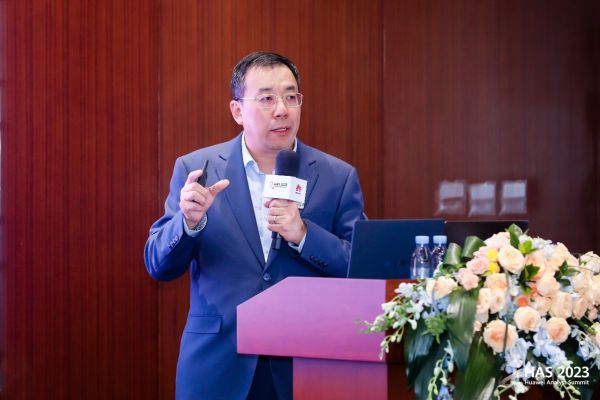 Kevin Xu delivering a keynote speech
Besides automation, what is equally important for autonomous core networks is to provide an E2E solution covering the entire lifecycle including planning, development, maintenance, optimization, and operation.
During planning and development, E2E automatic upgrade, expansion, and deployment should be prioritized to ensure efficient, reliable delivery, accelerating the delivery transformation. During maintenance, the key lies in high reliability, which leads to a reduction in the probability of incidents, improves routine O&M efficiency, and achieves O&M transformation. As for network optimization, optimized voice, data, and B2B services must be guaranteed to ensure the user receives a superlative experience. In terms of operations, we should focus on 5G/VoLTE subscriber growth to boost operators service growth.
High reliability is pivotal for autonomous core networks and MDAF is a choice for it.
As the brain of the communications network, the core network schedules network-wide resources, and due to cloudification, it is becoming ever more complex as NE capacity increases, and network O&M faces wider mounting challenges. All of the above calls for high reliability. Automatic and intelligent functions need to be leveraged to reduce the probability of incidents and improve efficiency.
Without proper standards, the industry cannot go far. Kevin believes that we should define a component in the standards to provide high reliability, and MDAF is undoubtedly the most appropriate component despite some of its drawbacks. For example, more business cases need to be supplemented, its role and functions in closed-loop management need to be clarified, and standard APIs output by the single-domain MDAF should be defined. This is open for further exploration.
Autonomous networks have taken hold of the entire industry. Together, let 's promote the rapid growth of autonomous core networks.
Since it was first proposed in 2019, AN has seen rapid development. The number of industry partners has increased from 7 to 55 in only three years. Meanwhile, Multiple Standards Developing Organizations (Multi-SDOs) was set up to promote the development of standards, of which more than 70 standards have already been established. In addition, eight operators have proposed the strategic goal of "achieving L3 by 2023 and L4 by 2025".
Autonomous core networks are evidently important in realizing AN. Kevin called on global industry standards organizations, operators, and vendors to focus on the network architecture, hierarchical standards, effectiveness indicators, evaluation systems, and key technologies, build mature E2E solutions, and promote the maturity of the industry.