Guangdong Unicom has been awarded second prize at the sixth "Zhan Fang Cup" 5G Application Contest for its 5G+ Tailwater Management Project in Sanshui. The "Zhan Fang Cup" is an annual competition held by China's Ministry of Industry and Information Technology to further promote the commercial implementation of 5G applications and support the information and communications industry.
Sanshui is located in Guangdong province's Foshan City on the Pearl River Delta. The city is an important economic and transportation hub for the region, and is recognized as one of the nation's "National Forest Cities", resulting in an increased focus on environmental protection. As part of these efforts, Foshan Unicom leads the construction of a 5G-powered tailwater management system to improve aquaculture wastewater treatment that would better not only the local fishing industry, but also the economic prospects of the region.
Their resulting 5G+ green aquaculture solution leverages a four-layer network architecture to provide massive numbers of terminal connections that allow for smart supervision and control of new shore-based tailwater management equipment.
One local farmer commented, "Since we've begun using the 5G tailwater treatment system, fish pond management has become much easier. The feeding machines and air pumps can be controlled through a single interface, and we can monitor the status of our ponds through cameras. Now, the water quality is much better, and fish are healthier, so we can use fewer chemicals. This also helps us save a lot of money."
Green Aquaculture and Rural Revitalization
Sustainable development in fishing has begun attracting global attention. The UN's Food and Agriculture Organization has called for the protection of natural resources and a "blue transformation" in addition to focus on food security issues. Sustainable aquatic food systems will be a recognized solution for strengthening food and nutrition security and enhancing environmental and social well-being (In Brief: THE STATE OF WORLD FISHERIES AND AQUACULTURE 2022 (fao.org)).
Sanshui in particular produces over 100 million yuan in freshwater aquaculture, accounting for up to 33% of the total production value of the local agricultural industry. While demand for digitalization is growing in this high-value industry, Unicom's project team has found that problems such as high investment, high-density aquaculture, high-intensity labor, difficult government supervision, and agricultural pollution lie in local freshwater aquaculture development, hindering the improvement of aquaculture capacity.

To promote high-quality development of counties, towns, and villages in Guangdong in accordance with the national rural revitalization strategy, Guangdong Unicom together with talents comprehensively investigate local fish pond aquaculture and research tailwater management technologies. They collaborate with the government to build a green aquaculture model for local fishery development.
5G Converged Tailwater Treatment Solution
By combining 5G, AI, and IoT, their new system is able to improve sewage collection, recycling, and treatment, allowing the local aquaculture industry to reuse 99.5% of its wastewater. It also reduces the total nitrogen and total phosphorus content in aquaculture wastewater. This has reduced the use of pesticides and antibiotics in local livestock by 40%, reduced the fisheries' physical footprints by 5% to 10%, and significantly reduced production costs.
Remote control fishing equipment has increased worker safety, particularly during thunderstorms, and China Unicom's 5G-enabled UAVs have greatly improved tailwater detection efficiency. The 5G fishing platform automatically collects and aggregates data, improving government supervision efficiency. Farmers can also obtain accurate data of important indicators such as the water temperature, dissolved oxygen, and pH of aquaculture ponds in real time based on the 5G water quality monitoring system, greatly reducing aquaculture risks.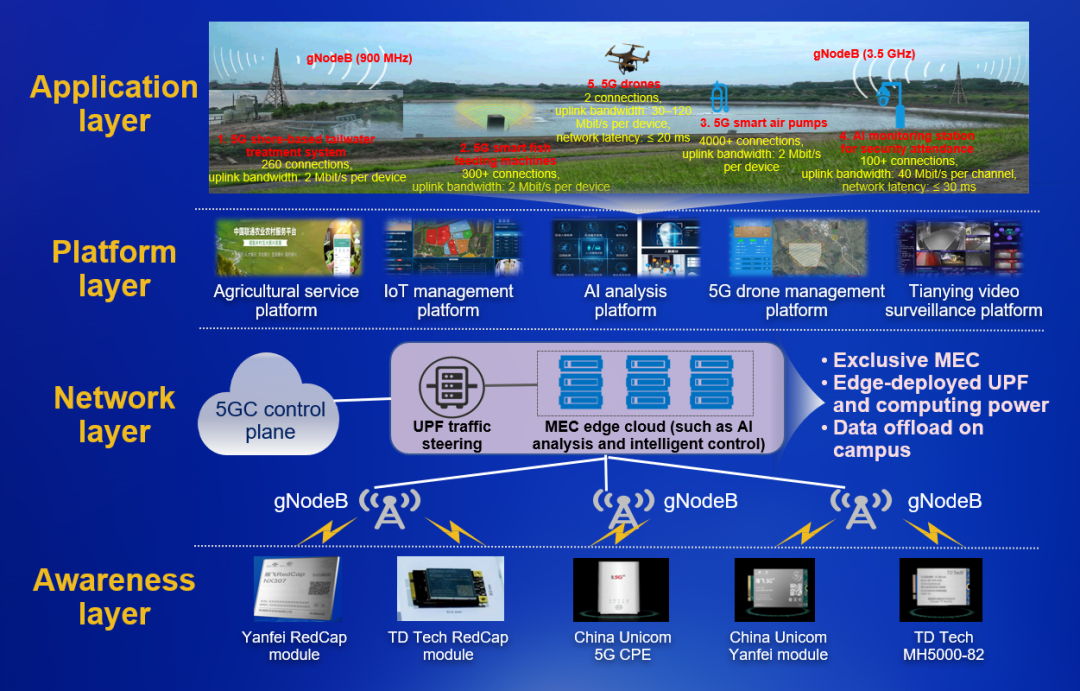 The network architecture used in this solution allocates different slices for different services to deliver differentiated network assurance, as well as several other notable features:
1.An inter-frequency base station construction solution to provide full, 900 MHz and 3.5 GHz band 5G network coverage over about 8.667 million m2of fishing waters;
2.More than 300 5G RedCap modules to connect more than 6000 sensor probes;
3.Beamforming technologies used to reduce interference, super cells to optimize signals, and 5G slicing to achieve an uplink backhaul rate of over 100 Mbit/s for UAV video backhaul;
4.Nearby MEC to provide edge computing power, large uplink bandwidth, and low latency, and a management platform to provide AI monitoring, second-level analysis of pond aquaculture data, and UAV-based water quality detection, the results of which can be generated within one hour.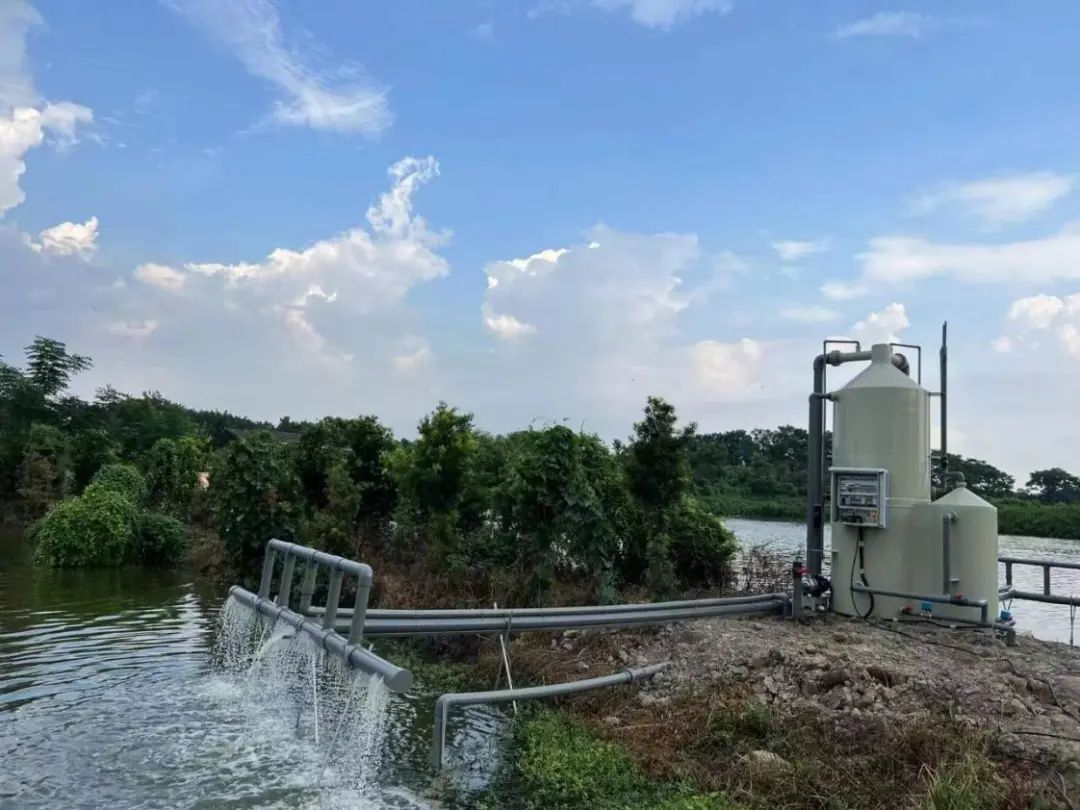 The resulting implementation of this solution was led by the local government, but relied on public-private cooperation with cooperatives and local farmers to reduce the financial burden placed on the local government. This 5G+ smart tailwater treatment system also reduced the amount of land needed for wastewater treatment, allowing for an expansion of safe fishing areas and increasing local capacity. The innovative equipment used by the 5G+ smart tailwater system has collectively received 13 patents, one Innovation China award, and the Guangdong Environmental Technology Progress Award.
An officer of the Sanshui Bureau of Agriculture and Rural Affairs said, "At present, we manage the agricultural ponds in the Manshui River region and other key regions by prioritizing the impact of pond pollution on rivers, the development needs of industrial parks, and the river system connections. After implementing the 5G tailwater treatment system, reconstruction efficiency and quality have been greatly improved."
Sanshui has become a benchmark for the surrounding regions in terms of smart agriculture. Together China Unicom and the Sanshui Bureau of Agriculture and Rural Affairs have agreed to reconstruct about 20 million m2of fishing ponds through a collection of project contracts worth 10 million yuan. Contracts worth more than 29 million yuan have also been signed with the neighboring cities of Qingyuan and Jiangmen to facilitate industry transformation and upgrade and improve local environmental protection.
The project team will further explore the in-depth integration of production, education, and research on the 5G+ green aquaculture based on shore-based integrated tailwater treatment, build an important base for digital transformation of freshwater fish research and observation, cooperate with the government to organize visits and exchanges inside and outside the city, make fishery aquaculture visible, controllable, and manageable with the help of 5G for China and the whole world, and promote production development and environmental protection.