[Shenzhen, China, April 20, 2023] The 20th Huawei Global Analyst Summit (HAS) themed "Thrive with Digital, Striding Towards the Intelligent World" was held in Shenzhen recently. During the 5.5G Core session "Leverage Connectivity Value, Enable Full Services", Tong Detian, Cloud Platform Operations Director of China Mobile Guangdong, delivered a keynote speech titled "Practices and Advances of Telco Cloud for China Mobile Guangdong." He pointed out that China Mobile Telco Cloud, finding its way into 5.5G, serves as the infrastructure of telecom services and is expected to be a carrier-grade, fully-converged telecom base.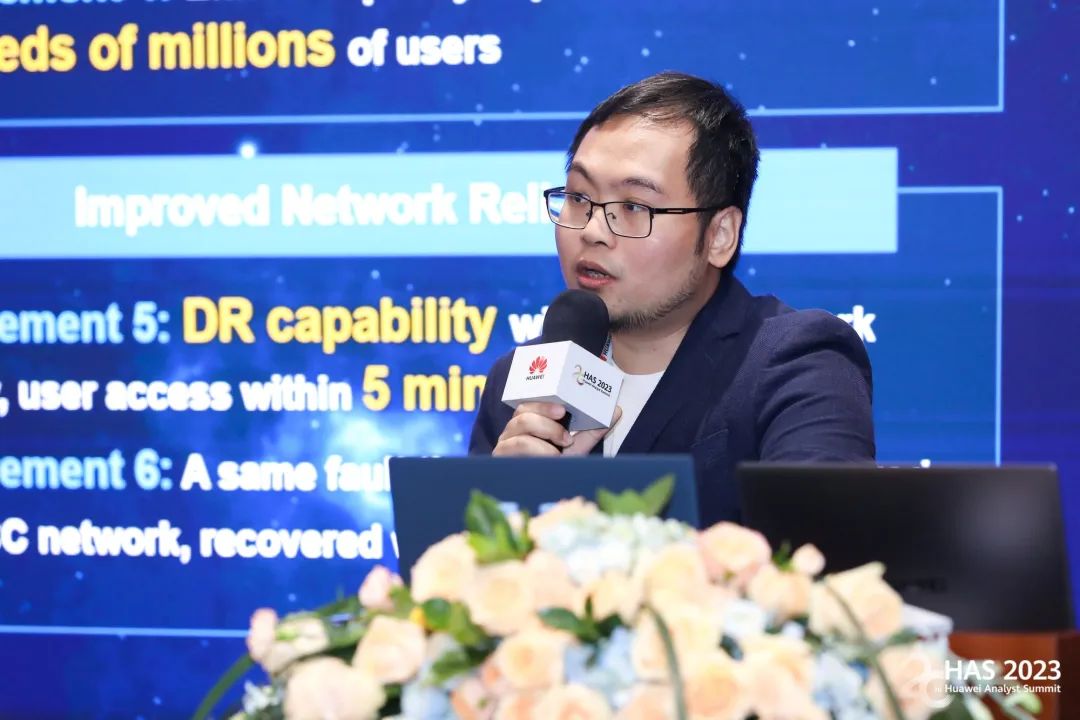 Tong Detian delivering a keynote speech
Practice: Industry-Leading Ultra-Large 5G Cloud-based Network
China Mobile Telco Cloud has leveraged the centralized network deployment of 8+N regions with dozens of resource pools and tens of thousands of devices deployed in Guangdong province, providing services for hundreds of millions of users.
Tong mentioned that China Mobile, with continuous efforts, has boosted resource utilization through centralized deployment and layered decoupling, achieved agile service rollout through cloud-based deployment and O&M automation, and enhanced network security through high availability and optimized DR.
Thinking: Steadily Evolving to Carrier-Grade Cloud-Native Infrastructure
Since ETSI NFV ISG was founded in 2012, telecom networks, adhering to high reliability and high performance over the past ten years, have deployed an all-cloud architecture by absorbing excellent IT practices. Telco Cloud will embrace the new future and make cloud infrastructure more agile, empowering various industries.
Vision: Building a Highly Stable, Efficient, and Agile Telco Cloud
Tong noted that China Mobile Telco Cloud will be enhanced through five aspects:
Fully converged architecture: One cloud supports various kinds of resources, including VMs, VM containers, bare metal containers, and bare metal servers. One architecture houses both OpenStack and Kubernetes with one portal managing VMs and containers, which improves resource utilization and lowers O&M costs and investments.
Open platform: Telco Cloud allows services to be flexibly deployed and provides various resources for the upper-layer services. It can shield the difference of multi-vendor hardware and manage them, providing unified hardware resources.
Evolving standards: In compliance with ETSI standards, China Mobile Telco Cloud has been actively exploring the standard evolution and complemented to the standards. Up to now, China Mobile has formulated five enterprise specifications and over 400 test cases for Telco Cloud evolution. In an effort with continuous exploration, China Mobile has put the standards into practices, forming an evolvable and open telecom standard system.
High-quality O&M: China Mobile Guangdong builds an O&M benchmark, making O&M more efficient, intelligent, and elegant. By leveraging the automatic batching tool and A/B test, Telco Cloud upgrade has transformed from lossy to lossless with the operations cut by 80%. The intelligent O&M has improved alarm accuracy to 95%. Blessed with the AI algorithm, O&M exceptions can be identified and predicted ahead, rather than simply monitoring metrics. The fast track from R&D to live network deployment has been powered by the DevOps pipeline, making service cloudification 95% faster.
Carbon neutrality: Over 10% of carbon emissions have been cut through the green measures taken for CPUs, servers, and resource pools (over 100 tons' carbon emissions cut for a single resource pool) since China Mobile Guangdong started initiatives in energy saving in 2022 to sort out energy dilemmas. In 2023, China Mobile Guangdong will continue to explore and implement more green initiatives.
China Mobile Guangdong will further explore practices in Telco Cloud infrastructure, MEC evolution, and intent-driven and autonomous cloud native O&M. The company will work with industry partners to build 5.5G-oriented Telco Cloud infrastructure, enabling all services and maximizing the value of connectivity.