At the 2021 China Unicom Partnership Conference, China Unicom unveiled its upgraded 5G private network product system — 5G Private Network PLUS. This new system builds upon the existing 5G private network by offering Layer 2 LAN and Layer 3 VPN services, allowing for seamless interworking between the two layers without the need for AR devices. Previously, 5G only supported Layer 3, necessitating additional AR devices for interworking with Layer 2. Furthermore, the new system enables service isolation through multiple virtual local area networks (VLANs) and cross-region private network connections via the N19 interface. This allows enterprise branches to access intranets through 5G LAN instead of private lines, meeting various 5GtoB requirements.
Chang'an Automobile, a leading Chinese automaker and pioneer in 5G+intelligent manufacturing, is at the forefront of exploring 5G applications in automobile manufacturing. For example, in its stamping shop, it uses industrial cameras and an AI-powered quality inspection system to assess the flatness of sheet material and to detect any imperfections. In its welding shop, it also uses industrial cameras and the AI-powered quality inspection system to automatically check the quality of body and component welds and glue dispensing. On traditional wired networks, it is challenging to deploy cables and difficult to locate faults. Additionally, adjusting production lines is time-consuming. To address these issues, China Unicom has collaborated with Chang'an Automobile and Huawei to realize agile innovation based on the China Unicom 5GCtoB One Cloud. By applying the latest 5G LAN technology to the production intranet, they replaced wired connections of industrial cameras in stamping and welding shops with wireless connections. The 5G LAN technology also enables Layer 2/Layer 3 interworking, eliminating the need for any extra configuration and maintenance, while preserving existing intranet applications, topology, and configurations. Freed from cabling constraints, devices on production lines can now be flexibly deployed.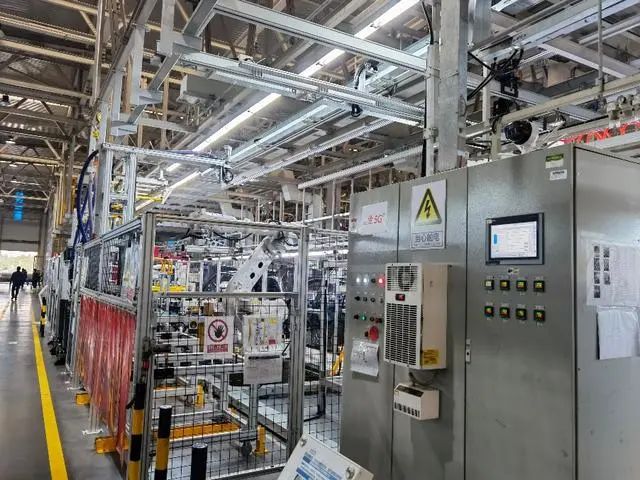 In the final assembly shop, operators use the Andon system to report the status of work stations, including information on any assembly quality problems, production line material supply, and production equipment alarms. On a wired network, cables need to be rerouted when the production line is adjusted, which reduces production efficiency. Additionally, carriers plan CPE IP addresses at Layer 3 of the 5G network, so routes from IT systems to CPEs need to be manually added, making plug and play (PnP) impossible. By solving the flexibility issues of the Andon system, 5G LAN reduces production downtime resulting from production line adjustments and improves production efficiency. With 5G LAN, existing PLCs, server networking plans, and IP configurations can still be used to implement PnP, thereby enabling quick response.
Chang'an Automobile's implementation of 5G LAN comprehensively validates the technical feasibility and production line availability of 5G LAN at the industrial control level, setting a new benchmark for 5G private networks in automobile manufacturing. Replacing multiple physical networks with a single 5G LAN not only improves network efficiency and production line availability through simplified network architecture, but also reduces networking and maintenance costs. This marks a milestone for 5G in empowering industries and lays a new network foundation for flexible manufacturing.
With significant technical advantages in PnP, cross-domain networking, and deterministic networking, 5G LAN holds great promise in various fields, including campus networks, differential protection for power grids, and industrial PLCs. In specific network scenarios, especially in campus networks, multiple siloed physical networks, including production Wi-Fi, wired production LAN, and office Wi-Fi, need to be built. This incurs high construction costs and difficulties in management and maintenance. To address these challenges, China Unicom's 5G Private Network PLUS provides a 5G LAN solution, enabling a nationwide 5G campus network with multiple VLANs that are flexibly and centrally managed and interconnected.
5G is here, and it's time to explore its possibilities. 5G private networks have become a catalyst for vertical industries to promote innovative 5G applications, improve production efficiency, and accelerate digital transformation. With innovative capabilities such as 5G LAN, China Unicom's 5G Private Network PLUS simplifies industrial field networks, achieving a one-network-for-multiple-purposes approach, and enabling intelligent transformation and upgrade across different industries.