By: Rick Howard, VP Analyst at Gartner
Michael Kung, Sr Executive Partner at Gartner
Recently, Gartner describes 10 business trends that will impact the decisions of government leaders around the world during the next 12 to 18 months. Based on our research, successful government CIOs are implementing a digital strategy that is more than aligned to "the business". Information and technology services are fused to the business and managed as a core business capability.
Given the strategic dependency between business and technology, CIOs must understand the broader environment in which governments operate, including socioeconomic drivers, policymaking and regulatory settings, and business models, as well as changing attitudes and demographics of society at large (see Figure 1).
Figure 1. Public Policy and Technology Trends Are Interdependent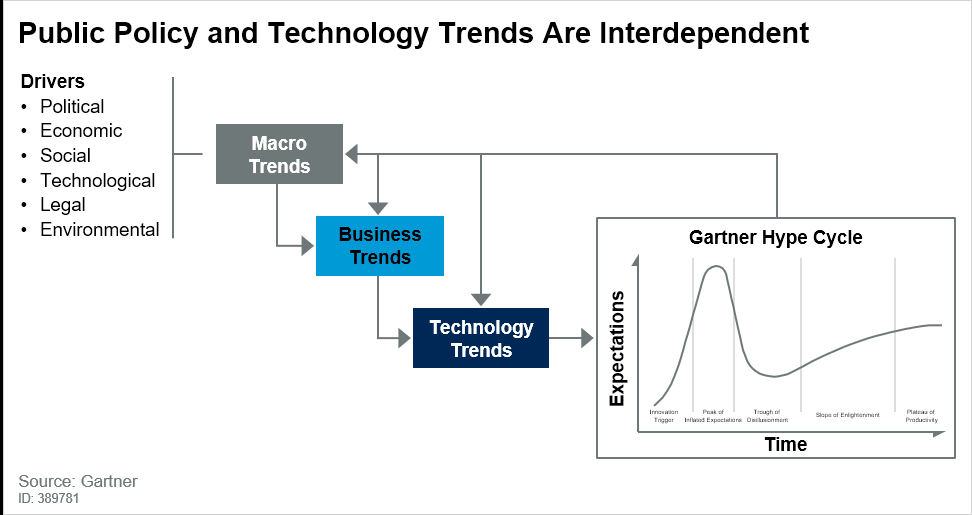 As Figure 1 illustrates, the relationships between trends and technology are interdependent and iterative. The emergence and maturation of disruptive or transformative technologies can influence the life cycle of macro trends or determine the rise and fall of business and technology trends.
Ultimately, government leaders and public institutions succeed or fail by how quickly and effectively they respond to the changing needs and expectations of their constituents. By connecting the innovative technologies and services profiled in the annual collection of Gartner Hype Cycles to the macro, business and technology trends impacting government, government CIOs can have critical input to their agencies' strategies. This collaboration will help determine the potential risks, benefits and timing of IT investments.
For this reason, we explore the business trends that will not only influence government policy development over the short- to midterm. These trends will also impact the government business capabilities and timing of technology investments. Some business trends, such as digital leadership or institutional agility are much alike
among peer public-sector organizations in most jurisdictions. Other trends, such as ethics and privacy or generational chasms may manifest differently in different regions.
The business trends we identify are distilled from the hundreds of interactions with leaders and stakeholders from all tiers of government in all regions of the world. These global interactions with Gartner government clients provide a firm sense of the forces and challenges the public sector is facing. Further, this distillation of business trends from client interactions is strengthened by common themes and elements found in the hundreds of digital government strategic plans we review annually.
Table 1. The Top Business Trends in Government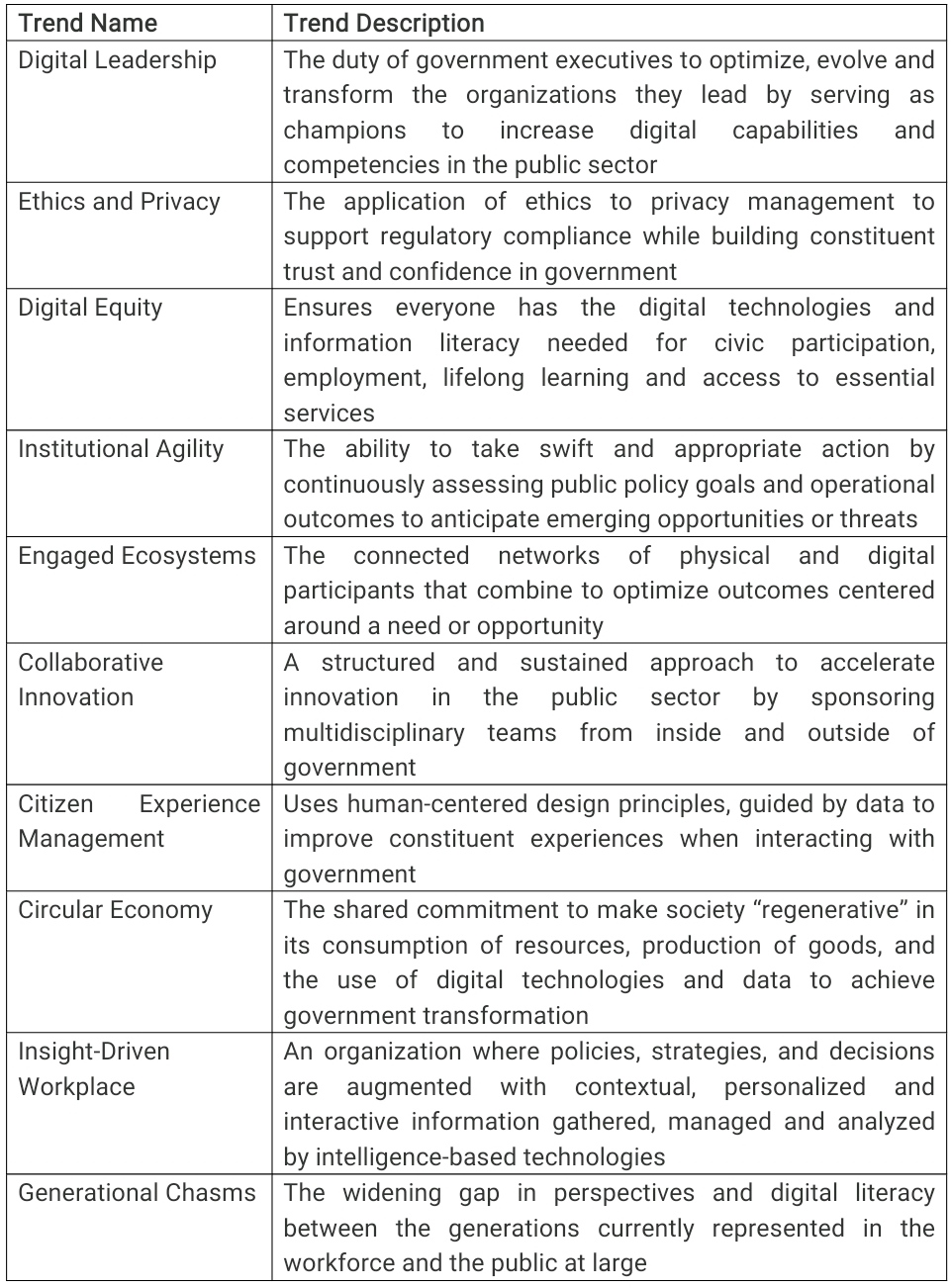 Source: Gartner
Gartner's analysis of strategic business and technology trends indicates they are the result of a broader set of macro trends that demand the attention of today's government leaders (see Figure 2). Government CIOs who recognize the dynamics and dependencies between these three sets of trends can fully articulate the value proposition IT brings to government and the public. Further, discovering the
core and common elements among these trends will help you quickly anticipate and assess the value of emerging technologies best suited to your organization's specific context.
Figure 2. Top Business, Macro and Technology Trends Impacting Government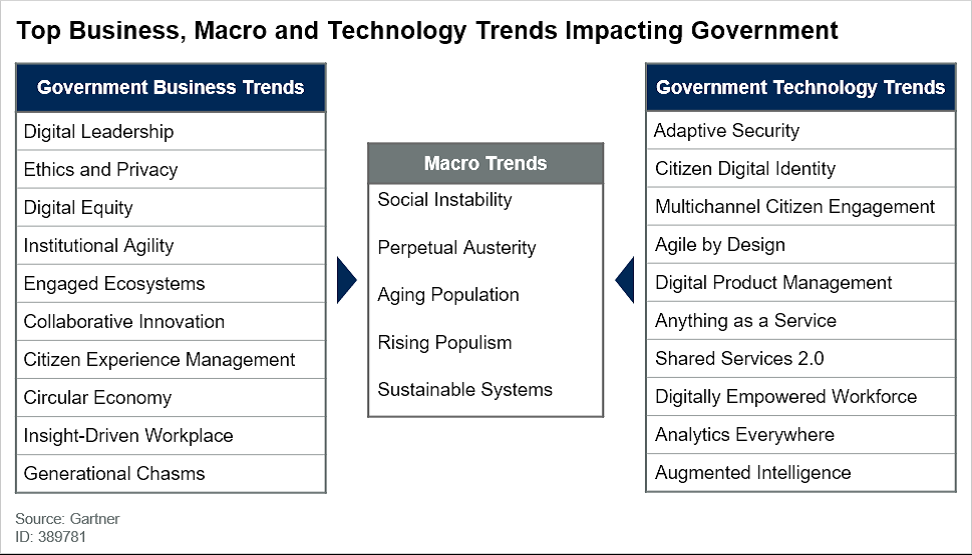 Social instability, perpetual austerity, aging population, rising populism and sustainable systems - there are five macro trends that influence and connect the top strategic business and technology trends in government. The value of macro trends is that they provide a scaffold to connect individual technology and business trends, while bringing additional clarity to the risks and benefits associated with each trend. CIOs who can explain these connections to decision makers and budget analysts in compelling terms can generate a sense of urgency beyond that of IT alone.
Figure 3. Macro Trends Overlap Government Business Trends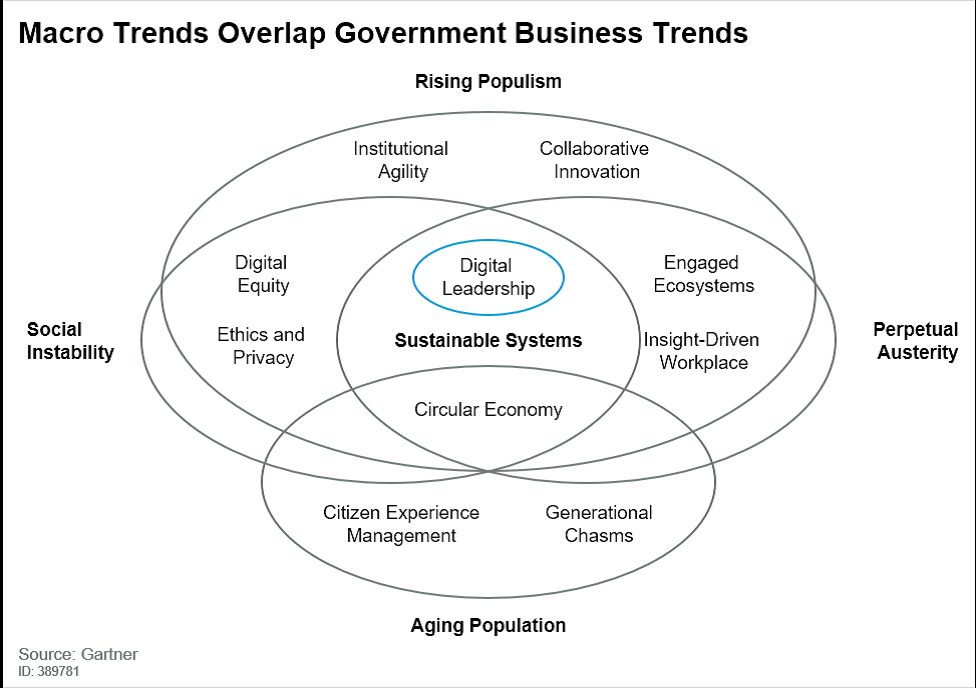 We recognize that our set of macro trends and business trends identified in Figure 3 will vary in importance or relevance among national, regional, or local tiers of government and regions of the world. The applicability of these trends and the relationships among them will depend entirely on the context of your unique business environment. It is for this reason that we intentionally chose not to rank these trends in numeric order.
In making this choice, we encourage you to use these macro trends and business trends as a starting point to develop your own list of strategic trends. Focus on those that most impact your agency's mission, and clarify the implications of these trends on your agency's capabilities, operating model and ecosystem. In total, the trends we present can serve as a basis from which you and your team can explore various business scenarios, provide new strategic options and inform contingency plans. From these scenarios, you can consider other trends - emerging and established - that are most pertinent to your own organization.