By: Rick Howard, VP Analyst at Gartner,
Cathleen Blanton, VP Analyst at Gartner,
Alia Mendonsa, Sr Director Analyst at Gartner,
Neville Cannon, Sr Director Analyst at Gartner,
Bill Finnerty, Sr Director Analyst at Gartner,
Dean Lacheca, Sr Director Analyst at Gartner,
Arthur Mickoleit, Sr Principal Analyst at Gartner,
Katell Thielemann, VP Analyst at Gartner &
Michael Kung, Sr Executive Partner at Gartner
In today's digitally saturated society, the conventional imperative that "IT should align to the business" is obsolete. Now more than ever, business and mission priorities must be established in the context of both technology and business trends. Public-sector leaders expect government CIOs to find ways technology can reduce costs, create efficiencies and improve outcomes for citizens and businesses. For their part, government CIOs must consistently deliver those results, in part by establishing the rationale, cadence and priority of technology investments.
It has not always been that way. Only recently have forward-looking government officials internalized the hard lesson that, in a digital society, "policy is the technology and technology is the policy." This mantra implies any government service delivered at scale will be underpinned by a host of integrated technologies. If the success of these business projects is compromised by poor implementation of technology, then the political objectives themselves are compromised.
With that lesson in mind, governments are making steady progress to scale and refine their digital initiatives, thanks, in large part, to CIOs who are deeply involved with shaping the redesign of government business and service models.
Still, implementing a digital government strategy is a journey that will span multiple budget cycles and political administrations. Gartner's strategic technology trends aim to inspire CIOs to stay current and plan well ahead by factoring key technologies into their organizations' strategic plans. CIOs can also use these trends to engage stakeholders by providing an integrated view of challenges and opportunities that are specific to the public sector. This approach will help demystify concepts like digital technology platforms, partner ecosystems and artificial intelligence, and promote discussion in terms of their value to citizens and society.
Our strategic technologies in government over the next 12 to 18 months are identified and described in Table 1.
Table 1. The Top Technology Trends in Government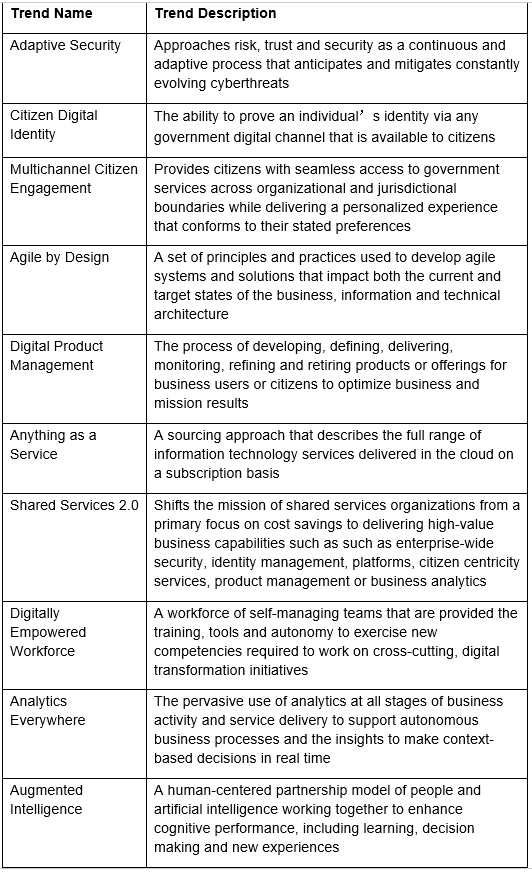 Source: Gartner
These strategic technology and business trends fit into a broader set of macro trends that demand the attention of today's government leaders. Government CIOs who recognize the dynamics and dependencies between these three sets of trends can fully articulate the value proposition IT brings to government and the public. Further, discovering the core and common elements among these trends will help you quickly anticipate and assess the value of emerging technologies best suited to your organization's specific context.
Below, we briefly describe each macro trend and associate it with representative technology trends.
Social Instability. Avoiding social instability - or promoting social stability - is a central responsibility and concern of government leaders and policymakers the world over. Maintaining the civil order needed to produce economic growth and mobility rests on the recognized legitimacy of any public administration by a plurality of the governed. There is an overriding imperative that has emerged in the digital era. This imperative demands the facile use of information, and technology determines how swiftly and successfully governments respond to the socioeconomic upheavals that invariably result from interdependent and interconnected global networks. Governments and private-sector companies alike find their credibility among citizens and customers undermined by the corrosive effects of fake news or biased algorithms. The present inability of public- and private-sector leaders to effectively ensure the truthfulness of information - while promoting the free exchange of ideas - results in higher levels of distrust and cynicism that is not easily or quickly reversed. Emerging technology trends such as adaptive security, citizen digital identity and analytics everywhere are among the capabilities that will help government CIOs increase the value of data and technology assets, while improving the accuracy and validity of public information.
Perpetual Austerity. Governments exist to provide for the safety, security, and basic health and welfare of their citizens through the lawful regulation of the economy, education and the environment. Regulation is enforced within a legal framework of executive, judicial, and legislative or parliamentary institutions, ministries, departments, or offices that are charged to manage the business of the state. Government collects revenue and fees according to the activities of the businesses and individuals within its jurisdiction and allocates that revenue to fulfill its statutory mandates and obligations, while attempting to remain fiscally solvent. In the years of financial uncertainty that followed the "Great Recession", governments adopted austerity measures and deficit reduction programs that persist in practice or policy to this day. Technology trends such as agile by design, anything as a service (XaaS), digitally empowered workforce, multichannel citizen engagement and shared services 2.0 are key to supporting cost optimization initiatives.
Aging Population. Depending on the region of the world, aging populations place tremendous strains on public resources. At the same time, they transform all sectors of society "including labor and financial markets and the demand for goods and services, such as housing, transportation and social protection, as well as family structures and intergenerational ties". This demographic shift means aging societies are ever more dependent on the labor of foreign workers or immigrants to maintain national productivity and a growing economy.7 A shrinking pool of skilled workers creates demand for individuals from less-developed countries who seek better opportunities. This, in turn, can deprive those nations of the talent that resides in the next generation, along with the economic and tax revenue they generate. The accelerating automation of jobs and elder care will simultaneously exacerbate and alleviate the challenges presented by an aging society. To cope with these challenges, citizen digital identity, digitally empowered workforce and augmented intelligence are trends that should be factored into your digital government strategy.
Rising Populism. As populist movements upset the equilibrium of the status quo in societies around the globe, public-sector leaders find themselves struggling to bridge a growing divide between high levels of citizen distrust of their government and fostering the social cohesion necessary to find collective solutions to systemic issues such as the urban-rural divide or environmental justice. As with the social instability macro trend, the rise of modern-day populism emerged in response to the general economic decline brought about by the Great Recession. Growing income inequality, the perceived weak response by politicians to modulate the excesses of financial markets and the impacts of globalization, and rapid technological change have fueled calls to assert greater national, regional or individual autonomy and sovereignty. Government CIOs may have little opportunity to affect the sentiments and desires that give rise to populism. However, they can help promote - or not further erode - citizen trust and confidence in government by building capabilities in trends such as adaptive security, citizen digital identity, multichannel citizen engagement and digital product management.
Sustainable Systems. The four macro trends we introduced above are interdependent to varying degrees. However, the sustainable systems macro trend plays an outsized role in each of the others. Ultimately, society must create and sustain thriving human and natural ecosystems for the benefit of all. Making the shift from behaviors grounded in the fear of scarcity to those that reflect a spirit of abundance requires leadership and a personal commitment. Leaders must think beyond the immediacy of the next fiscal quarter by anticipating the needs of future generations. Sustainable and resilient systems can emerge when public- and private-sector leaders work in partnership to integrate the goals of economic growth and community development with protecting public health and preserving the environment. The effective use of digital information and technology in service to sustainability goals - and the systems designed to achieve them - is fundamental. Each of the technology trends on our list promotes sustainability by applying human ingenuity and technological innovation to solve society's most urgent problems.