At Huawei Global Analyst Summit 2023, Wen Xiaojun, Director of IT Industry Research Institute, China Center for Information Industry Development, delivered a keynote speech entitled "New Video Revitalizes Audiovisual Business" at the 5.5G Core session. Wen Xiaojun said that thanks to the rapid development of technologies such as 5G, big data, and AI, video services are evolving towards large screen oriented, socially interactive, and intelligent, and video consumption scenarios are being redefined.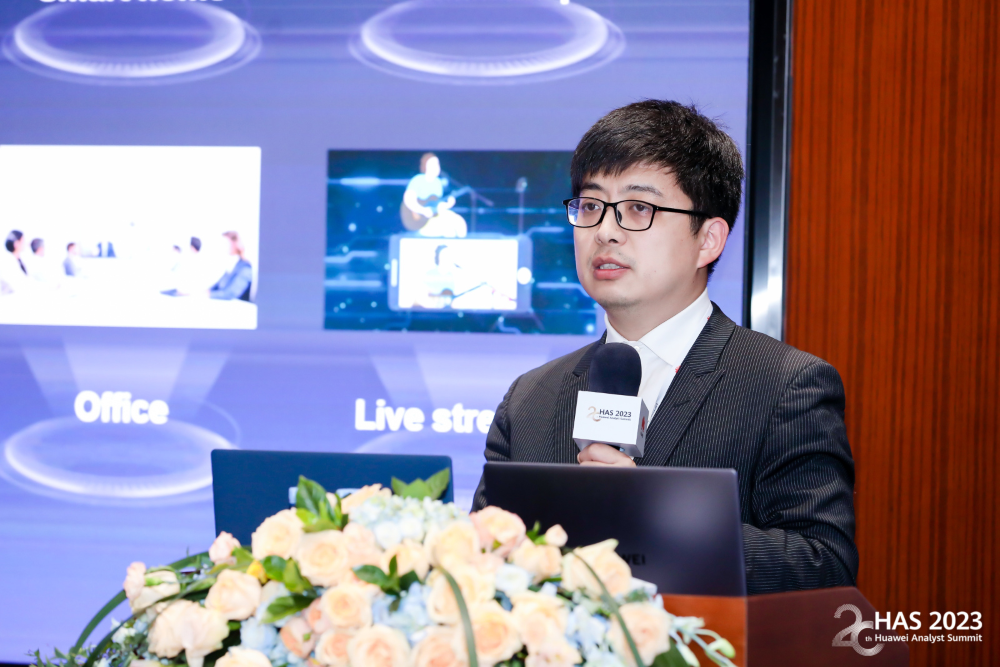 Wen Xiaojun Director of IT Industry Research Institute, CCID
Thanks to the concerted effort from all links of the industry chain, audiovisual consumption is upgraded.
Audiovisual technologies and products have been widely integrated into people's life, and are becoming a mainstay for building a digital society.
Under this trend, all links of the audiovisual industry chain are moving forwards to be more intelligent and comfortable as well as provide more functions. For example, display technologies focus more on efficient transmission, where a number of them, such as glasses-free 3D, near-eye HD, light field, and holography, are racing to evolve. Terminals are also strengthened as distributed information processing hubs for a fully connected society and as entrances to the metaverse. As the natural human-machine interaction technologies keep advancing and the cloud AI models are applied, the terminal sector will definitely be reshaped and more applications will come out.
Meanwhile, consumer habits have gone through profound changes. The New Video field, represented by ultra-HD video, VR/AR/MR/XR, and home audiovisual services, is growing rapidly, adding new momentum to the development of digital economy and information consumption.
Video is at the core of the audiovisual industry chain, and smart home is a noteworthy audiovisual application scenario that can reflect the industry development trend.
As home TVs jump in screen size but drop in price, more families tend to have more than one large-screen TV. This means more connections between the TV screens and family members, and also brings more opportunities for service innovation. For example, social-interactive videos are trending in recent years. With a social interaction attribute, such videos allow multiple users to view videos together online, enjoy online video KTV, and experience other immersive applications. This better connects people with their families or friends, no matter how far they are from each other.
The popularity of large-screen TVs also gives rise to AI technologies for households. It is undoubtedly a clear and key task for the industry to better use AI to deliver optimal and more efficient audiovisual services.
Video services transition from entertainment-only to entertainment + social interaction.
What is new with New Video? The answer can be summarized into several combinations.
1. Combination of videos and calling
Due to MBB's fast development, people are now used to communicate with others through mobile phones. However, at homes, the mobility advantage of phones is not as significant. Instead, the large-screen TVs are better suited for communication. For example, when we have a video talk with families through a mobile phone, the phone screen is too small to fit many families in, but this problem can be easily addressed with large-screen TVs.
However, to integrate video and calling on TVs, many other problems need to be solved, such as cross-network interconnection and roaming. It is obvious that telecom operators are up for this task, and it is also beneficiary for them to do so. There are about 500 million large screen TVs at Chinese homes. If all of them can be integrated into operators' VoLTE networks, together with new services like fun calling and intelligent assistant for higher user loyalty, operators will have an over 50% larger voice service market.
2. Combination of videos and social interaction
Traditional video services are based on unidirectional data transmission and allow limited engagement of viewers. However, with more and more people feeling isolated in today's world, it is never better for them to together view, for example, a movie or basketball match, with their friends.
This multi-party video viewing can be achieved with New Video. It allows bidirectional or multi-directional interactions during video playing, enabling more engagement. It also applies to diverse scenarios such as entertainment, education, and office, which will bring opportunities for various applications, and better drive the integration of physical and digital worlds. This new type of video service can not only help operators improve user loyalty, but also expand revenue.
3. Open ecosystem: large screens connect to more
As AI technologies mature, more innovative applications are made possible in home scenarios. For example, with AI-and-fitness convergence, people can work out at their homes and interact with friends via TV screens while fitnessing. This turns a boring stuff into an interesting and attracting thing and better popularizes home fitness. AI-and-cycling convergence, as another example, allows users to enjoy cycling indoors and explore the world at their pace, no matter the time, weather, environment, and road condition.
With the rapid development of AI technologies, we are seeing more possibilities on large-screen TVs. For instance, intelligent babycaring can help parents take care of their babies; sitting posture detection and reminder can help children form a correct sitting posture habit; and AI-based falling detection can give real-time notifications when the elderly fall at home.
We are on the verge of a smart large screen boom, and all links of the industry chain need to make proactive efforts to seize the opportunity. Specifically, they can rejuvenate the "living room" economy to improve the market competitiveness of large-screen TVs, and give full play to the advantages of TVs as super access to home services, upgrading the audiovisual service platform to an intelligent video-based service platform.
Though the road ahead is long and tough, it can be conquered with constant efforts. Wen Xiaojun proposed three initiatives for accelerating the pace.
Firstly, proactively define new scenarios for audiovisual consumption, identify the characteristics of each scenario, and define main products and application rules.
Secondly, reinforce the technological basis for innovation and development. Specifically, innovate more in basic theories, materials, components, processes, and solutions, learn from strengths, and make up for weaknesses.
Thirdly, build a competitive and mutually beneficial industrial ecosystem. Actively participate in the development of core technology standards, innovate more and collaborate more with global industry partners, to build a coordinated and streamlined ecosystem for shared success of all involved parties.