In the recent Telco cloud-native roundtable hosted by ETSI during MWC Shanghai 2023, Dr. Tang Xiongyan, Vice President and Chief Scientist of China Unicom Research Institute, summarized progress and achievements made by China Unicom in NFV telco cloud deployment.
Dr. Tang highlighted the importance of NFV in China Unicom's 5G service growth. With NFV underpinning the 5G deployment and innovation development of core networks, the penetration rate of China Unicom's 5G package subscribers has reached 70%. To embrace the booming 5G services, China Unicom has been actively scheduling resources, and has built regional cloud resource pools.
Moving forward, China Unicom will continue to promote full service migration to the cloud, contribute in continuous evolution of the NFV architecture and implementation of all-cloud networks, and build a next-generation digital infrastructure featuring computing-network convergence.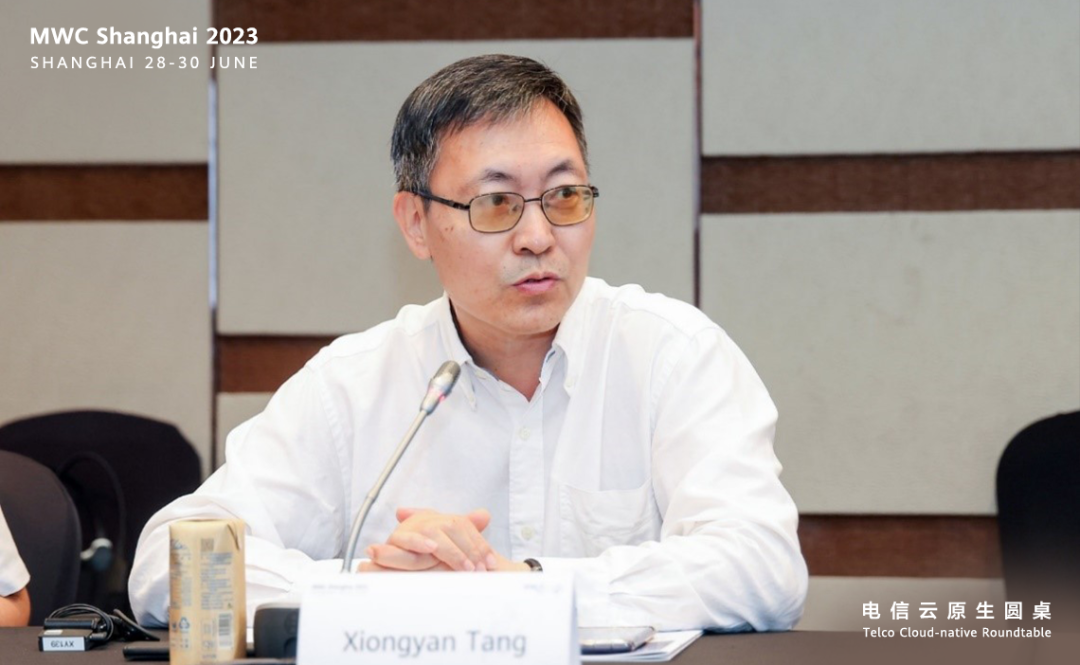 Cao Chang, Director of Future Network Research Dept of China Unicom Research Institute, shared his view on the potential directions for future NFV:
Accelerate computing-network convergence and improve unified management and orchestration capabilities for the telco cloud.
In the next decade, China Unicom will step up its efforts in building a unified computing-network convergence architecture — an important anchor for the efficient and coordinated development of "computing + network" — as this architecture can realize the unified scheduling and orchestrating of computing power and efficient collaboration among Cloud, network, and edge. In this way, it can improve the computing resource utilization rate and service quality, as well as facilitate self-intelligent operation of the computing network through scenario-based service orchestration.
Cao Chang pointed out that we need to design an ETSI-compliant telco cloud service model that integrates computing and network resources to simplify the integration and interconnection of cloud-based and containerized bases from multiple vendors. This will support flexible deployment and unified orchestration of heterogeneous computing resources, so as to realize cloud-native empowered computing services.
Promote unified deployment and management by using MANO to address the fragmentation of cloud resource pools.
China Unicom will continuously promote unified management and orchestration of cloud resources by using MANO and enable a unified NFV stack, so that cloud resources can be managed uniformly and services be deployed flexibly. Through MANO, network and service domains can be managed in a unified manner. Domain-based deployment has been piloted for innovative services, accelerating the evolution of the telco cloud architecture.
Coordinate resource deployment and build up resource usage monitoring capabilities.
With the introduction of heterogeneous hardware such as Arm resource pools and GPUs, on-demand resource management and elastic scaling have never been more important. CPU usage is currently unbalanced, calling for management and monitoring capabilities for future China Unicom's telco cloud resource pools. In addition, the heterogeneous hardware adaptation period needs to be shortened, and the container layer deployment solution needs to be planned so that the new infrastructures in NFV such as containers and heterogeneous hardware can be managed uniformly.
In the future, embracing the continuous evolution from 5.5G to 6G and the edge computing-network convergence, China Unicom will collaborate with standard organizations to explore industry best practices, promoting the continuous evolution of the MANO standard architecture so that NFV can continue to thrive over the next decade.