On September 6, 2019, the inaugural meeting of the Manufacturing Committee of the South African China Economic and Trade Association was held at the China Steel Building in Thornton District, Johannesburg. 15 large-scale manufacturing enterprises, such as CRRC Corporation Limited, Hengtong Group, Hisense, FAW, Beijing Automotive Group became the first batch of member units.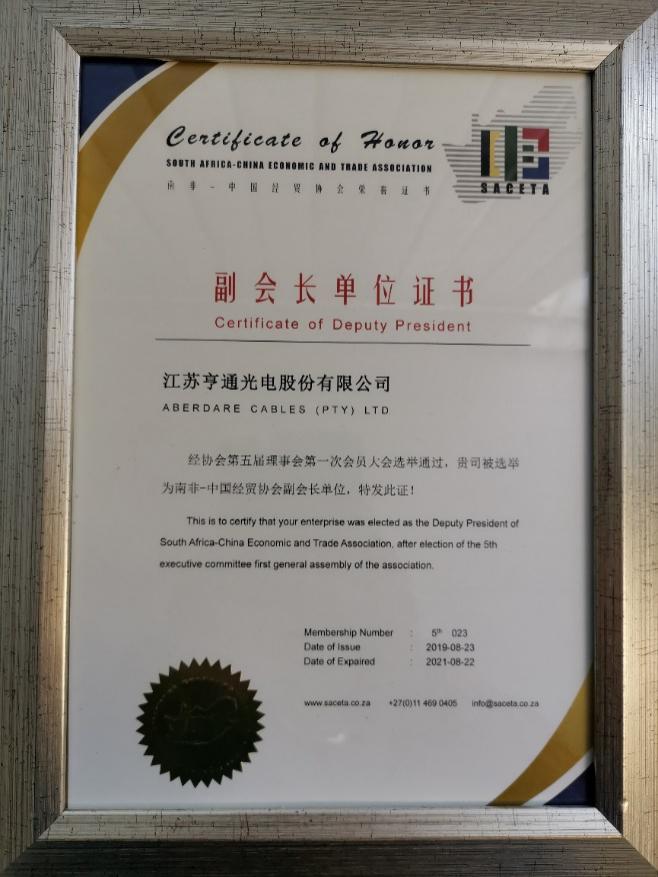 Hengtong Group was elected as Vice-President Unit of the Association at the 5th Council Meeting of the South African China Economic and Trade Association since August 23, and also be elected as Secretary-General Unit at the inaugural meeting. In 2016, Hengtong acquired company Aberdare Cable Company,and has excellent localization operation and actively fulfilled its social responsibility, established a good social image for Chinese-funded enterprises and won recognition from all sides.
The purpose of the Manufacturing Industry Committee is to study manufacturing policies from the two countries, share experience , coordinate business operations, promote exchanges and capacity cooperation, supervise and promote member enterprises to engage in manufacturing activities according to law, actively fulfill South Africa's social responsibilities in the field of manufacturing; safeguard the legitimate rights and interests of member enterprises, jointly respond to risks and challenges, and serve members of manufacturing enterprises to enhance friendship.

Wang Guojun, General Manager of CRRC Corporation South Africa Company and Chairman of the Manufacturing Commission presided over the meeting. Dr. Song Haiyan, President of Hengtong Africa Region and CEO of Aberdare Company in South Africa, was invited to speak on behalf of the Secretary-General's unit. Firstly ,Song Haiyan introduced Hengtong Group and Aberdare Cable Company,then shared the challenges and solutions Hengtong encountered in the process of localized operation in South Africa.
"As the first Secretary-General Unit, Hengtong Group will actively promote internal and external liaison in manufacturing between China and South Africa£¬and organize exchanges of experience among members" Song Haiyan said.